Ciao Darlings!
How are you all on this wonderful day? I figured since I have complained/whined/ranted about my boy issues or lack of boy issues (lol!)on here a bunch of times, I should tell you guys some good news...finally! A couple weeks ago, I finally got over that silly boy from college I've told you guys about on here before. I finally figured it wasn't worth my time obsessing over him when he didn't like me and he probably wasn't as great as I had kind of built him up in my mind to be. I think I just needed someone to obsess over because I wanted a boyfriend/attention. So...guess what? I have a boyfriend now! Yay! :) I think God was waiting for me to get over that other boy before I could meet someone special (sorry to get all religious, lol). Please don't laugh at me but maybe, at 20 years old, he's my first boyfriend..okay, he totally is. Ha, whatever, I don't care, I'm not concerned with what other people think of me anymore. He was definitely worth waiting until now for though. :) I told him I have a blog, I didn't tell him what it was though, and I don't think he's found it or read it...as far as I know. He said he did not mind if I wrote about him on here though...so I will. :) (Maybe I'll tell him...)
His name is Adi (short for Ardit or Arditi), he's European (Albanian), and he is quite possibly the sweetest guy I've ever met. ♥ He's also really intelligent, rather cultured, and very kind/polite. Plus, I think he's adorable; I love his eyes and his smile! :) He's a little older than me, 25, but it's not that much, right? I don't think so. I met him online (shocker, right!) and we talked a little bit, but soon after I met him in real life. Look at that, a sweet, cute guy, who likes me and exists in real life within a reasonable distance from me! Too good to be true, haha! We first met at a nearby bookstore/Starbucks and talked for a few hours. Being me though, I was really really shy around him...and still kinda am. I don't know what it is, but being around a guy I like, him in particular, makes me ridiculously shy, twice as much as I usually am! I don't think he knew I liked him that much at first because I could barely speak, I just giggled and smiled a lot in between attempting to talk to him...Oh my! I'm trying to get over that and I've seen him a few times since then, but I still get nervous. Hopefully with time that will get better and go away? I swear he probably thought I was an idiot because I suddenly forget everything I ever knew when I see him, lol. Even if I manage to remember anything, I can't find the words to tell him because I panic! Lol! Why is it I'm so much better at expressing myself in written words...I'll always remember something I wanted to tell him later and text him...ha! He's really nice about it though, he's told me I don't have to be so nervous and asked what he can do to help...but I don't know. I really like him though...a lot, he's such a great guy. :) If you're a normal person (not me...lol), he's such an easygoing guy, very easy to get along with or talk to about anything.
Our second date was adorable. He came to my house and we cooked pasta together and then watched a movie about an artist he likes (Modigliani). So cute! He held my hand and put his arm around me...and I was freaking out inside. I loved it...how sweet! :) I probably sound like a 13 year old girl right now, but who cares...hehe! He also speaks Italian (and a couple other languages...so smart!), which I like because so do I. I need to practice/refresh my memory apparently though, especially since when he talks to me in Italian I start to question whether I'm sure if I know what he said...I can barely think of how to respond to him in English, so it's a little harder in another language. It's cute though (and sexy!). On our third date (yesterday!), we had a bit of a misunderstanding. I think my shyness made him feel like I wasn't that interested and I thought the same about him, but it was resolved when I texted him and then saw him again later that night. He was sweet enough to come over to my house when I asked him that night...which was not the easiest thing for me to do. It's okay though because it turned out to be one of the best days of my life, I'll never forget it. I keep replaying that night in my mind; it was enchanting. :) I'm a super happy girl right now! ♥ :) Every time he texts me or calls me I get all excited and smiley; my mom and brother laugh at me as I stare and smile at my phone all the time...lol! It's adorable, he texts me things like "Buon giorno Principessa" ♥(Good morning princess) and "Goodnight sweetheart" and I love it! Now, if I could only stop thinking about him long enough to finish my papers and study for school, everything would be great, lol! I keep getting that crazy butterflies in your stomach, omg I can't breathe, feeling whenever I think about him...lol! It's a good thing though. :)
Wow, I feel like I wrote a little too much about that...I'm just so happy and excited! Hehe! This is nothing compared to the pages and pages I've filled in my diary (too much detail for here...a girl needs to keep some things a secret ;) )...I'm such a nerd! ♥ I wish I had a picture of us to show you guys...but I feel weird randomly asking to take a picture with him....lol! Eventually. (Oh, and the title of this post is referring to that Taylor Swift song btw, I love all her songs! but maybe now I can stop obsessing over the ones where the guy doesn't like you back, lol!)
Now, here's some outfits! Enjoy! Comment below on whatever you'd like. Follow the blog on Google Friend Connect if you don't already, thanks! Love you guys! ♥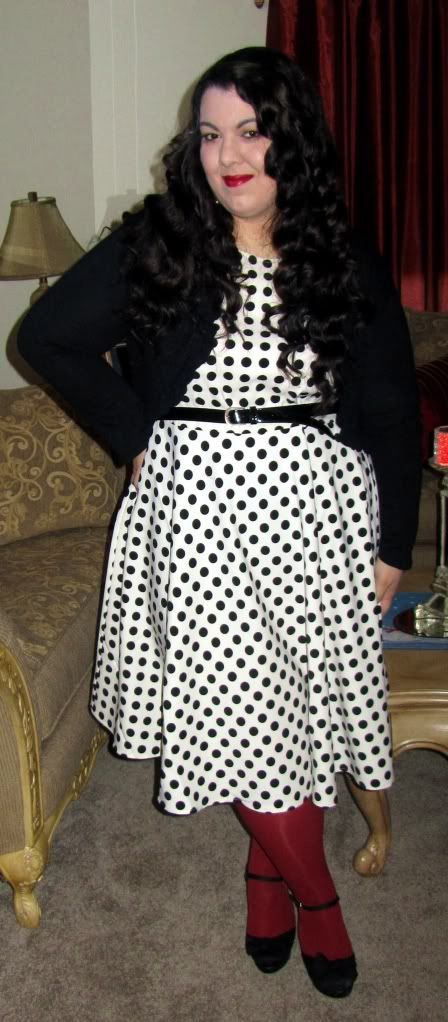 This was definitely a twirling dress! ♥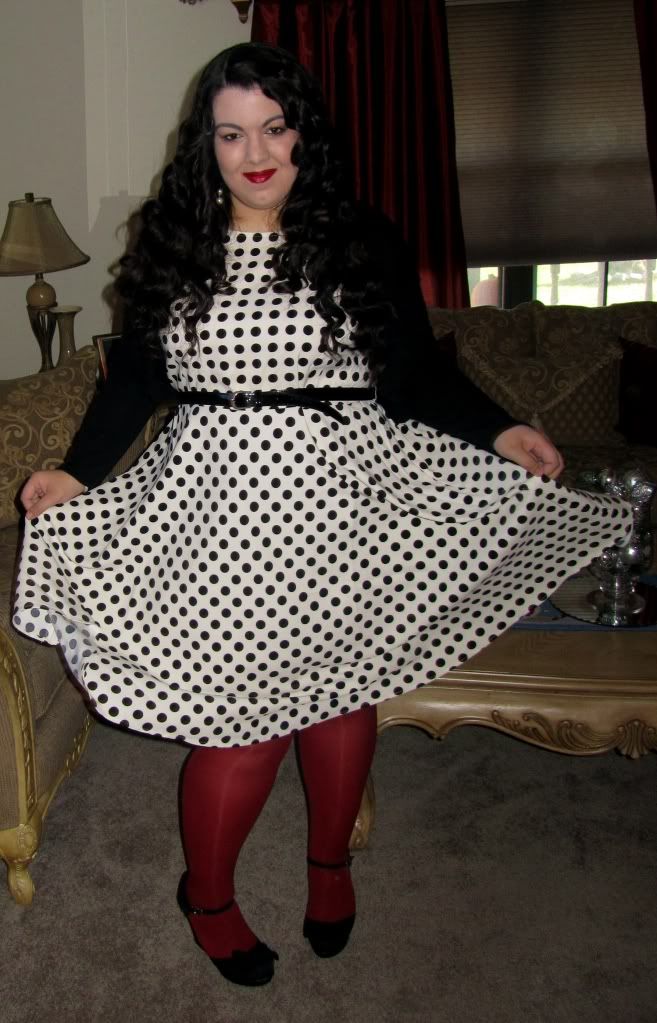 I love these deep red tights and my wedges, aren't they cute! :)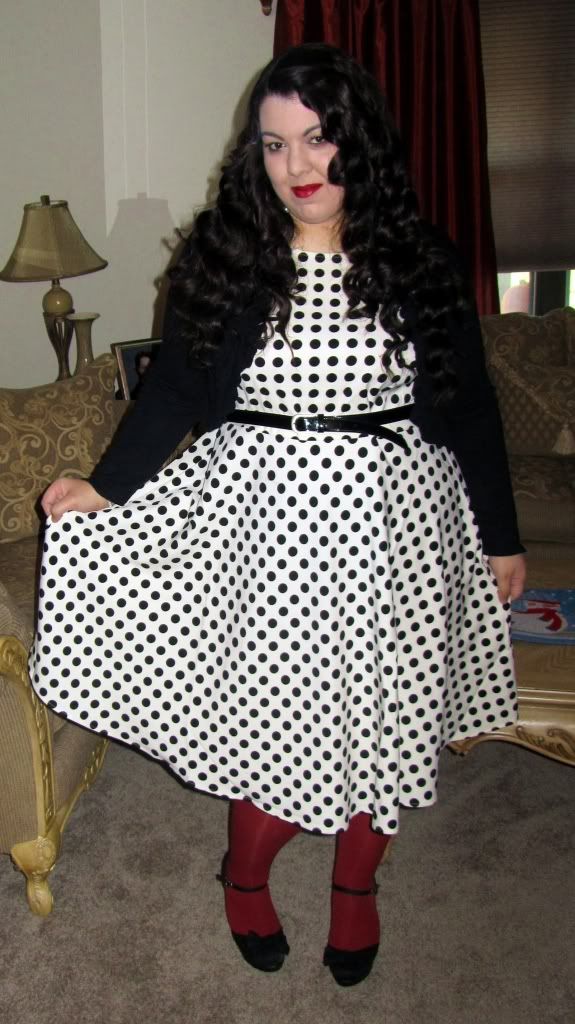 Dress w/belt: Avenue, Sweater: Fashion Bug, Tights: Avenue, Wedges: Torrid, Earrings: Torrid
2.) Winter Floral
I took these pictures after running around all day at school and I spent a good amount of time searching for "play money" in 10 different stores! Ha!, I needed it for a project I did with the 2nd graders, so cute! So, my hair got a little poofy and the curls fell a little. I was in a good mood though because some random guy stopped me in Walmart to tell me I looked gorgeous! Lol! I didn't really know what to say but "Thank you," which I did while blushing and backing away...haha!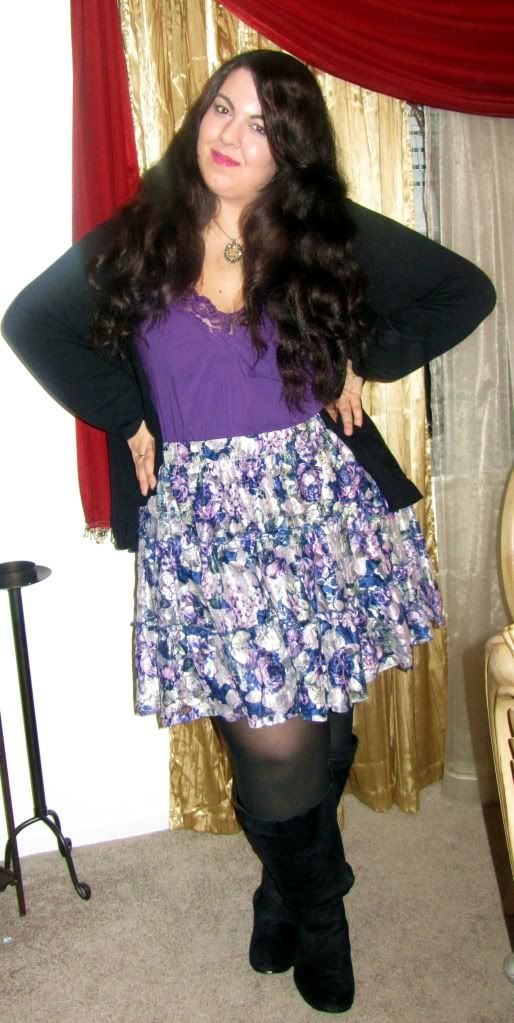 Tank top: DEB shop, Skirt & Necklace: Forever 21, Tights & Boots: Torrid, Sweater: Fashion Bug
3.) Shiny Blue Goodbyes
I was so excited to wear this skirt because when I bought it about a year ago it never fit (bought it 2 sizes too small...oops) and it just kept it sitting in my closet. It's Calvin Klein too. :)
Skirt: Calvin Klein from Ross, Tank top: Lane Bryant, Striped Blazer & Heels: Torrid, Tights: welovecolors.com, Necklace & Bracelet: Forever 21
I wore this on my last day of Practicum, which is a fancy word for the college class for which I had to visit a second grade class every Tuesday this semester. I got to help the teacher and teach a few lessons to the class by myself, which was a little scary at first, but I loved it! The children were so sweet and I'm going to miss them. They had a cake for me and made me all these cards on my last day! How adorable are they!? I brought them a little treat too: little Christmas themed bags with candy, pencils, & erasers. I can't wait to be a teacher! :)
Okay, I'll stop now, that's a lot for one post!