A thousand words right...but which ones???
I've been meaning to post on here for a while, I have so much to tell you and so many outfits I want to share. It'll take a few posts though. I have been so super busy with college I bearly have time to sleep, the end of the semester is insane! I'm not done with finals until the 21st, which sucks! Some rather interesting things have been going on in my life lately...good, bad, strange, lol!
So, I have a little story to tell you guys and then a question. I meant to post this a couple weeks ago, but here you go anyway. I was talking to this guy a few weeks ago whom I met online. We were texting and he was telling me all these sweet things. He was nice but at the time I was still obsessed with the boy from college (I'm not anymore, but I'll tell you about that in my next post!). I just didn't like him like that other guy so I had to tell him I could not talk to him anymore, which was not fun and I felt awful, but it would have been mean to keep kind of leading him on right? I had only ever texted him, it wasn't a big deal and only for a week, but still I felt bad he was sad. :( Whatever, had to be done, wasn't meant to be. Anyway, the point I wanted to make was that when I was talking to this guy, let's call him T. T asked me if I would consider sending him what I consider to be inappropriate pictures. Of course, I said ABSOLUTELY NOT, NEVER! I was quite offended that he'd ask...and that's when I knew I had to stop talking to him, even if he was nice.
He said something that made me think and wonder about something. He said something to the effect of: that he had assumed certain things about me based on the pictures I have posted on my blog. What the hell have I ever posted on here that would make someone assume I would do something like that. Not a slut, thanks! No offense if you happen to be someone who does do things like that, but it's not me. I am fully clothed in all my pictures. Non of them are anything more than PG 13, haha! I don't always dress like a nun, I know. Yes, I like to look sexy once in a while, and there's nothing wrong with that, but I never thought someone would think that based on the way I look/dress in pictures. He also said that I seemed less shy in photos, which I can understand, I do, but still, get lost!
Do you guys assume anything about me based on my pictures? How do I seem? I've never really thought about it until now. Has anyone ever assumed things about you based on a photo or your blog? Comment below I'd love to know what you think. I think (no, I know...) that guy was just a creeper and not worthy of my time.
I look a little angry in these pictures, haha! I was probably just tired after being at the elementary school and then having class after. I should really take pictures in the morning, but there's not always time. I love this dress with the pretty purple ruffles!
Dress:Ross, Tights: welovecolors.com, Shoes and Belt: Torrid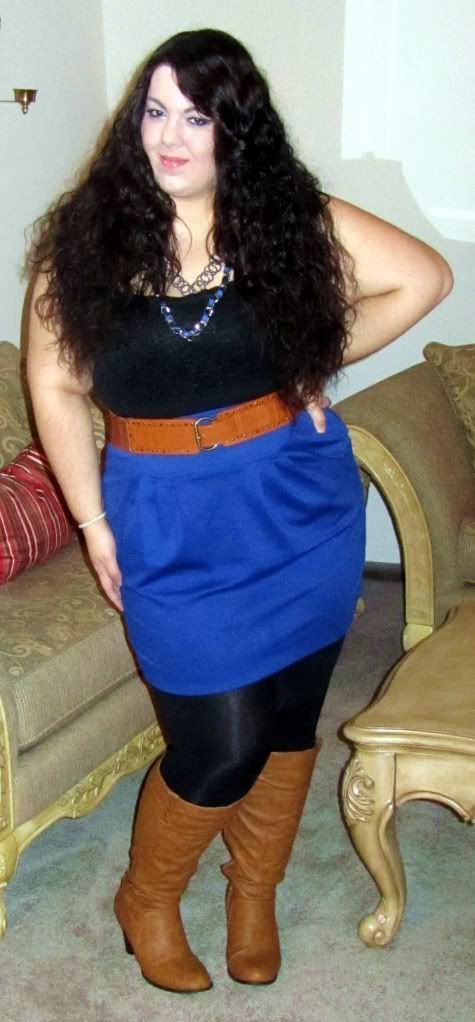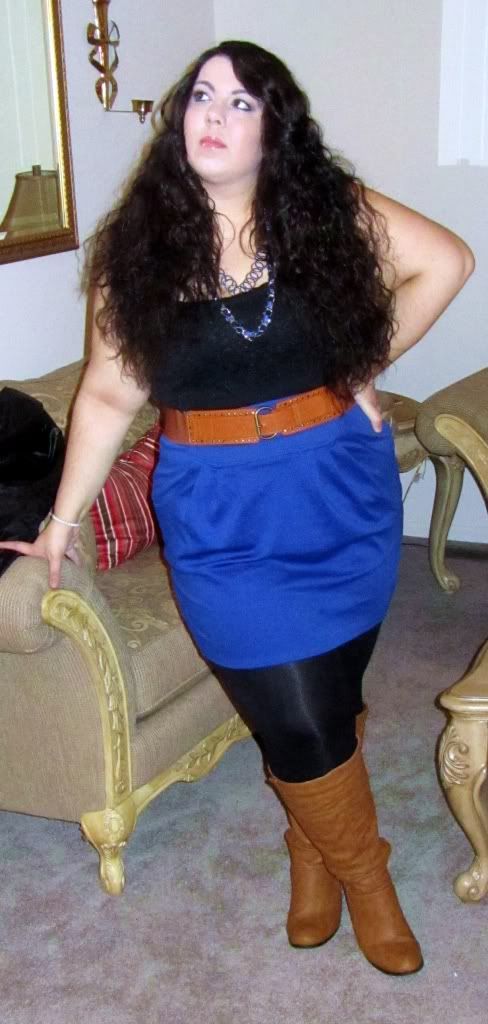 Not much to say about this outfit, I just like it. :) I've been a little too obsessed with these boots lately, lol!
Skirt: Alloy.com, Leggings: Avenue, Boots and Tank top: Torrid, Belt, Necklace, & Jacket: Fashion Bug
3.) Lace, Purple & Blue (Out of cute names for outfits, lol!)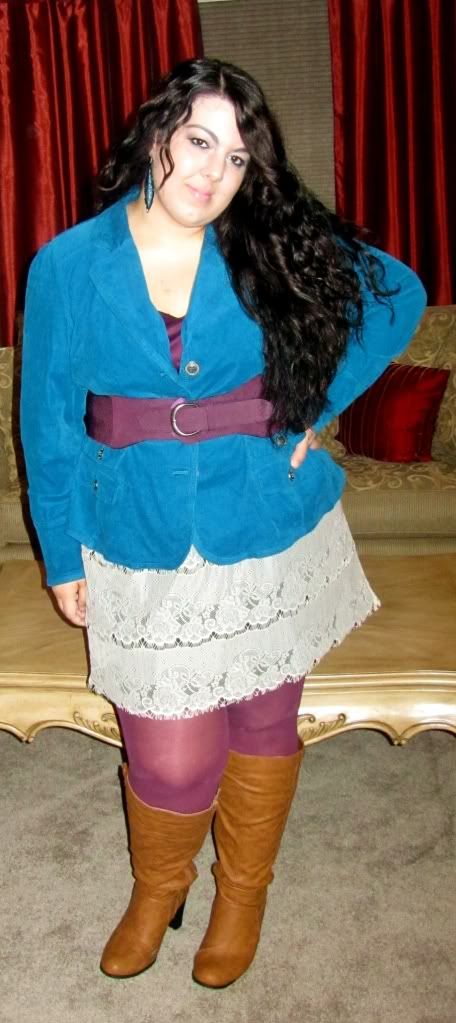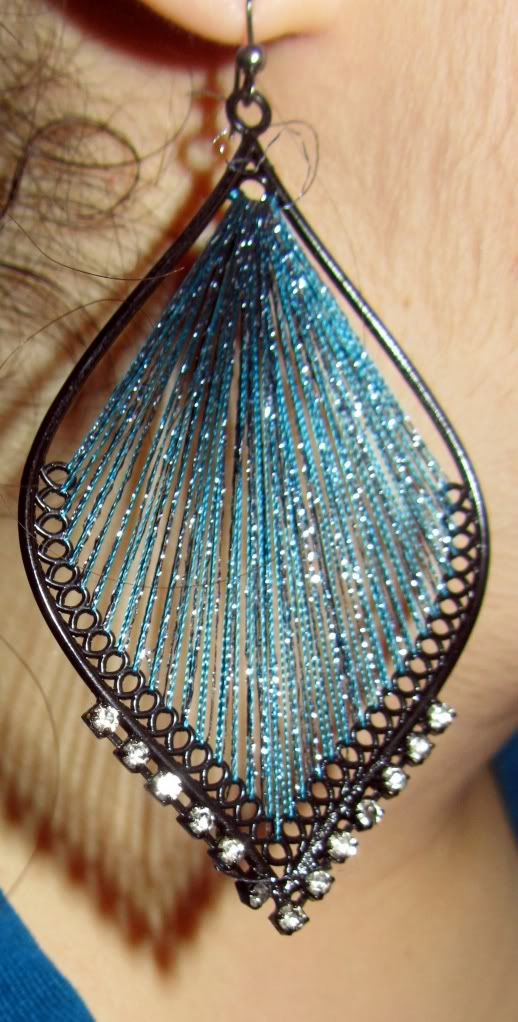 Love these earrings!
Skirt: DEB shop, Tank top & Jacket: Kohl's, Belt & Boots: Torrid, Tights: Avenue, Earrings: ?? (borrowed from my mom)
4.) Casual Leather
Some days, I do wear just jeans and a T shirt, not often, but sometimes. My car was broken the day I wore this, which meant I got to borrow my father's car. I was excited because he let me drive his BMW, and even though I'm not really too interested in cars, I still felt pretty bada** driving around in it for a few days...lol! So I wore the leather jacket to go along with that...and because I love it & have been wearing it often lately! :)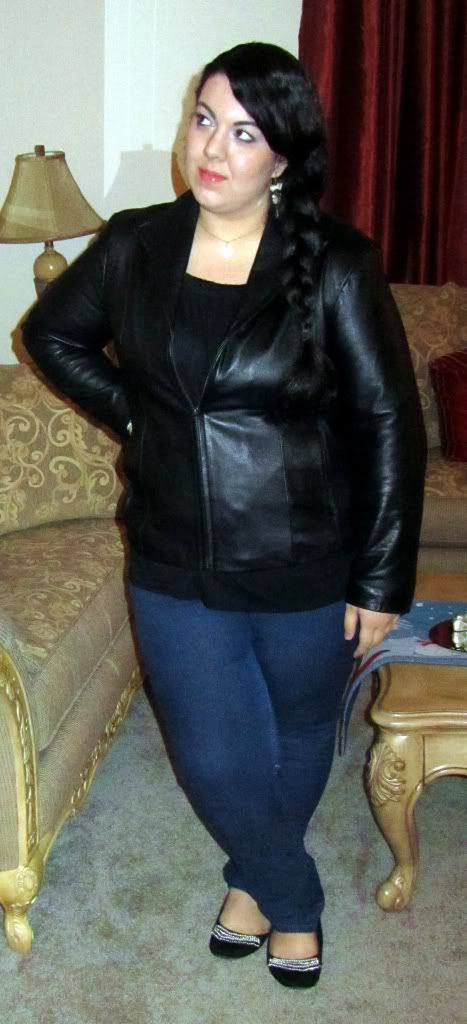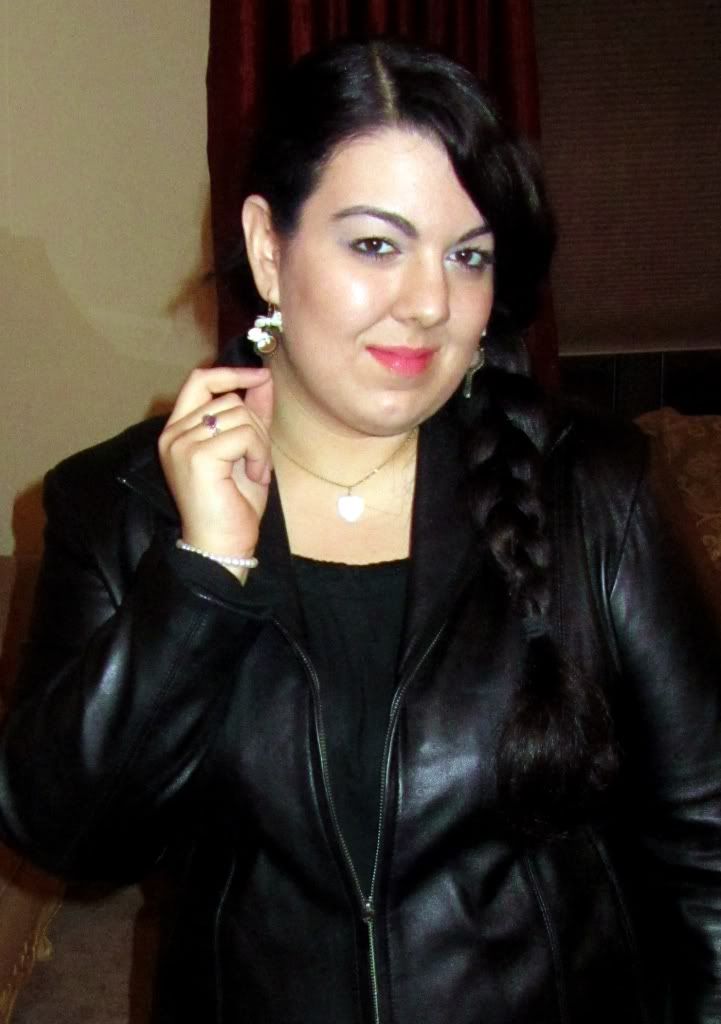 Jeans: Torrid, T-shirt: Forever 21, I think?, Leather Jacket: Nine West, Necklace: gift (the little heart charm is from somewhere in Calabria, Italy), Earrings: Forever 21, Flats: Avenue

5.) Pretty Pink & Black Lace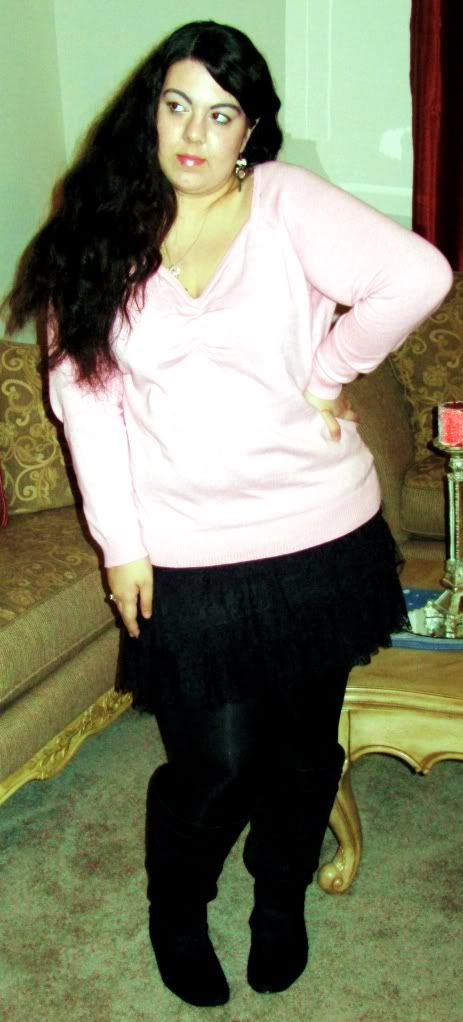 This sweater is a pretty light pink color (my favorite!) but the flash on my camera makes it look a little too white. This is another example of why I should take outfit pictures in the morning, I look tired and my hair got a little messed up in the rain, oh well.
Sweater: Fashion Bug, Skirt: DEB shop, Leggings: Avenue, Boots: Torrid, Earrings and necklace: Forever 21
That's all for now, I have some other things I want to share with you guys soon (happy boy-related things :) ) and a few more outfits too. I'll try to blog again soon. Love you guys, comment below and follow the blog through Google Friend Connect if you'd like. :)