Ciao darlings,
I couldn't sleep, so I'm writing a quick blog post that doesn't require too much effort. My day was not that great...not awful, but boring mostly. I did homework most of the day...until I couldn't take it anymore. I cannot seem to concentrate much lately for reasons I don't feel like discussing right now, though I'm sure you can guess. ;) ♥ I can only think about one thing (or person) most of the time. Anyway, I also went to a zumba class tonight that I started taking a couple weeks ago. If you're not familiar with it, zumba is a Latin-dance inspired workout. It's fun, I suppose. I like the music and it's more entertaining than exercising by yourself all the time, I guess. It's very unlike me to do this though. I seem to be very unlike me a lot lately anyway, so whatever... I sort of hate dancing and exercising in front of people. I generally try to avoid this type of thing. My cousin, April, whom I love dearly, convinced me to go with her, along with my mom, aunt, sister, and her friend. It is fun to have some "girl time" every week though! I still feel really awkward doing it though. I was not meant to dance at all! Other than feeling super self-conscious trying to shake my hips like a belly dancer (lol!), I'm also not so good at following along when the dance moves get too complicated. I just laugh at myself and keep trying though. I totally recommend it though if you're looking for a fun way to exercise. Most normal people seem to enjoy it (maybe I like it a little too...lol). You can probably find a class near you or there are DVD's you can buy. I think there may also be a video game. Have any of you ever tried zumba? Thoughts?
Unfortunately, I cannot dance like Shakira, at all...haha! Fun song though! :)
Here's an outfit I wore recently too. I might as well include it so I don't have to post 15 at once like last time. I love velvet: the way it feels, the texture, and the look. Apparently I did not want to look at the camera that day, lol!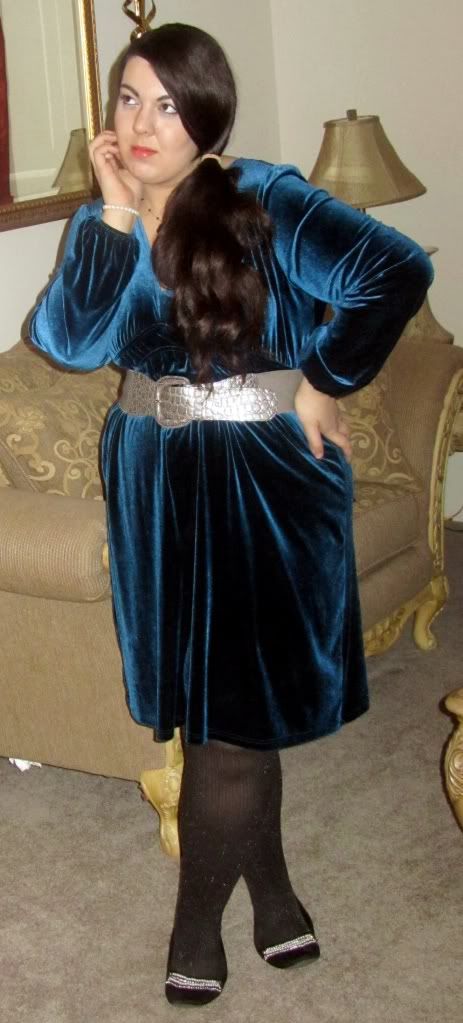 Dress: Lane Bryant, Tights: welovecolors.com, Belt: NYC & Co, Necklace:gift, Bracelet: Forever 21, Flats: Avenue
I suppose I'll go try and sleep again. Comment below if you'd like. :)
♥ Xoxo Gabriella