Ciao darlings!,
I have not posted in a while, I know. I meant to during Christmas break from school, but I needed time to have a life for a little while! Haha! I've missed you all though. I haven't checked or commented much on other blogs in a while either, sorry, I'll get to it. I'm usually so busy with school and I needed a break from everything for a while. So, I might as well tell you what's been going on since I last blogged. A lot of things have happened since then: some good, fun, some heartbreaking and sad, some interesting. Lol!
Let's start with the good things. I hope you all had a lovely holiday season, it's a little late, I know, but whatever. I did, mostly (more on the depressing part in a bit...). I spent time with family and friends, relaxed, and did not think about school at all, which was nice. I spent 2 days around Christmas making a ridiculous amount of cookies (Chocolate Chip, Peanut Butter, Italian Amaretti, Shortbread with various Jams, Gingerbread, and Sugar!), which I loved, but it's a lot of work! See, here's a few of the many, aren't they cute:
I gave away a bunch to family and friends. What's better than homemade cookies in cute tins tied with pretty ribbons!
Christmas Eve I had to work, but it wasn't that bad. At night, I had dinner with my parents and little brother, which was nice. We laughed and talked, and possibly drank too much wine...haha! I love spending time with family during the holidays. Christmas day, I spent with my parents, brother, sister, her boyfriend, my nieces and nephew at my house. We opened presents (really, shocking! lol!), had dinner together, etc. Later we went to my aunt's house to see some more family, which was also nice. :) In between Christmas and New Years, I read books, watched movies, wrote stories, baked and cooked fun things, played dress up (ya, so what! lol, I'll post pictures soon, there may have been frilly petticoats/tutus involved...) basically all the things I never find enough time to do during school. I also got to spend some fun girl time with three of my best friends (Kristen, Vicki, & April) whom I hadn't spent time with in a while. I absolutely love them and it was great to have some time to catch up and have fun! We watched movies, played pool (not so well...lol!, it was pretty hilarious, let's just say we're not joining a league any time soon...ha!),chatted, and had a ton of fun taking a bunch of pictures with my tripod! :) Hopefully, they won't mind me posting just a few of them on here:
Had a really hard time trying not to laugh...lol!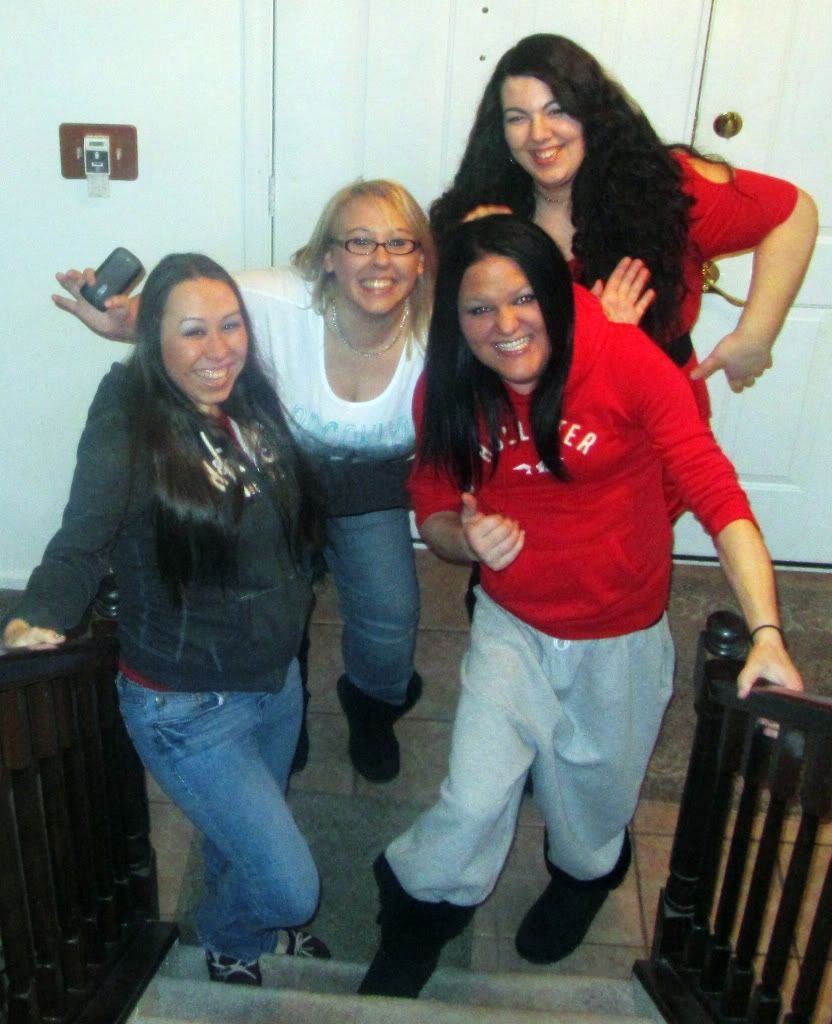 ♥Love them♥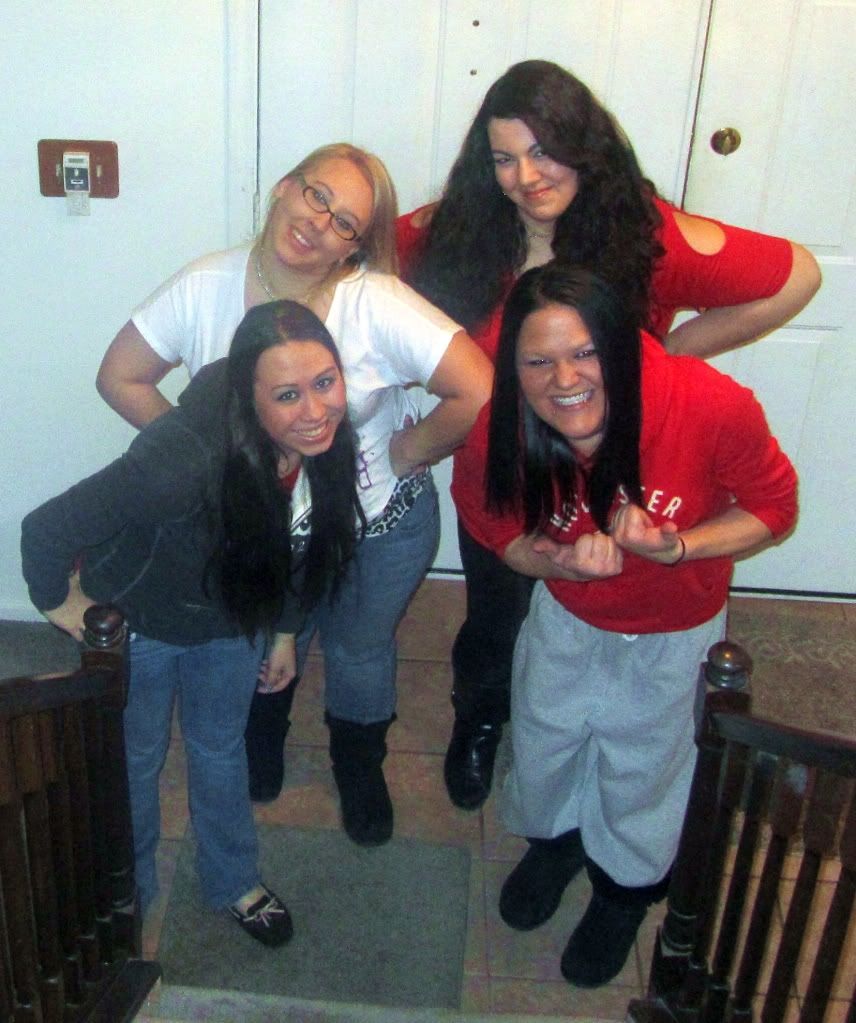 On New Year's Eve I went to a party at my sister's house with a bunch of family and friends. Since I usually stay home on New Year's Eve, it was fun and different. There was a lot of food, interesting conversation, and fireworks. Of course we watched the New Year's Eve special on TV and watched the ball drop. I made friends with my niece's best friend's mother...lol, she was a really sweet lady (why do I always get along better with either younger or older people...?). I made one of the best cakes ever, not to be arrogant, but it was so delicious! (Strawberry Cake with Swiss Meringue Pink Champagne Buttercream!, recipe will be on here soon). I got to spend time with my lovely cousin/best friend, April. It was nice. A couple of us spent the night at my sister's house, so I was up late gossiping with my neices, friends, my mom and aunt...which was hilarious, ha! New Year's Day, I didn't do much. I just wore a sparkly skirt and had dinner with my brother and father at his restaurant.
Now, I mentioned earlier there were some not so happy things that happened since my last, overly excited, happy-girl blog post... My boyfriend...or um, ex-boyfriend, and I broke up. :( I'm debating whether I should tell you guys what happened. It's sort of entertaining, if it's not happening to you, I suppose...lol. I swear I walked into a romantic comedy/drama ,without the happy ending, for about a month. It was ridiculous. Of course, if you read how excited I was in my last post, you'd probably guess that I was sort of devastated about it. Maybe I'm a tad over-dramatic, but whatever, I was crushed. I'm trying to get over it/him (which I don't do so well...example: previous posts on my silly crush on a guy for way too long). What do you guys think, interested in hearing my ridiculous story? lol! Maybe I'll write about it later...
I also started a new semester of school last week. Of course, I went back earlier than everyone I know at other colleges, who are still on vacation (totally not bitter...ha!). It's okay though, I like school, even though it drives me crazy; things I love tend to do that. I'm taking some education courses (Teaching Language Arts & Technology and Teaching Science), Geography, World Religions, and an English class: The Romantic Period. I'm also starting Practicum (like student teaching but only once a week) at a new school this Tuesday, which I'm excited about. I'll be in a fourth grade classroom this time. Should be fun! :)
Although I didn't blog, I did take a bunch of pictures of a lot of my outfits the past month, so they'll be on here soon too. I have a lot more posts planned, I'm going to try not to disappear again! Hope you all have a wonderful weekend and are doing well. Comment below if you'd like and follow my blog please. :)
♥
Xoxo Gabriella
♥