Ciao darlings!
I'm back, blogging two days in a row, yay! I'm going to try to get to posting all the things I've been planning to post both lately and since I started this blog that I never got around to posting yet. Anyway, I wanted to share something I wrote a few weeks ago with you guys. I love to write, usually short stories (some of which are on the list of things I want to post), maybe someday a book, but I tried something different this time. I suppose this is a free verse poem (no rhyme, meter...or reason, haha!) that I wrote about someone (my sweet, adorable boyfriend!) recently. Maybe I'm way too melodramatic, but it's a poem, so whatever. I realize most of you follow for fashion related things, which is fine, so I'll also include a few outfits at the bottom of the post (more coming soon after these too).
"Love at First Sight: Daydreams of a Love Struck Girl"

She sat in the corner, hair curled, makeup done just so, wearing a short dress with tiny ruffles she hoped he would like,

Fiddling with her necklace which purposefully read "Love,"

Anxiously awaiting for him to arrive.

The one thing she had longed for,

For what had seemed to her to be a thousand years,

She had finally decided to take a risk and go after it.

Sipping her overly fancy, overpriced coffee drink,

She sat nervously twirling her hair around her finger.

Her mind began to race as it often did when she was nervous:

"Did he forget?" "Change his mind" "Did he see her, and decide it was a mistake?"

"Was this a mistake?" she wondered and hoped not.

She glanced up from her book she had brought so she wouldn't look as if she were there waiting for someone in case he did not come,

And she saw him.

He was sitting at a table only a few feet away.

His eyes met hers and she smiled, waved, and then panicked and immediately looked down.

"Oh my goodness, he's really here" she thought "What if he expected me to be more confident and talkative as I seem to appear in words & pictures online?" she wondered.

"What if I'm not what he expected?"

It was too late to do anything about it now.

He walked towards her and introduced himself.

She loved the way he said her name with an accent that made her smile whenever he
spoke.

In his eyes she saw kindness and his gaze made her feel that she could trust him with
things she hadn't told another soul...

She looked in his eyes and saw his smile and she was in awe.

She knew in that instant that she loved him, though it made her incredibly nervous and shy.

She needed no further convincing,

Though it may seem crazy to some.

She knew in her heart, this man had her heart and he didn't even know it yet.

She knew right then that she wanted to know absolutely everything there was to know about this man.

Not because she needed a reason to fall in love with him, for she already had,

But because she knew she wanted to spend the rest of her life with him and nothing in this world mattered more to her than learning all she could about this man she felt was her soul mate and nothing would stop her, not even her extreme tendency to not allow people in and to be so very shy.

She wanted to experience all that love has to offer with this man and prayed to God that eventually he would feel the same about her.

Maybe, just maybe, if she were very lucky, he would feel the same way about her someday…

As they chatted that day, and long after they had parted ways, and in the following weeks,

Her mind painted a glorious and magical collage of beautiful, romantic scenes:

Hand holding on long walks, Warm, intimate hugs,

Sweet and Passionate kisses, staring into each other's eyes,

Romantic dinners, movies watched in dimly lit rooms whilst cuddled in each other's arms,

Learning all of each other's secrets, later, a white frilly princess gown, a long aisle in a beautiful church, friends and family gathered to share in the love that she had first felt on that very first day,

A cozy home with tiny feet running about, and giggling children gathered around their happy parents.

She saw a beautiful life flash before her…and hoped with all that she was and ever would be that her daydreams would come true.

Hopefully, someday, she would find the courage to share all of this with him.

But for now, it is only a silly, yet hopeful, daydream of a love struck girl,
Sitting alone in her room, waiting for him to call, and praying he feels the same.
1.) Hot Magenta Dress! :)
For some reason, I love the picture on the left. When I took this about 5 weeks ago (ya, really behind on my outfit posts...lol, I think I look a little different in more recent pictures...), it was my new favorite picture of myself (totally not as conceited as that makes me sound, ha!).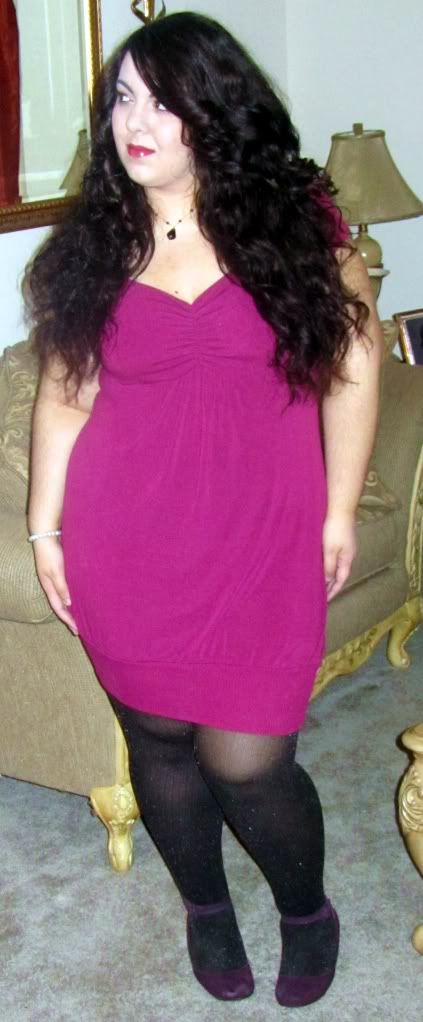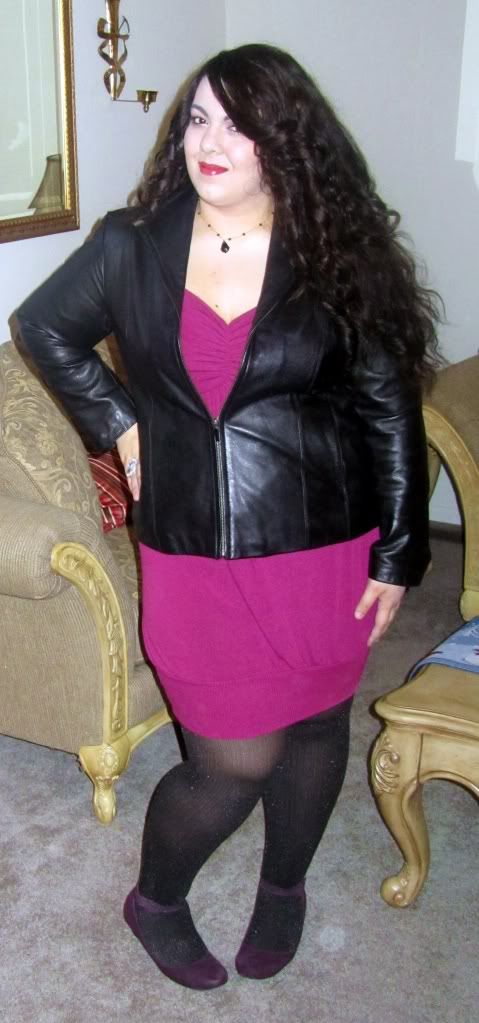 Not sure you can tell in the other pictures, but my tights are sparkly! :)

Dress: Torrid, Tights: Avenue, Leather Jacket: Nine West, Ring: Kohl's, Shoes: Alloy.com, Necklace: gift
2.) Brown Floral Dress
This dress sort of reminds me of a couch you would find in the home of a 90 year old lady...haha! I love it though, I'm always a sucker for floral. :)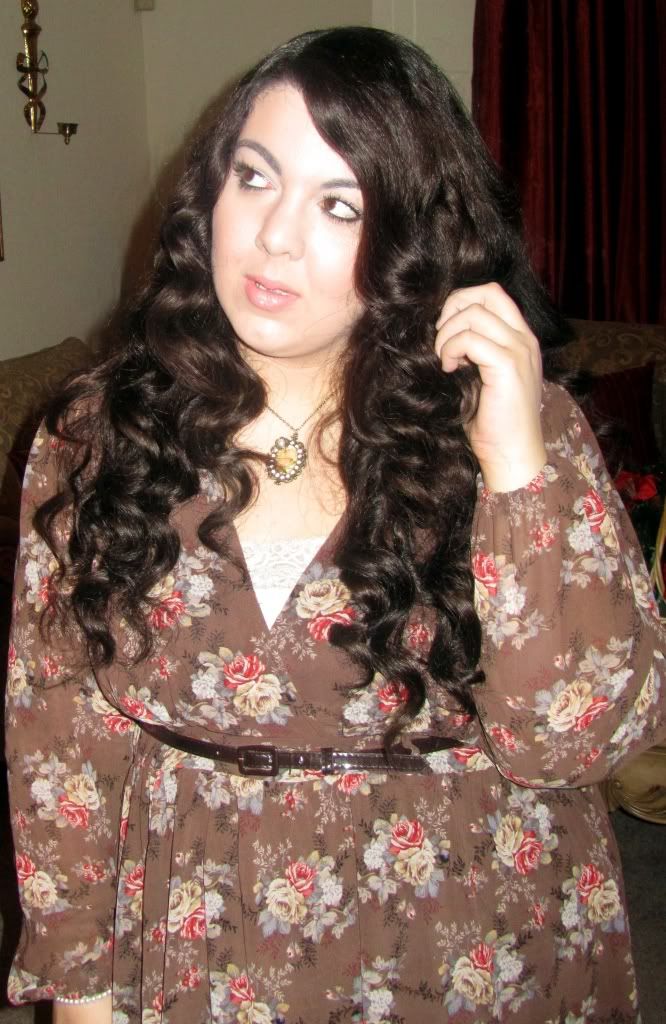 Dress/belt: Torrid, Necklace & Shoes: Forever 21, Tights: welovecolors.com
3.) Another Floral Dress...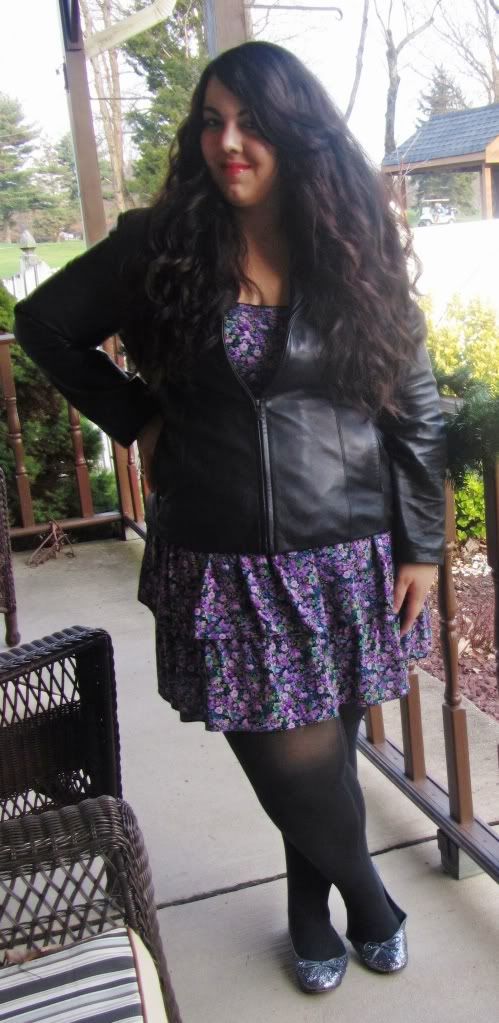 Yes, another one. I posted this on here once (maybe
twice?) before...but oh well, I like it.
Dress: Target, Tights: Lane Bryant, Shoes: Target, Jacket: Nine West
4.) Madonna Tee
This is not my favorite outfit...those jeans need to go...lol. I do love the Madonna t-shirt, so I'm posting it. Even I can't be all dressed up all the time, I'm not Lady Gaga. Haha! :)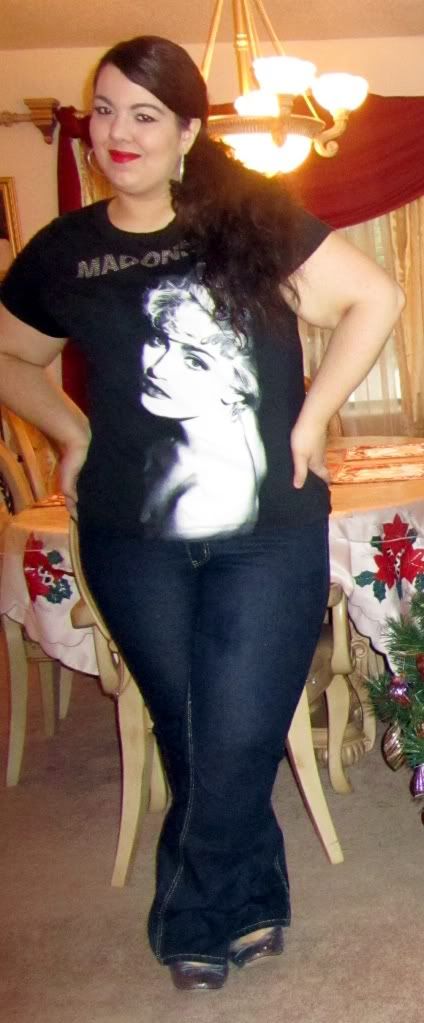 T-shirt: Kmart, Jeans: not sure?, Shoes: Target, Earrings: Kohl's
5.) Lace & Plaid

How cute is my Hello Kitty necklace, lol! I love it! :)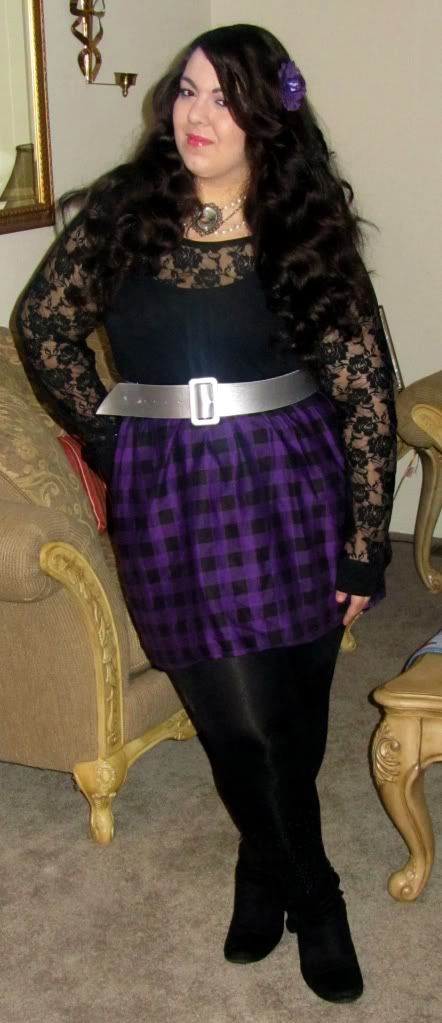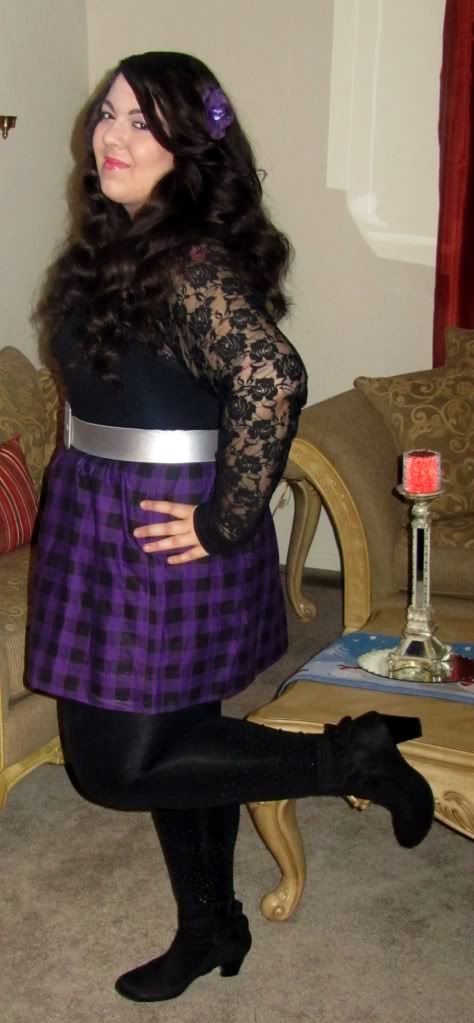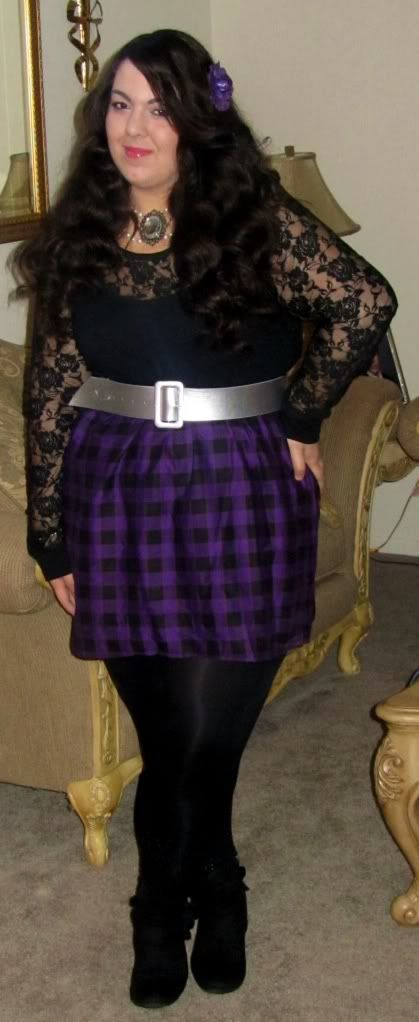 Dress: DEB, Leggings & Boots: Avenue, Lace top: Forever 21, Belt: ??, Necklace: Torrid, Flower: Claire's
That's enough for now, I have to go do homework...woo! I'll be back soon with a bunch more outfits, an interesting story (lol), and some other stuff. :)
P.S. Today (Jan 15th) was one of my favorite blogger friends, John's, birthday. Check out his blog: John's Blog Space, wish him a happy birthday and follow his blog! :)
♥
Xoxo Gabriella♥