Ciao darlings,
I promised you I had a lot of outfits from the past month or so and here they are(a little late, but what else is new...this took a lot of time and I'm busy with school too)! This will be a very long, picture heavy post (balances the last one, I suppose) and I'm not going to apologize for it, just warn you...haha!
In regards to my last post...well, it's complicated. I am seeing Adi again. I know some of you, along with other people in my life, do not agree with that decision, but I had to do what I felt was right for me. I do appreciate you comments and advice and I did read everything you all said, but I made a decision based on what he told me when I talked to him and my own feelings. Apparently, he says he did not break up with me...okay then...among lots of other sweet things, all of which I don't need to share (my mother and some friends found and read this occasionally, lol!). He said a major reason he came back to the U.S. was for me and that I was everything that he has ever wanted. Aww! So, how can I be angry with him after that?! Some things he said to me (not sharing some things, sorry)...I can't even believe, I almost feel like it's a dream. I've re-read things he's texted me way too many times. He's all I can think about lately...and I don't really mind that much...other than when I'm in school...it's a problem. If I'm making a mistake, I guess I'll learn from it, but I hope and am pretty sure I'm not. I do really like him(who am I kidding, you guys saw that poem, I love him) love him and he says he loves me (OMG, I almost cried the other day when he said that...awww!!) and has missed me too and definitely still wants to see me, so we'll see what happens. I haven't gotten to see him much since he's been back though, and it's driving me insane...I cannot concentrate!
Also, I find it absolutely ridiculous and a little funny that

2 months ago, I had never had a boyfriend and then this past week I had two guys who wanted to see me… What is going on with me lately, who the hell am I?! lol! Maybe I should be a little more careful what I wish for though because maybe I got it...or at least I should have included a time frame... Anyway, I shouldn't complain though, maybe I just didn't

know

what I wanted before.
So, I had to tell the other guy that I just wanted to be friends which was sort of awful, I felt so bad. I never want to have to do that again. I hate being mean to people or hurting their feelings. It had to be done though because I am definitely not the kind of girl who would see more than one guy and I'm really serious about Adi. Anyway, he is a really nice guy named Dominick, and I

didn't

think he'd still want to talk to me after I told him about Adi and that I just wanted to be friends with him. I thought he'd hate me. He was understandably upset…and I

didn't

think he'd ever talk to me

again

. I

wouldn't

have blamed him. After a few days though, he told me he does want to be friends, and was just upset before. I'm glad. He's a good guy so I hope we stay friends. It's kind of nice to have a guy to talk to about things like my boyfriend and such, you know? :) (He's found/read my blog too, which was a little awkward considering what I've written, lol! but oh well. In case you read this, Hi Dominick! lol!) Okay, enough about that, on to the fashion! Enjoy! :)
1.) NYC Fabulous!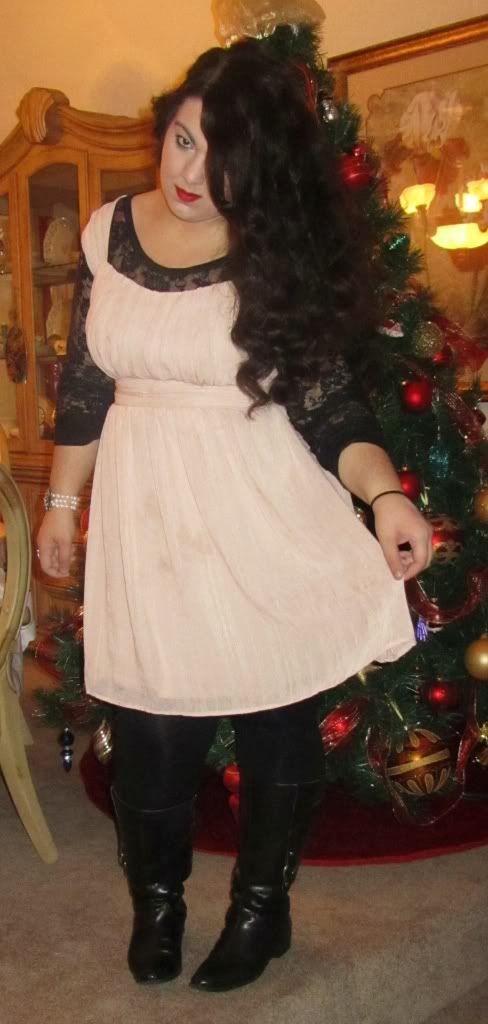 One of my favorite places to visit within a reasonable distance from me is New York City. I absolutely love it there. (I wrote a post last summer about a trip there too.) I love the museums, the lights, the stores, all the fun and interesting sights, the culture, the people, just everything about it! :) I especially love it in the winter because you can see the huge Christmas tree in Rockefeller Center and all the pretty Christmas decorations and lights everywhere. I love to take a little trip there whenever I can. I went there with my aunt one day this December. I won't post all the pictures (if you've read my blog, you know I love to take way too many!), because this was supposed to be a fashion post, but I'll share a few favorites. We went to Madame Tussaud's Wax Museum, among other places, so that's why I'm standing next to wax famous people..haha! I love the dress I wore too by the way, it's so pretty and feminine! :)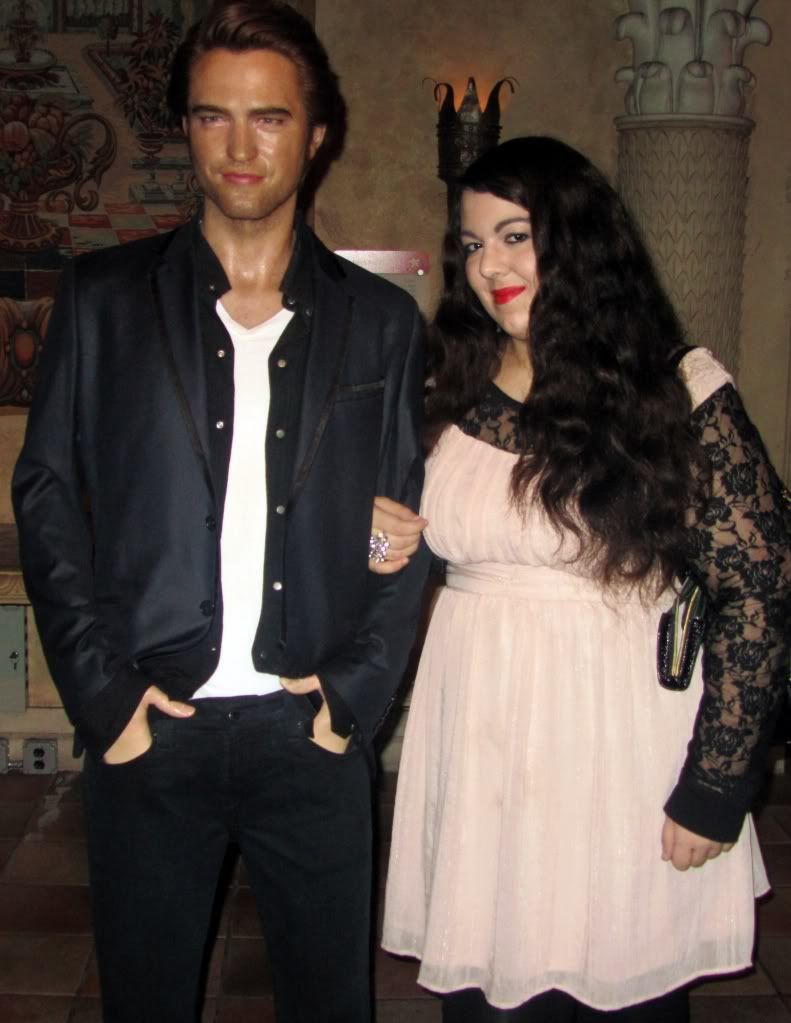 Robert Pattinson ♥ Love him!

Disney Store! :)

My aunt & I ate at one of Lidia Bastainich's (popular Italian chef/author with a cooking show I love) restaurants called Becco. It was amazing!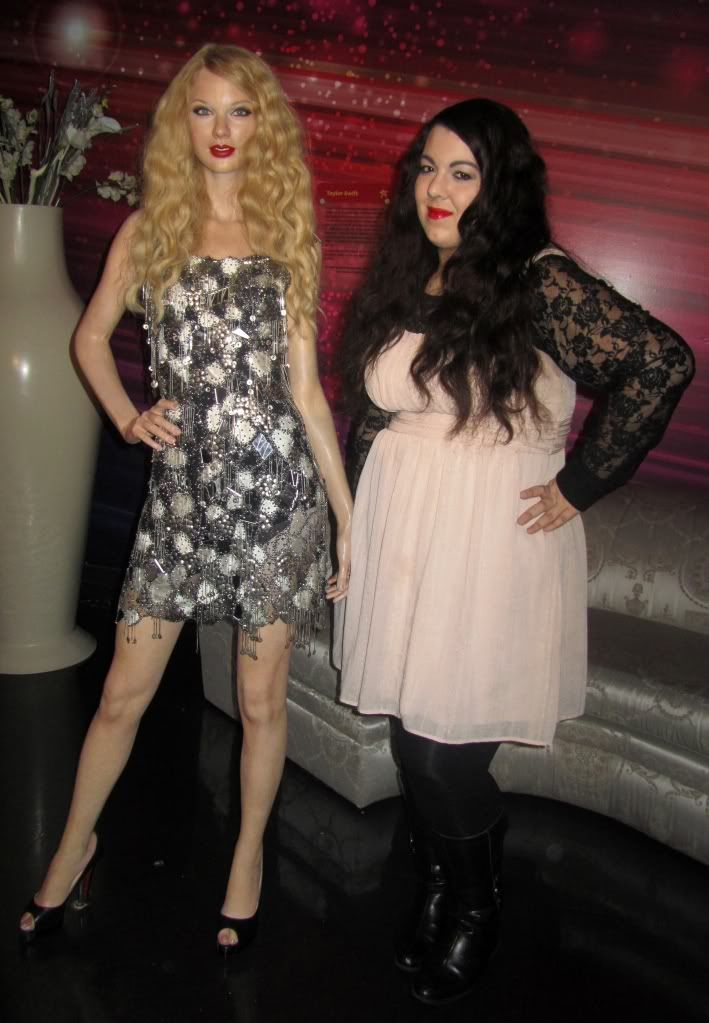 Taylor Swift! Love her too!


♥ The Beatles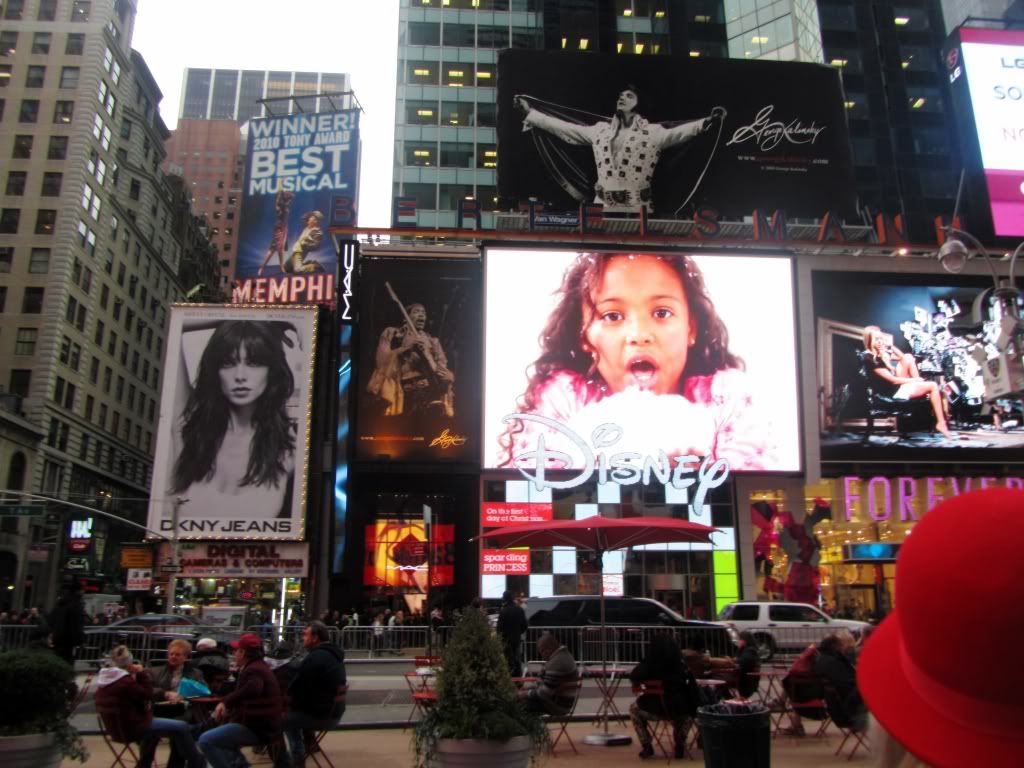 Times Square!


F. Scott Fitzgerald...Yes I'm a dork, i get excited to take a picture with a wax author! Lol, I love "The Great Gatsby".


Marilyn Monroe!


Frank Sinatra!


Pablo Picasso!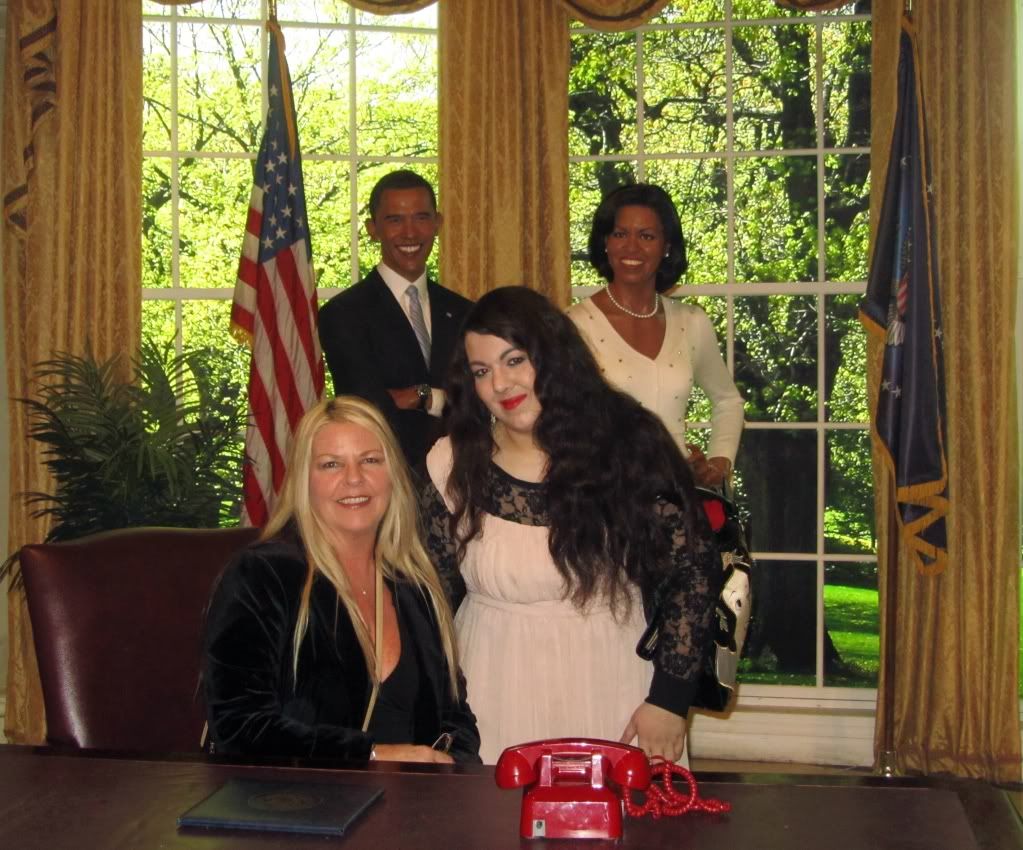 Us with the Obamas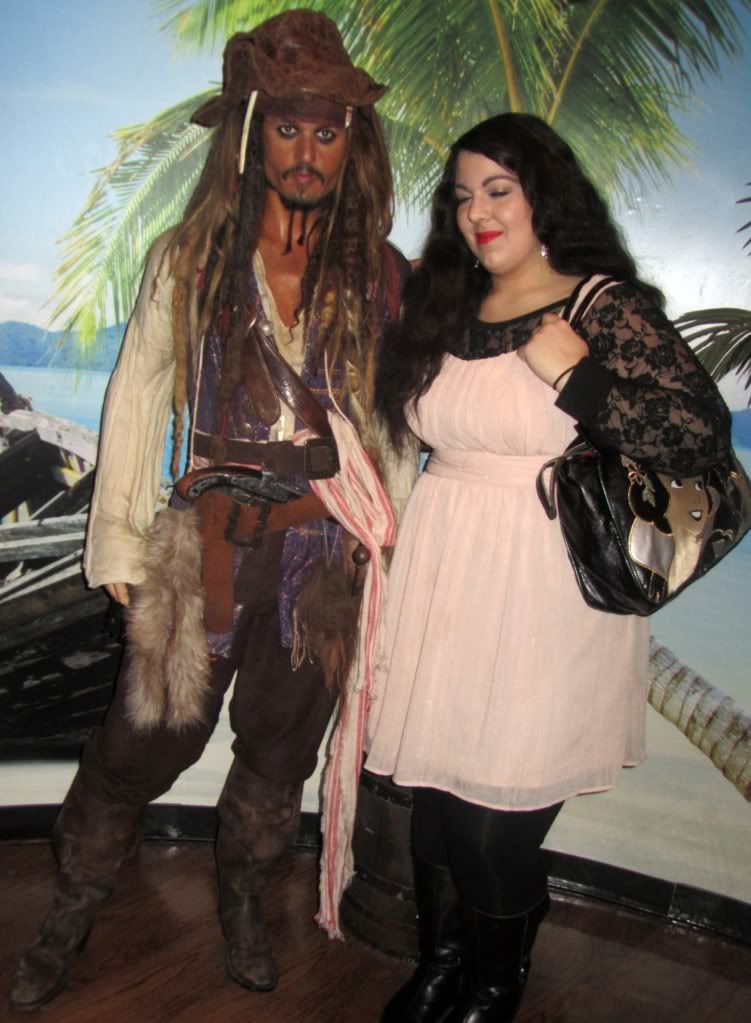 Jhonny Depp!! ♥ (my eyes are closed...uggh!)
Dress & Lace top: Forever 21, Leggings & Boots: Avenue, Bracelet, Earrings, & Ring: Forever 21, Snow White Purse: Disney World :) \
2.) Pink Corset Kisses
I adore this light pink corset top! Also, this outfit reminds me of a wonderful night. ♥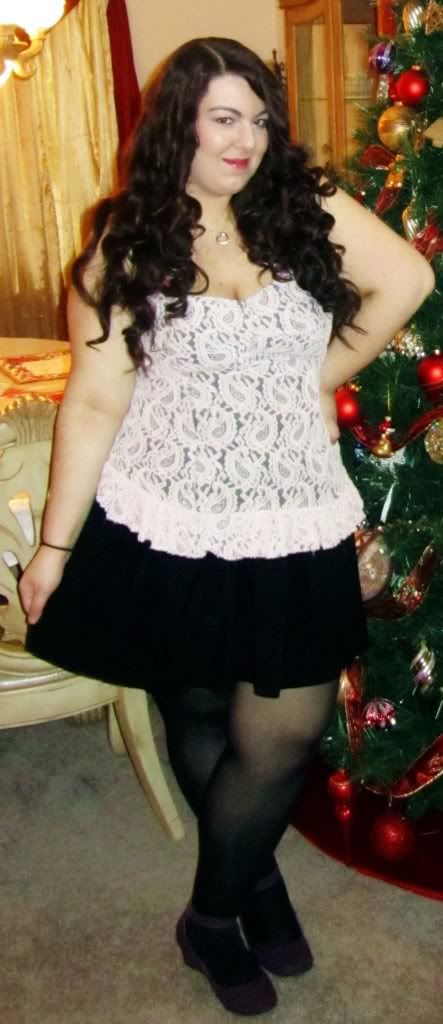 Corset top: Torrid, Skirt and shoes: Alloy.com, Leather jacket: Nine West, Tights: Forever 21, Necklace: Gift
3.) Holiday Work Party Sparkle
I wore this to the Christmas party for my father's restaurant, where I work. I adore those wedges, but they are so uncomfortable to walk in!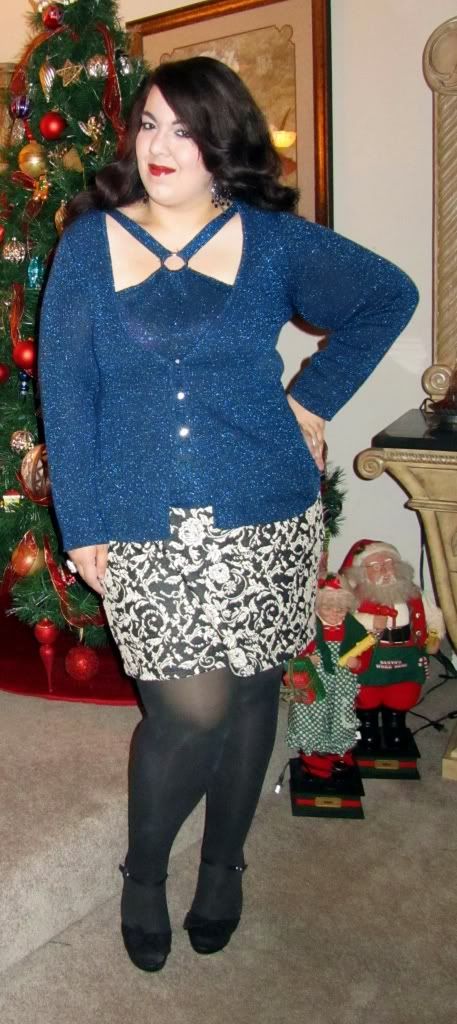 Top: Lane Bryant, Skirt: Forever 21, Tights: Lane Bryant, Wedges: Torrid, Earring & Ring: Forever 21
4.) Christmas Glamour
I love an excuse to dress up (not that I ever need one..haha!) and Christmas is no exception. This year my outfit was a little less "dressed up" than last year...and less poofy, but it was gold and sparkly!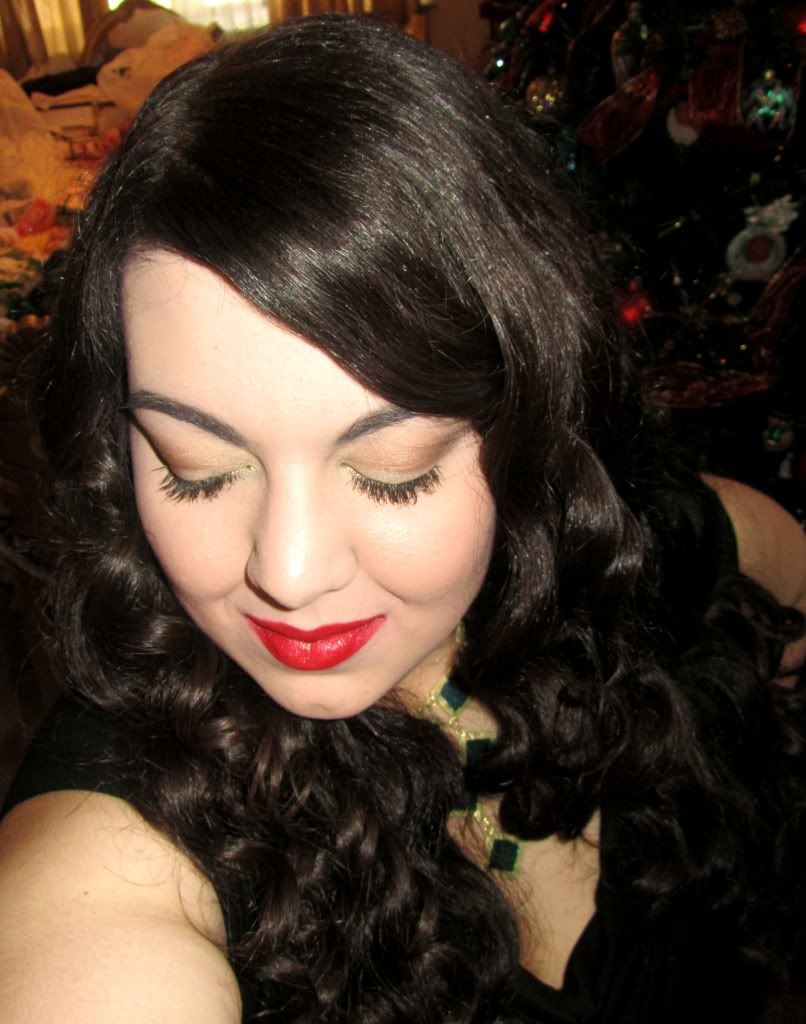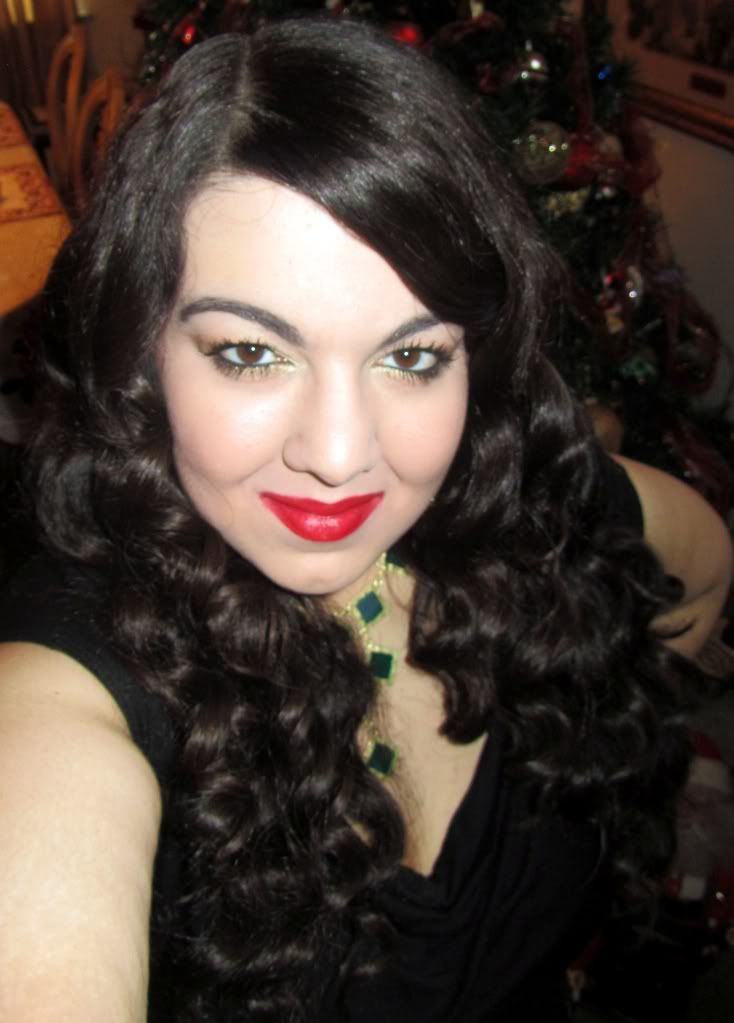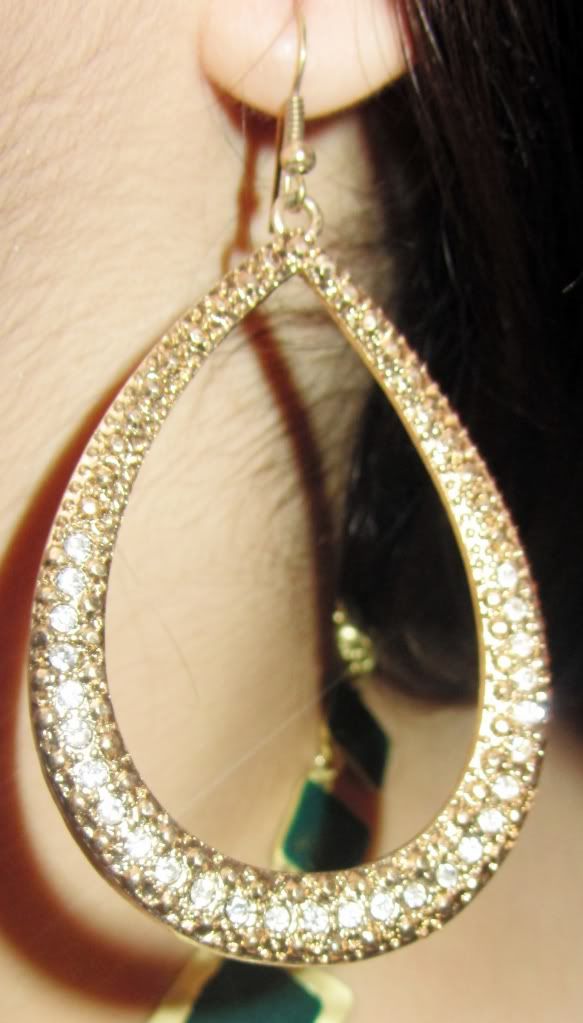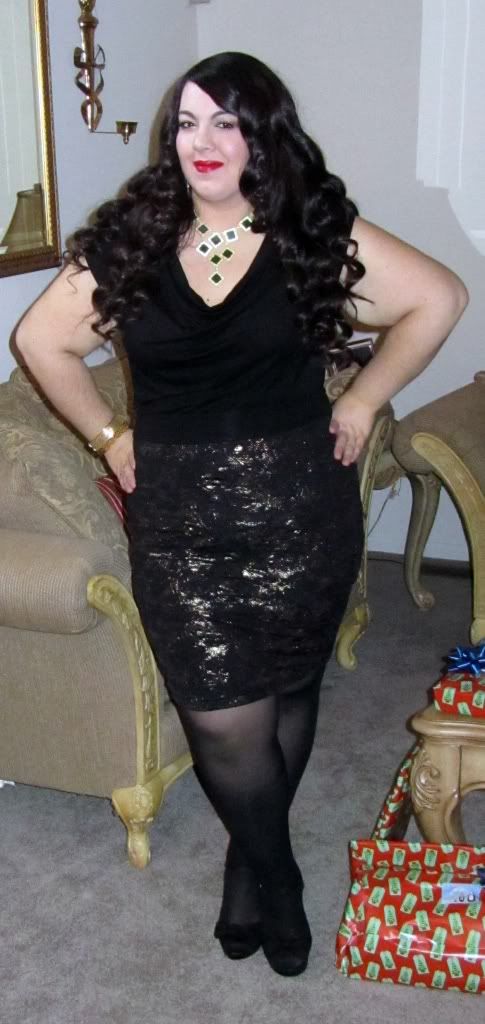 Dress: Forever 21, Belt: Torrid, Sweater: Stole from my mom (lol!), Wedges: Torrid, Necklace: Alloy.com, Earrings: Forever 21, Gold cuff bracelet: Avenue, Gold beaded bracelet: Claire's
5.) Red Sweater Dress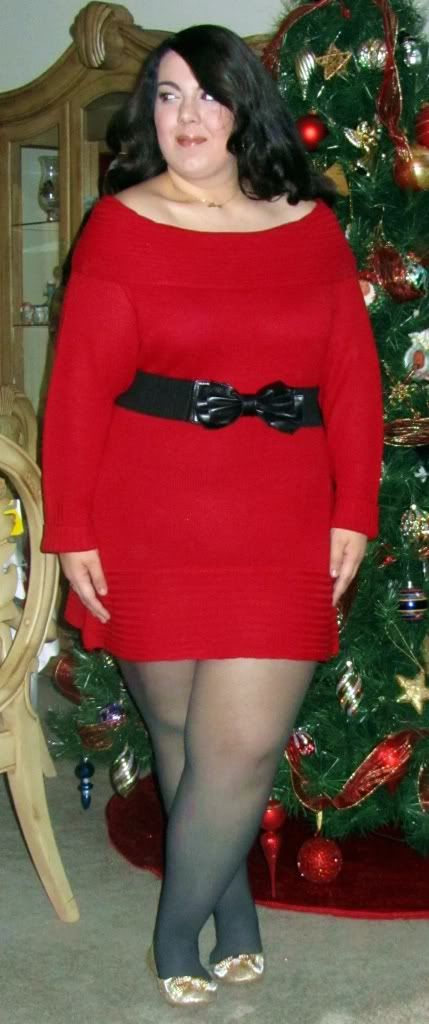 How adorable is my hat! I love it!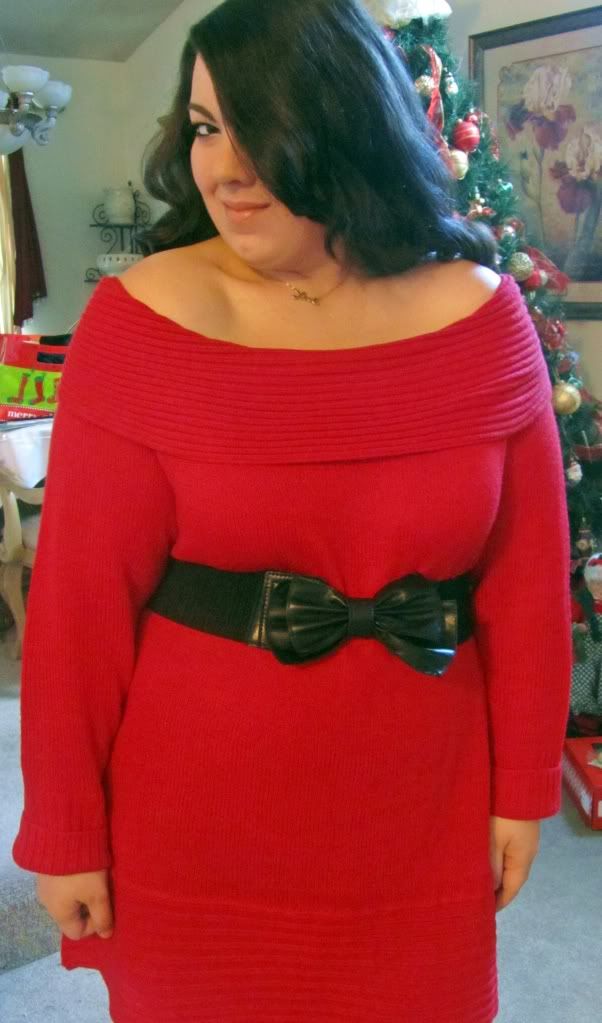 Betsey Johnson Earrings! :)


Dress & Flats: Rainbow, Belt: Torrid, Betsey Johnson earrings: Macy's, Necklace & Hat: Forever 21, Tights: Avenue, Bracelet: Claire's
6.) Blue Sparkled Cheetah!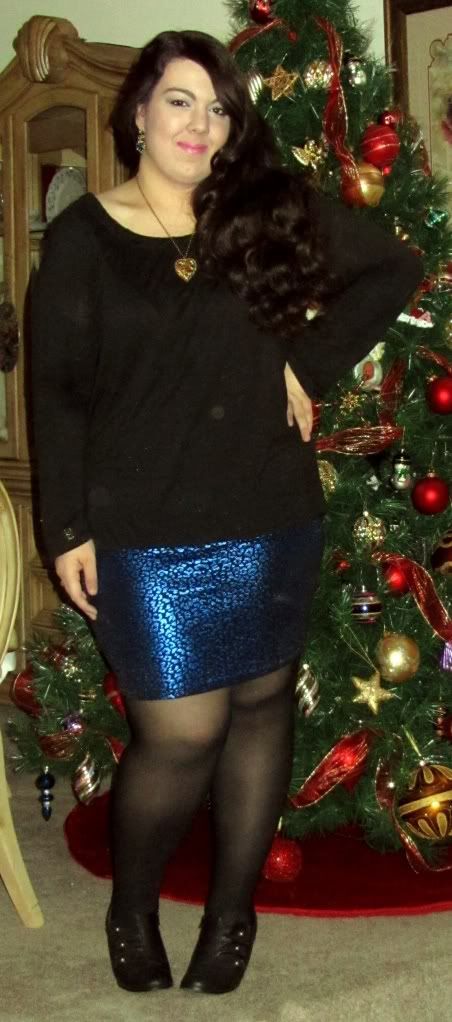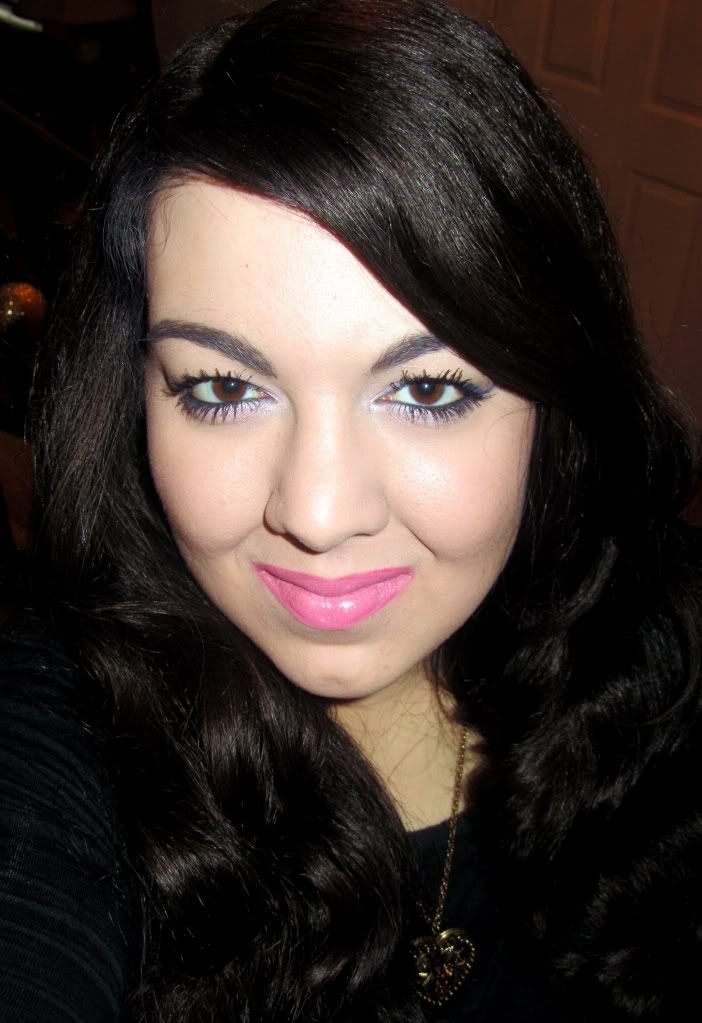 Top: ??, Skirt: Forever 21, Tights: Lane Bryant, Necklace: Torrid, Betsey Johnson Earrings: Macy's, Boots: Avenue
7.) New Year's Eve Velvet
This is really just a simple black dress, but I loved it for some reason. I wore this to a party on New Year's Eve. I had a little too much fun editing some of these pictures during winter break from school, haha! ;)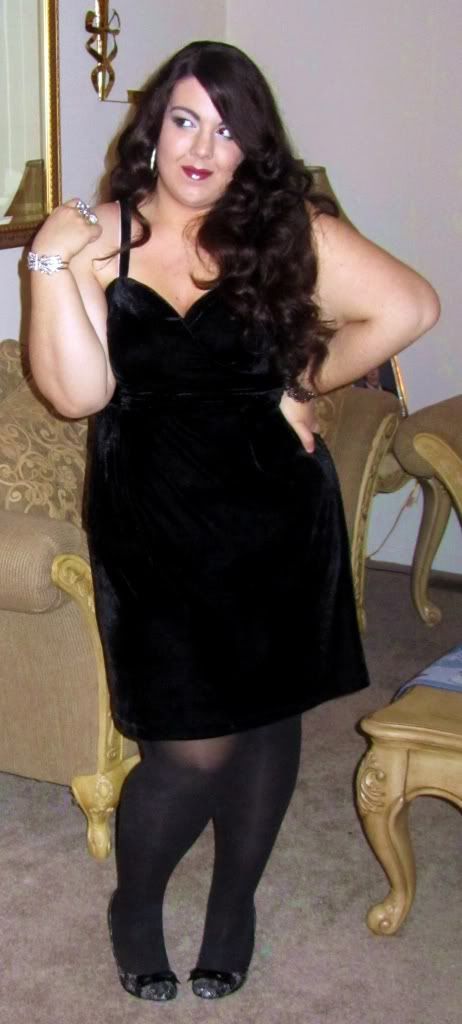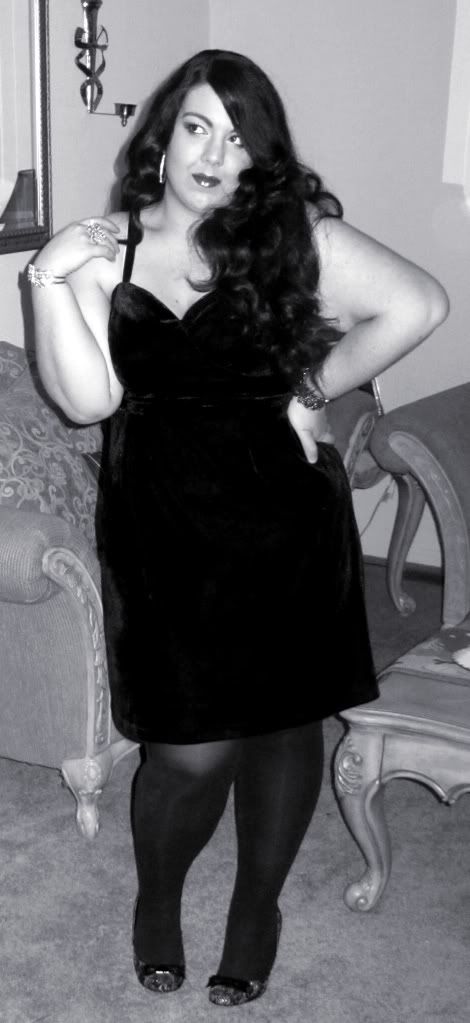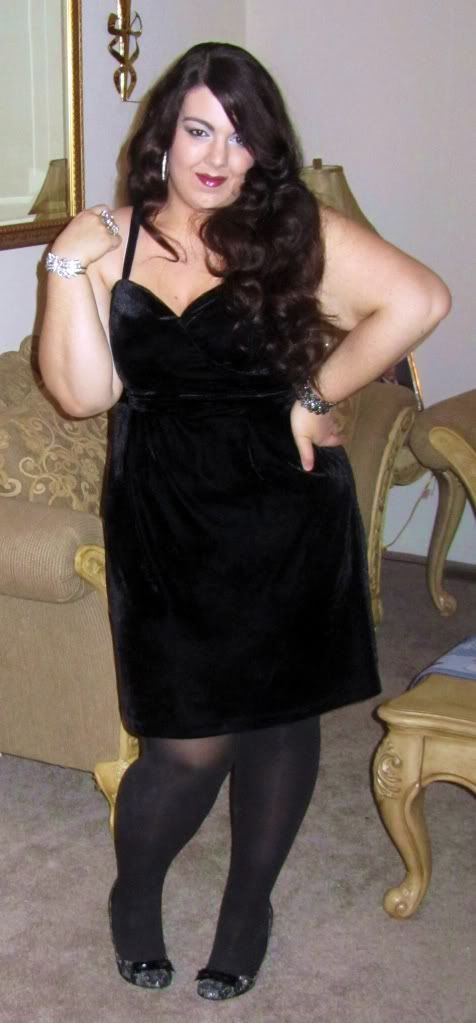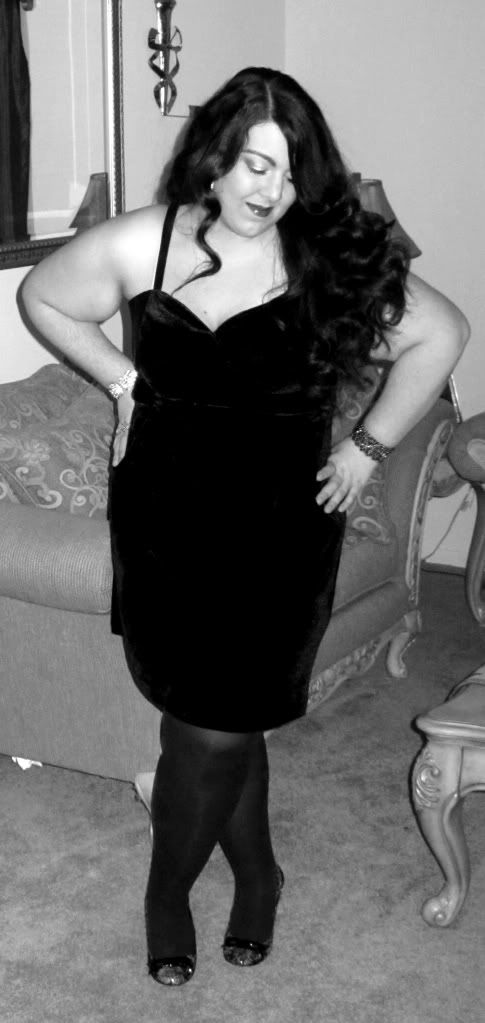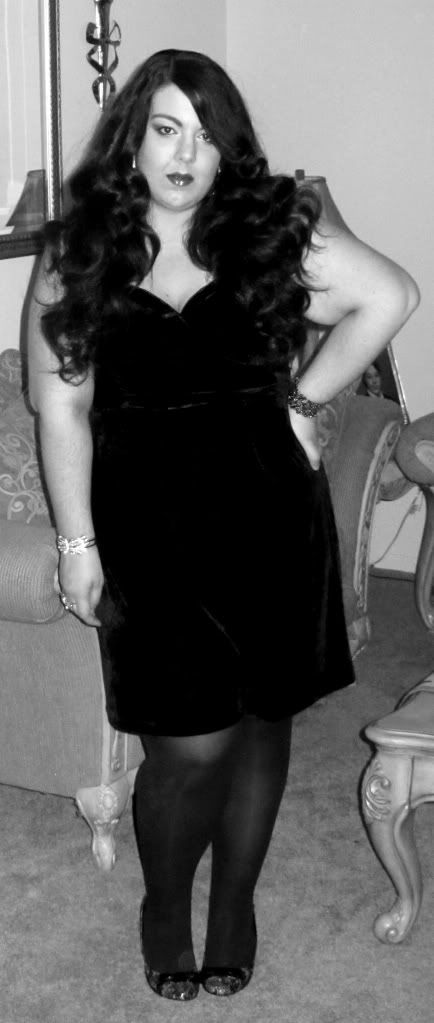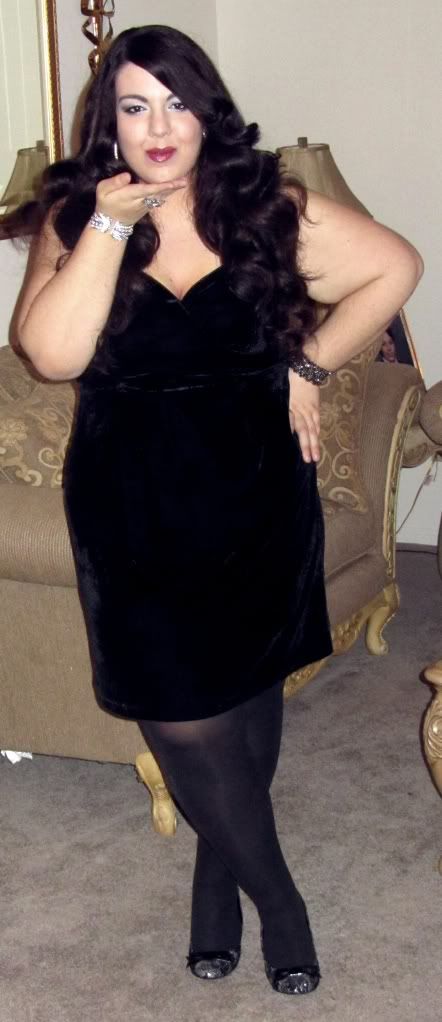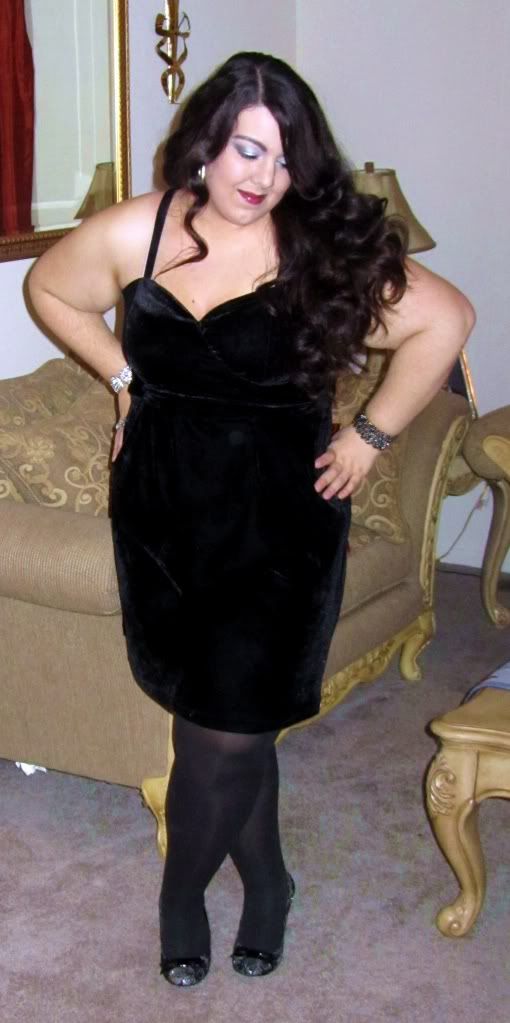 Dress and tights: Lane Bryant, Heels: Target, Silver bracelets, earrings, & ring: Forever 21
8.) Sparkly Stripes!
This was my new Year's Day outfit. I didn't really do anything besides have dinner at the restaurant...I just wanted to wear this super cute skirt!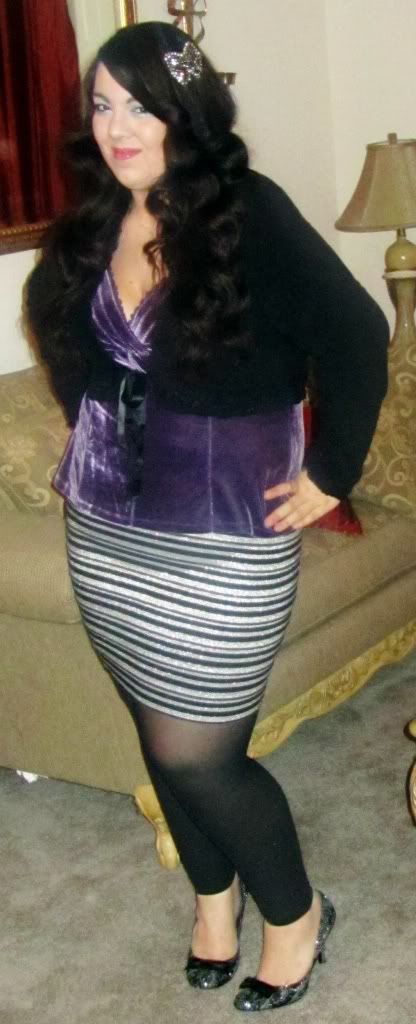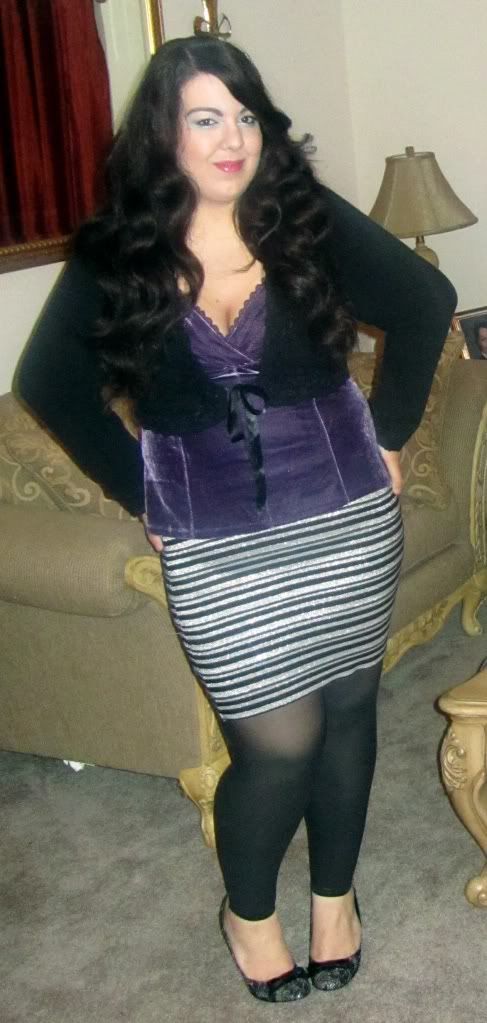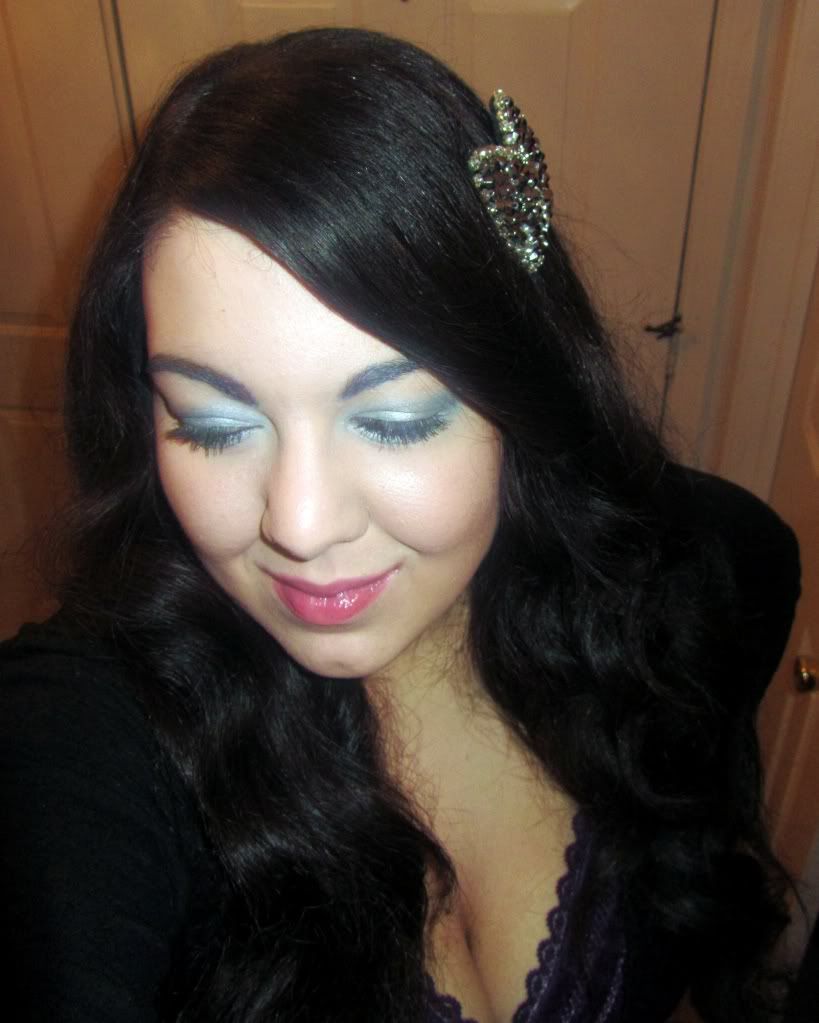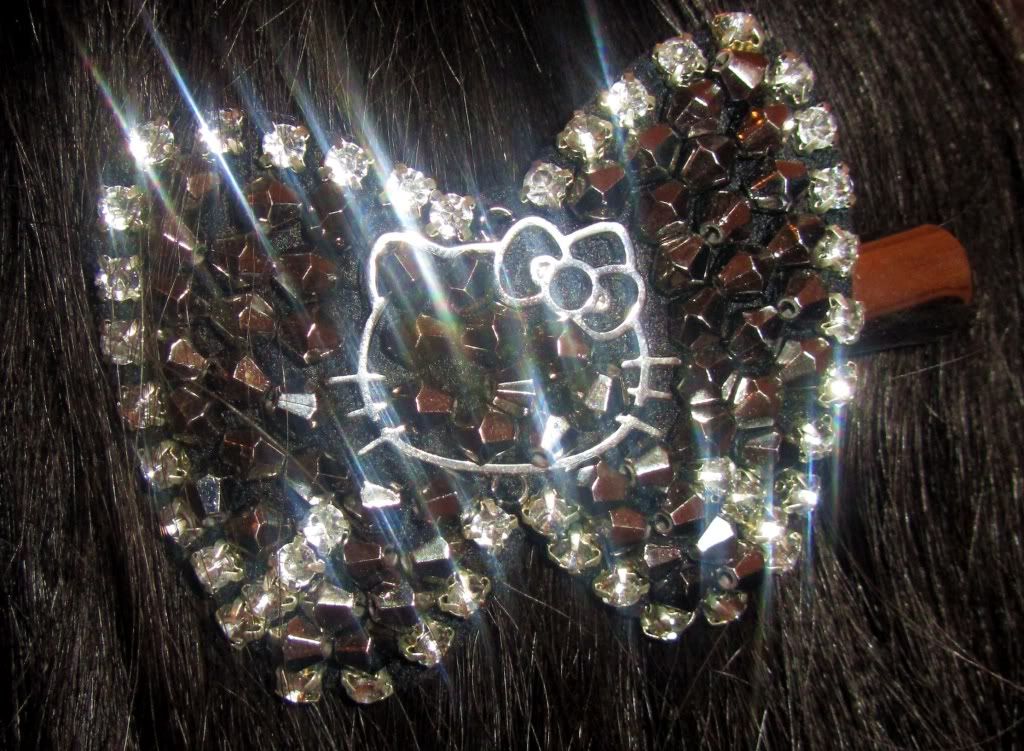 Hello Kitty!! :)



Skirt: Forever 21, Top: Target, Shrug & Leggings: Torrid, Shoes: Target, Hairclip: Torrid, Ring: Forever 21
9.) Red Cutout Shoulders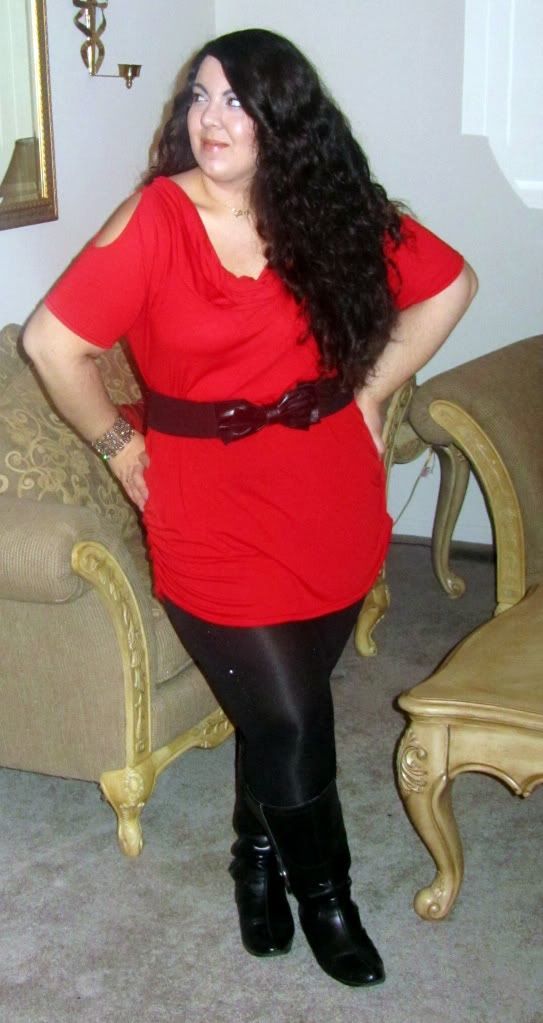 Dress/top: Rainbow, Leggings & Boots: Avenue, Belt: Torrid, Bracelet & Necklace: Forever 21, Betsey Johnson earrings again
10.) Innocent White Lace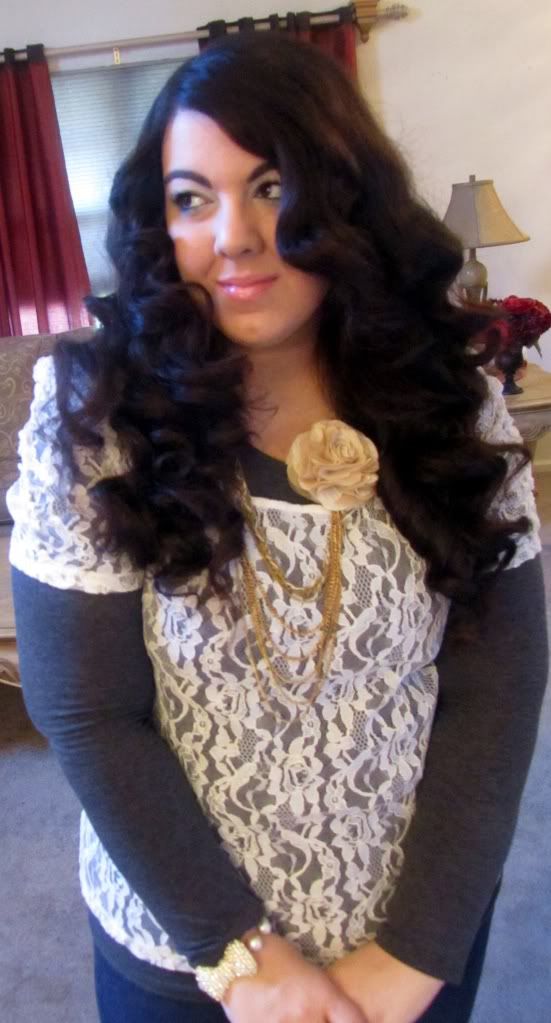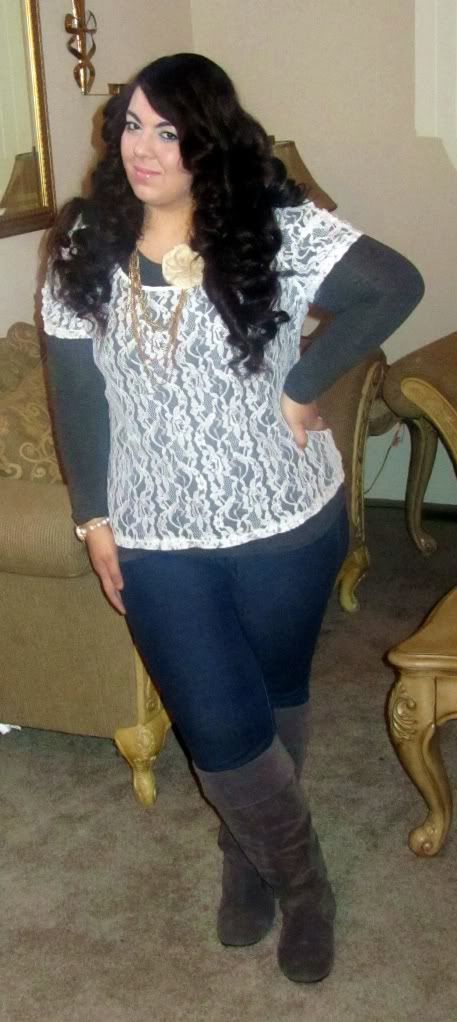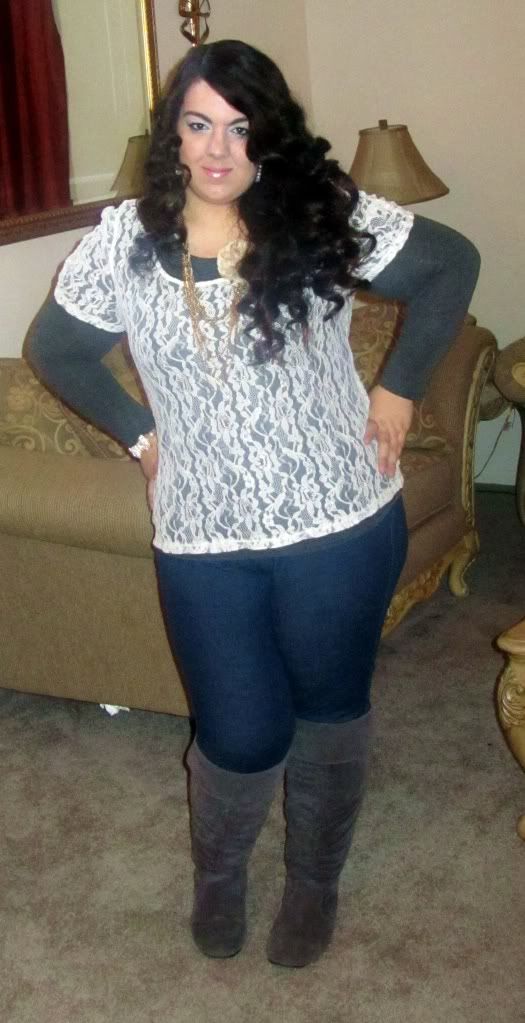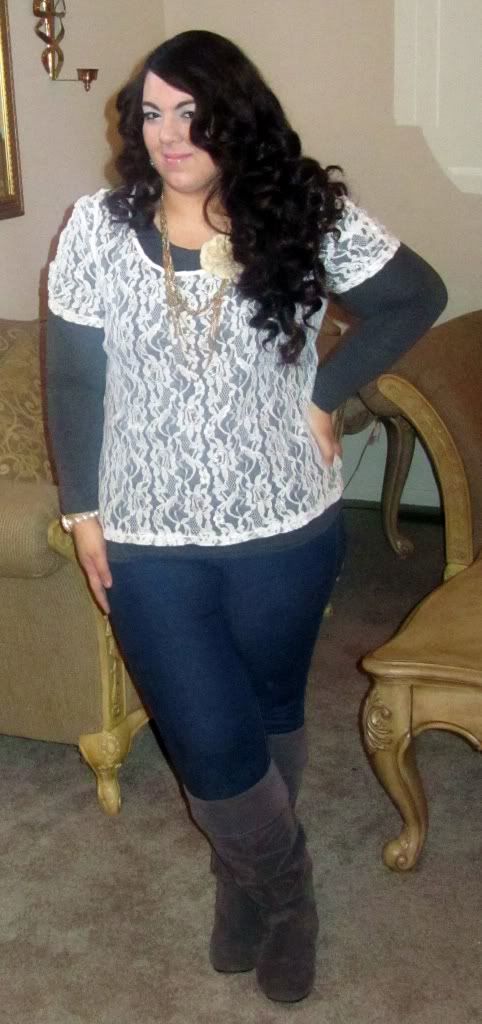 Lace top: Forever 21, Gray top: Kohl's, Jeans: Torrid, Boots: Avenue, Necklace: Charlotte Russe, Bracelet: Forever 21
11.) Ivory Lace Dress
Obviously, I love lace! I got a lot of compliments on this outfit (in school, teachers, classmates, and even people at the restaurant) and I was a little surprised. I was in such a rush to get dressed that morning and I wanted to wear a belt but didn't have time to find one...I do love this dress though. I wore it once this summer...but now it's a little big.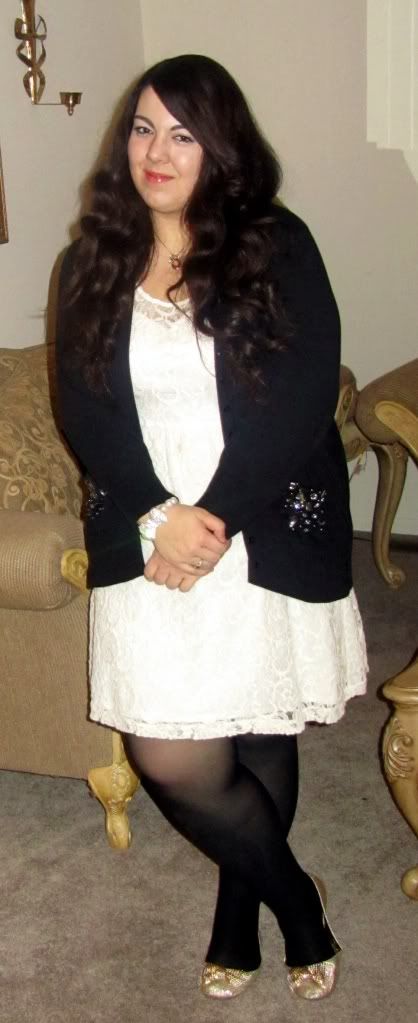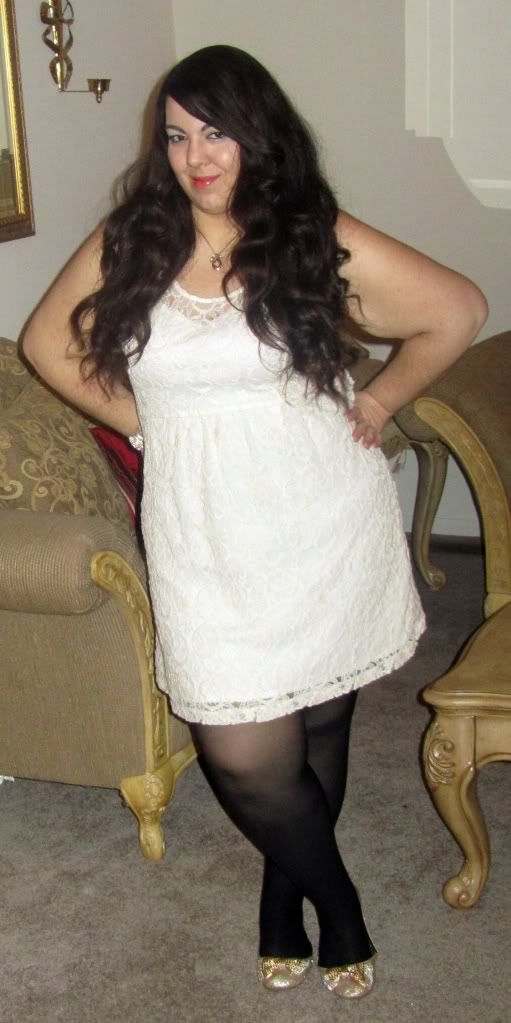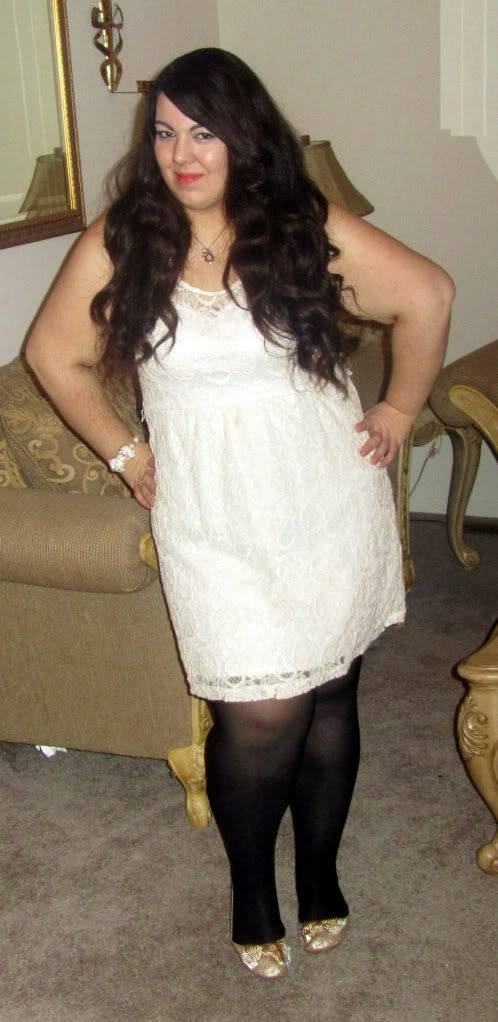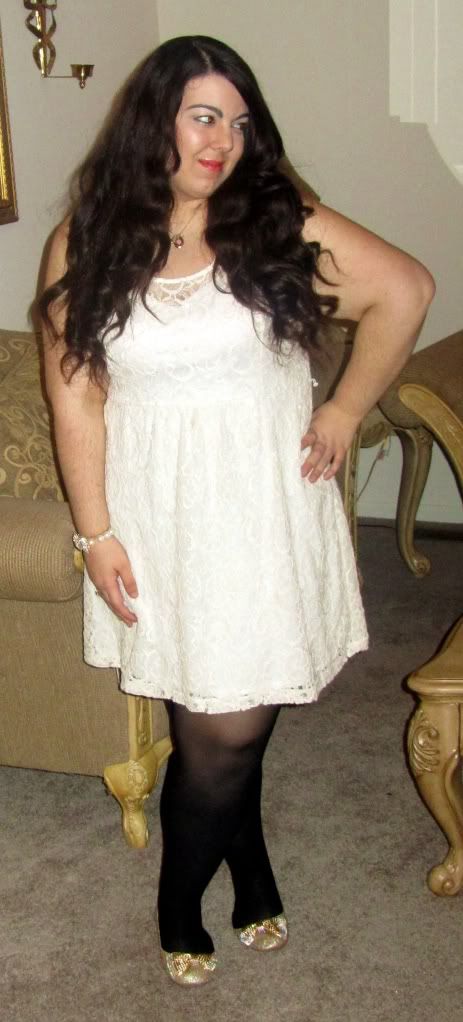 Dress, Bracelet, & Necklace: Forever 21, Tights: Lane Bryant, Flats: Rainbow
12.) Purple & Pink Shades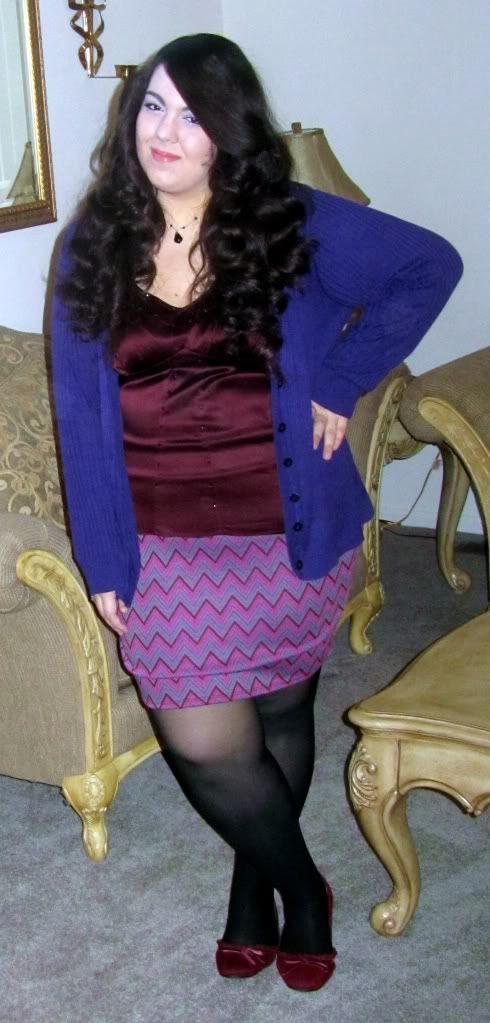 Tank top: target, Skirt: Forever 21, Flats: ??, Sweater: Kohl's, Necklace: gift
13.) Cold Shoulder Stripes!
I didn't use to like stripes much, but I've found a few pieces lately that have changed my mind, like this adorable sweater!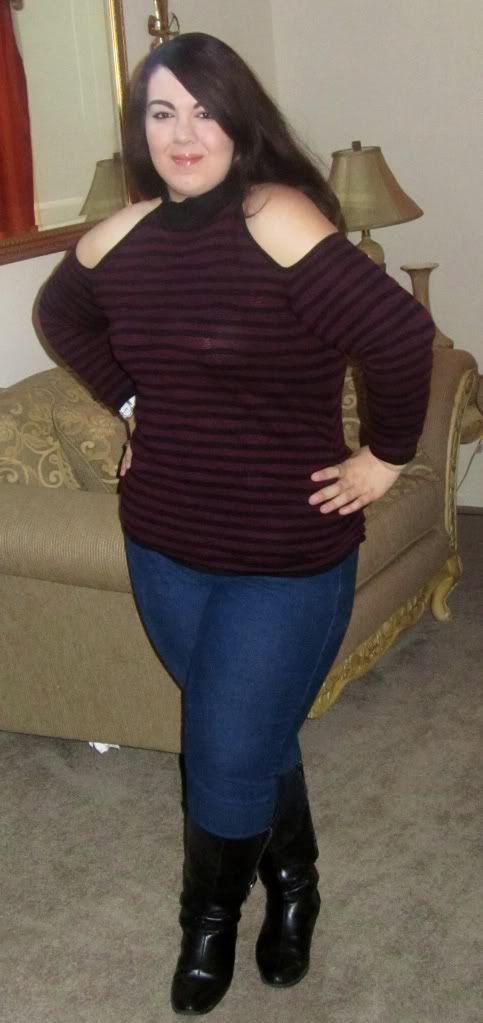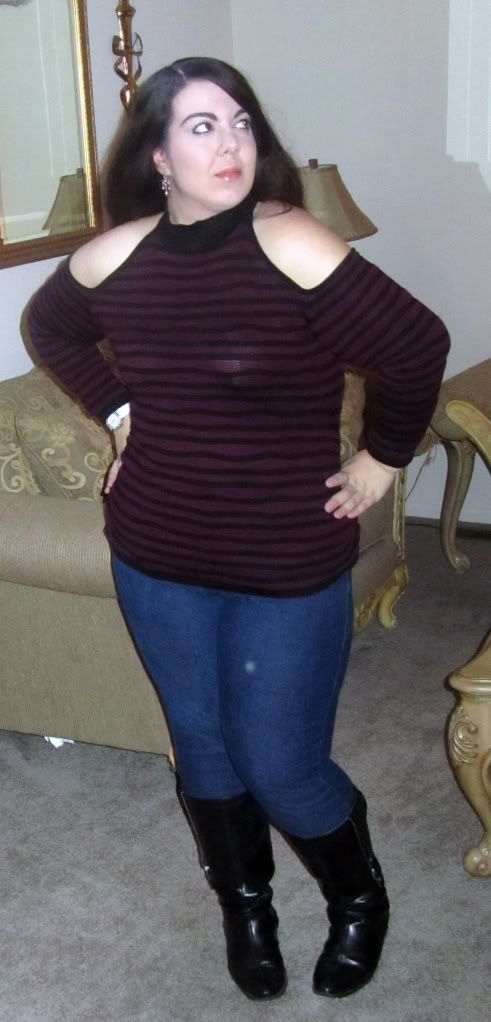 Sweater and Jeans: Torrid, Boots: Avenue, Watch: gift
14.) Large is a wonderful word!
So I don't know if any of you can tell, but in the past few months, I've lost about 60 pounds. I haven;t really told many people the exact number, but some have noticed I've lost weight. So, I went to the mall recently and for the first time ever (or since I was like 10) I could fit in clothes in a "regular" store! I tried on this dress in a size large, not really thinking it'd fit...and was so thrilled when it did. To a lot of people a size Large may sound...well large, lol, but to me that is amazing! I went shopping in Charlotte Russe, NYC & Co., D.E.B., and H & M!! I was so excited, I almost cried! I realize I'm still technically plus size, I think, but to be able to fit in sizes XL & L (depends on store/clothes) in regular "straight" sizes was amazing (and so much cheaper too)!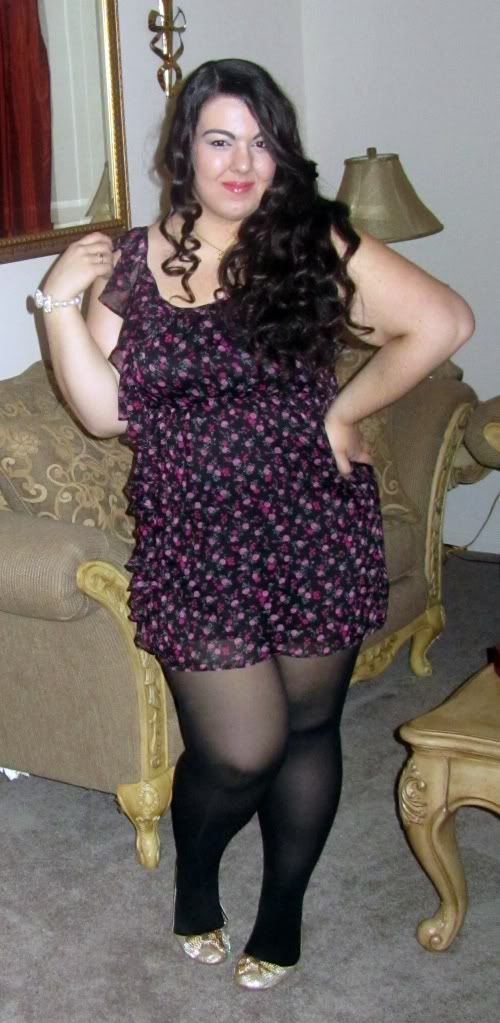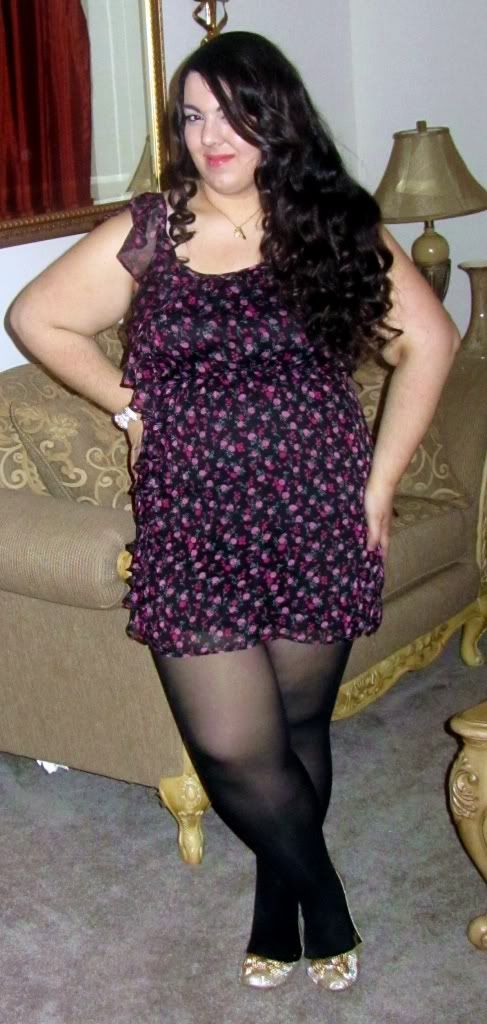 Also, I wore this dress to see Beauty & the Beast (pink roses like the one with a spell on it in the movie...). I also wore yellow eye shadow (Belle's dress) and it's hard to tell but my necklace is a little teapot! Ya, I sometimes match my outfit to random things like movies I'm seeing...I'm odd like that! lol!
Dress: D.E.B., Sweater: Kohl's, Tights, Bracelet, & Necklace: Forever 21, Flats: Rainbow,
15.) Teacher Lady
I started a new Practicum (like student teaching, but only once a week) class recently. It's a fourth grade class in a nice charter school. The students seem to be so well behaved and their teacher is very nice, so it should be fun! :)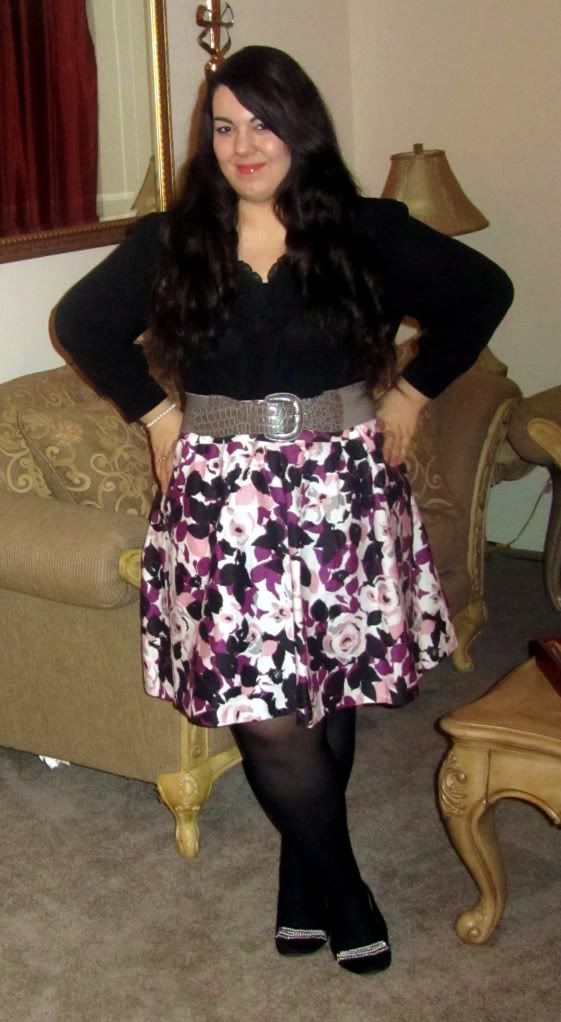 Skirt: Fashion Bug, Blouse & Flats: Avenue, Belt: NYC & Co., Tights: Avenue
Well, that's finally it for now! Thanks for reading! Feel free to comment below if you'd like on anything I mentioned. Which outfits do you like?
♥ Xoxo Gabriella ♥