Ciao dears,
I have a million things to say right now, but none of them I wish to share with the world, or with anyone but one person really. I haven't been particularly thrilled the past few days. Sometimes I wonder about certain decisions I've made and things I've done/said. Anyway, I've decided to write in my diary about what I'm feeling right now and just say hello and post a recipe today, no overdramatic stories, poems, or thoughts for now, ha ha! This is just a fun and easy recipe for when you're craving something sweet (or are grumpy, depressed, and annoyed at everything and everyone…lol) I hope you are all doing well.
I found the recipe on one of my favorite cooking blogs,
Smitten Kitchen
. It's a simple recipe that you can adapt to include whatever you like, which is always good. I added toasted walnuts and mashed bananas because that's what I could find in my kitchen, ha! I think butterscotch chips would be really good in them too.
It's not the most fancy or pretty, decorated dessert, but it's tasty and simple, exactly what I needed today.
Blondies
Recipe adapted from Smittenkitchen.com, where it was adapted from
How to Cook Everything
2 sticks of butter, melted
2 cups brown sugar (I mixed light and dark brown sugar)
2 large egg
2 teaspoon vanilla or 1 teaspoon almond extract
Pinch of salt
2 cups all-purpose flour
Butter an 9×13 inch pan

Mix melted butter with brown sugar and whisk until smooth. Beat in the eggs and then the vanilla.

Add the salt and flour. Then, mix in any additions you'd like (suggestions below).

Pour the mixture into buttered pan. Bake at 350°F for 20-25 minutes, or until set in the middle. Cool for a few minutes before cutting them.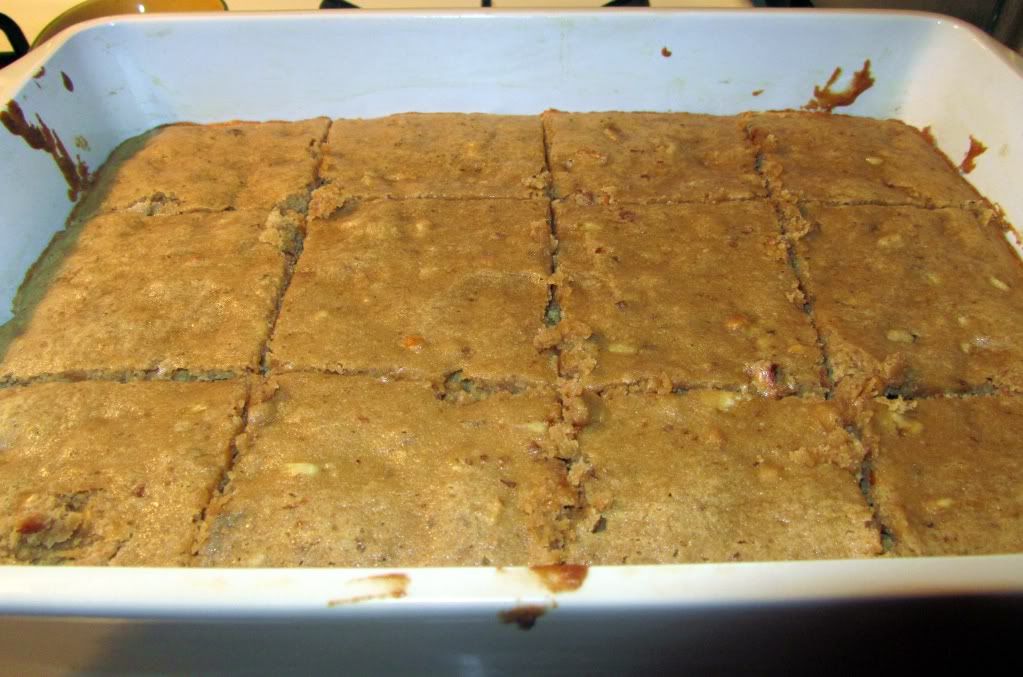 Some additions you could add, use one or a combination of:
1/2 to 1 cup chopped nuts (walnuts, pecans, peanuts, etc.), toasting them first for even better flavor

1 cup butterscotch chips

1 cup chocolate chips

1 teaspoon mint extract in addition to or in place of the vanilla

1 cup mashed bananas

1/2 cup bourbon, scotch or other whiskey; increase the flour by one tablespoon

4 tablespoons of espresso powder with the vanilla

Stir 1 cup dried fruit, especially dried cherries, into the prepared batter

Top with a vanilla butter cream or chocolate peanut butter cream frosting
Happy Baking!
X
oxo Gabriella