Ciao dears,
Why is it that any and all the men/boys in my life absolutely love to drive me insane? All of them, my father, creepy customers at work, boyfriend/ex-boyfriends/friends….whatever the hell they are, they all drive me insane. Do they do it on purpose, or is some kind of male trait?!?! Haha. I don't understand them at all and I don't know why I bother trying. Some of them constantly ignore me, break my heart over and over again, and then show up randomly, only to ignore me again. Ahhh! I could smack some of them. Some of them want more from me that I want to give them. Some of them flirt with me but take forever and a day to finally ask me out, and then some of them like me but I'm too picky and don't like them that way. I went back on one of those dating website things and I am constantly getting messages from all these guys…none of which I really like. I always find something wrong with them. For example: oh, he's an atheist, don't like that, (lol) or he's my father's age (eww!!), or he's not looking for a girlfriend, just some tramp to hook up with (no thank you!), or just the fact that he's not the guy I really want. Yes, I know, I complained for God knows how long that guys didn't want me and apparently they do..but I'm choosy about it. I'm stubborn, I want what I want, and my mind doesn't like to change very easily…it's a problem. Oh boys…lol. I love them and I can't stand them…ha! Help. Sometimes I wish I could just give up on all of them…but I can't and don't really want to.
Anyway, enough about my whiny, weird boy issues. Here are some outfits from the past two weeks. The weather has been a little strange here. One day it's springtime weather and sunny, the next it's chilly and I have to wear tights again. Enjoy.
1.) Peach & Bell Bottoms (& a Widow's Peak!)
I (kind of) straightened my hair, but curled the ends here. I rarely pull all of the front of my hair back because of that lovely little point in the middle of my head, called a widow's peak. I hate the name, I don't really like the way it looks…but whatever, it's part of me, so whatever, lol. That's why I tend to either have some kind of bangs or part my hair on the side.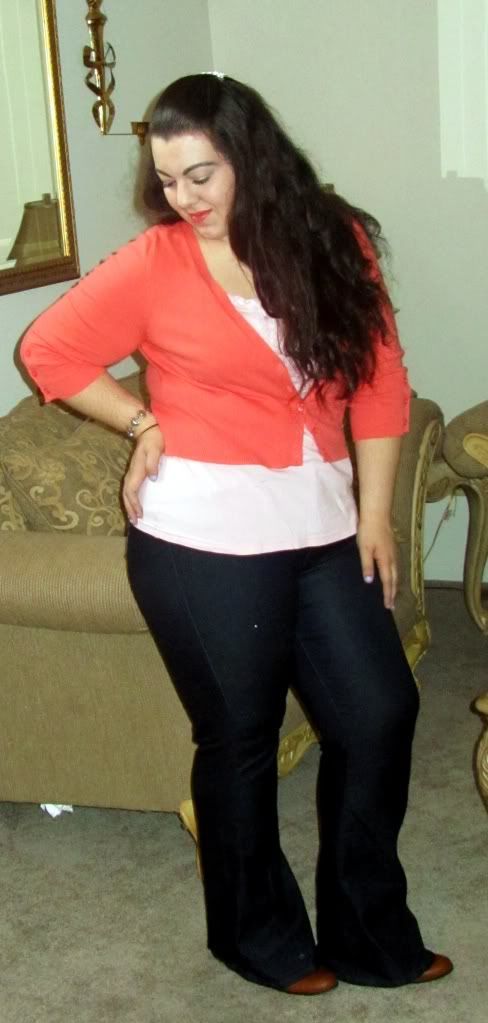 How pretty is this heart bracelet my aunt gave me for my birthday.
I love that silver hair clip too.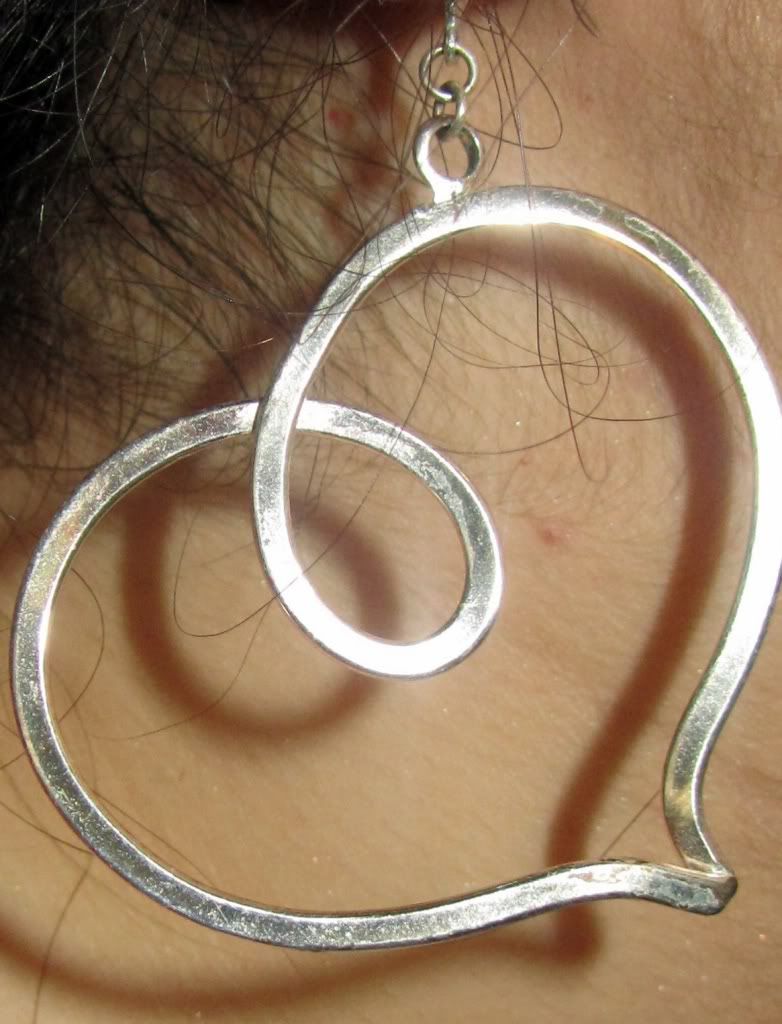 Very colorful and fun Betsey Johnson bag my sister gave me for my birthday.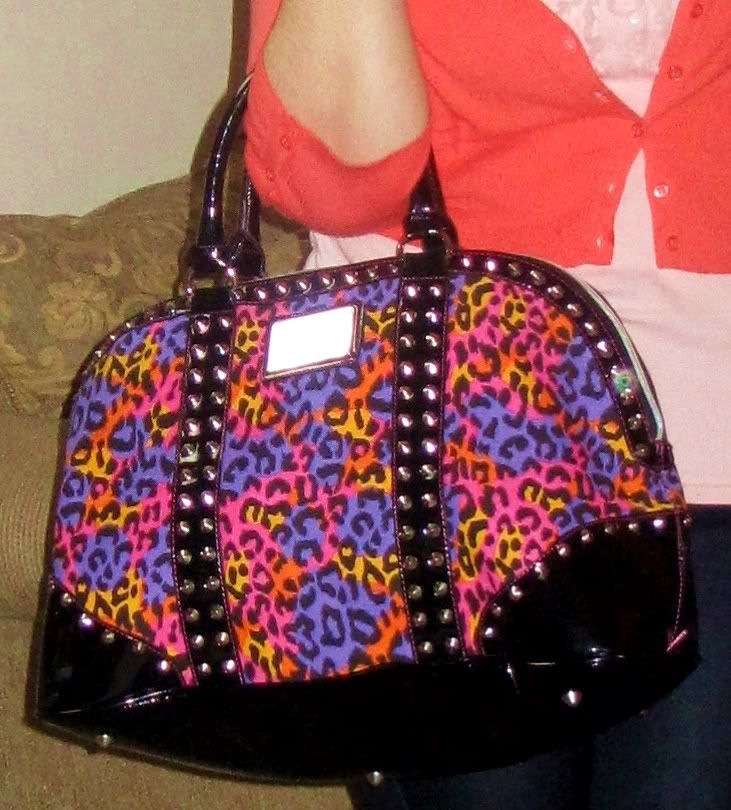 Tank top: Torrid, Sweater & Jeans: Lane Bryant, Shoes: Avenue, Bracelet: gift, Earrings: Kohl's, Bag: Betsey Johnson, Hairclip: ?? (stole from my mom, lol)

2.) Springtime!
I've been trying to remember to take some outdoor pictures. The lighting looks a little odd though. This is not my favorite outfit, but I still like it. This pink skirt was once my favorite thing ever…now I had to use hair clips and pins so it wouldn't fall off when I walked…haha!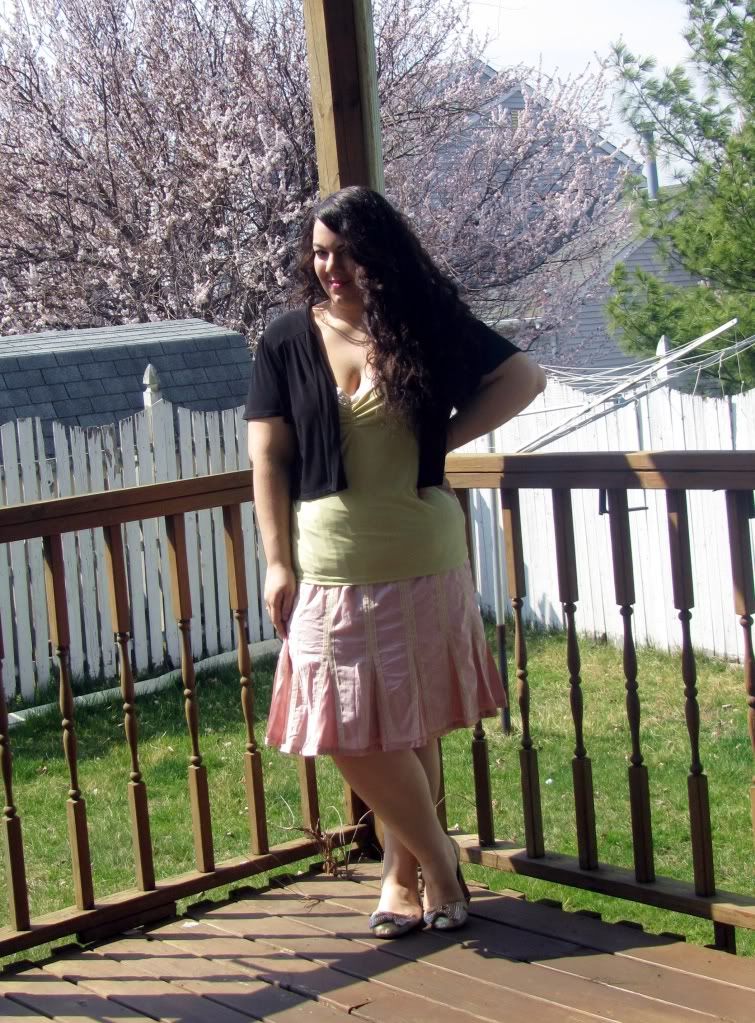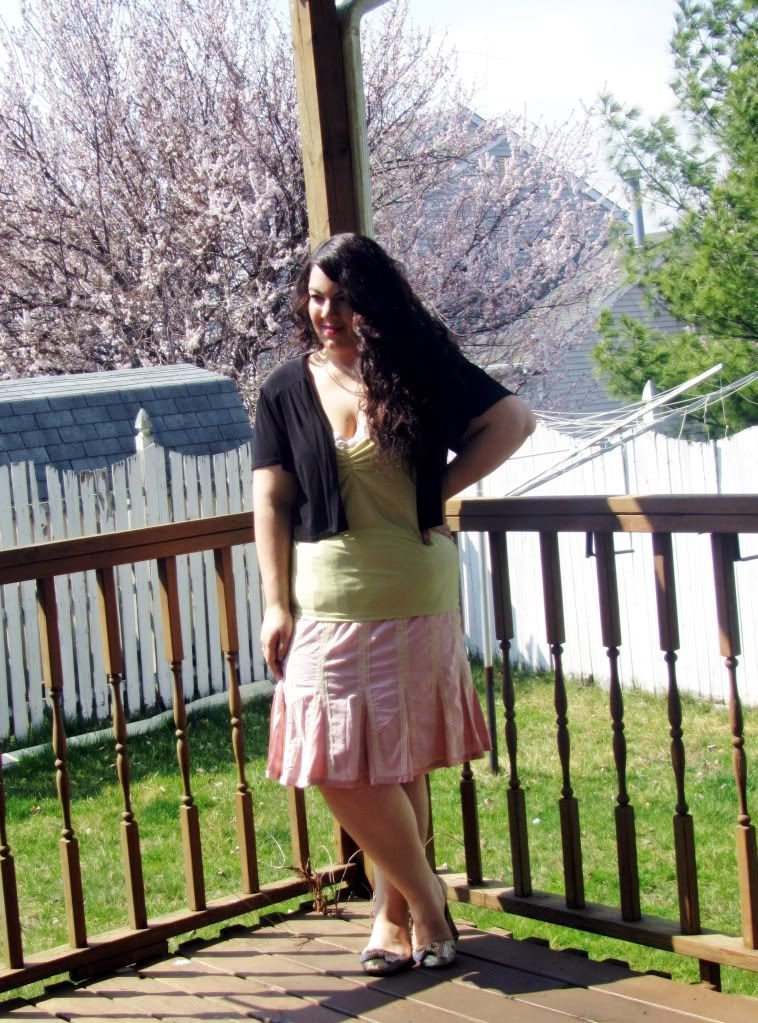 Shrug & Skirt: Lane Bryant, Tank top: Dots, Flats: Rainbow

3.) Bright Floral Teacher
I love the bright pattern on this dress! It's fun and still appropriate to wear to teach.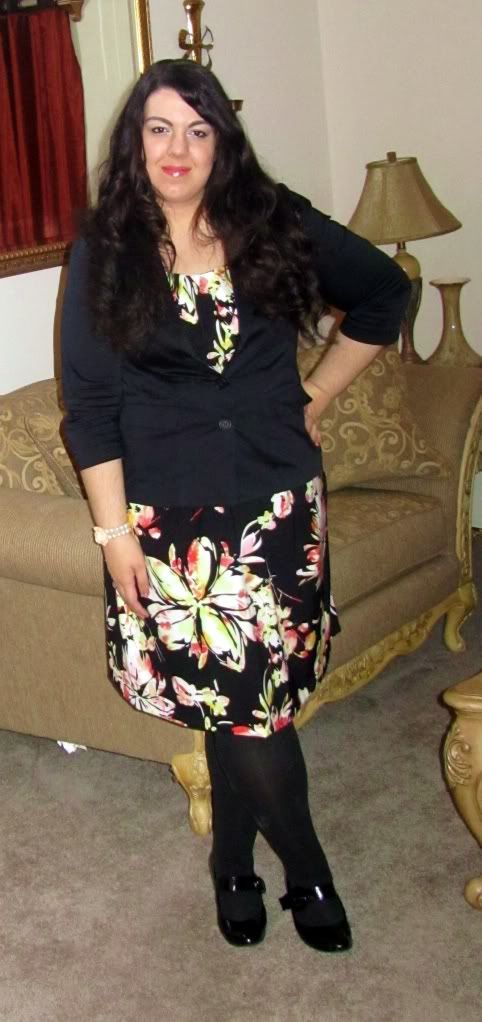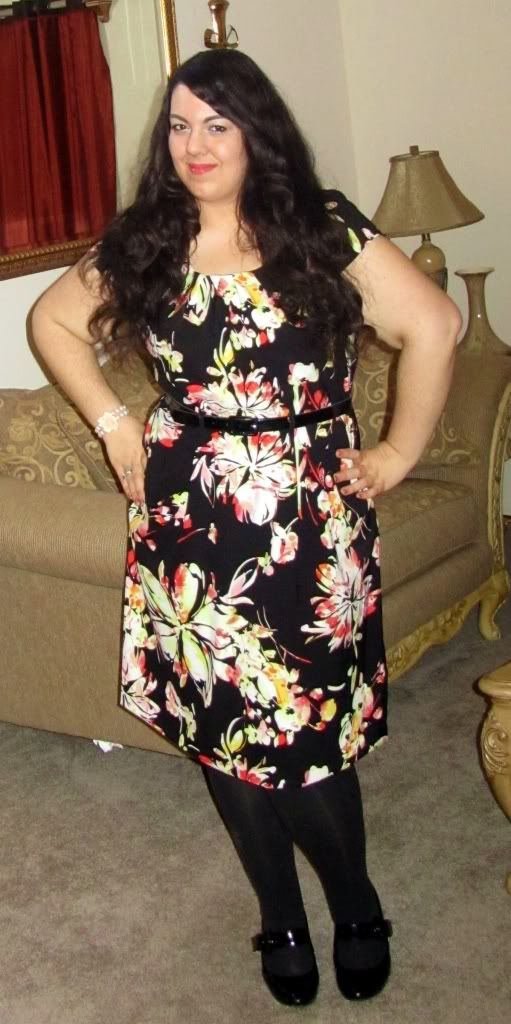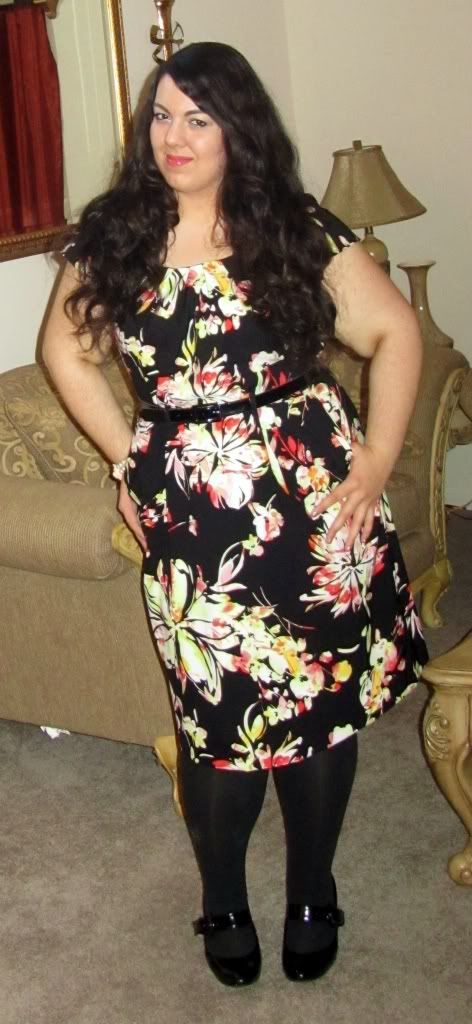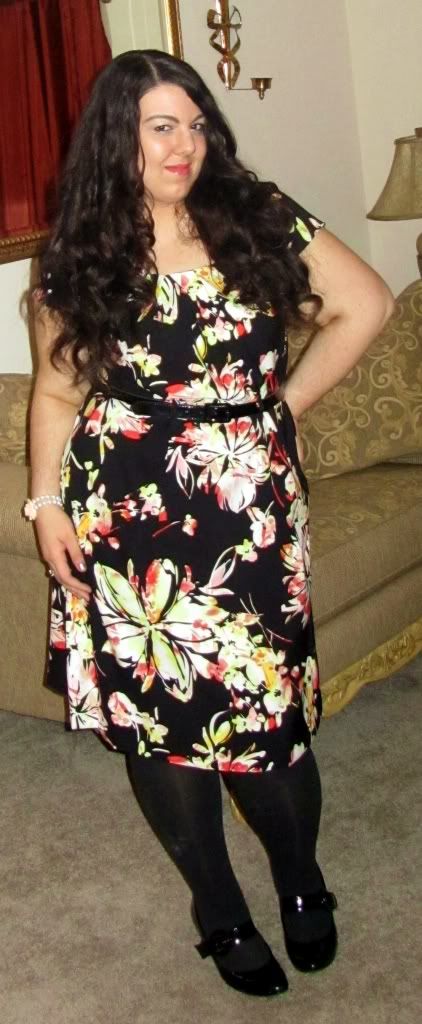 Dress & Belt: Ross, Tights & Bracelet: Forever 21, Heels: Target, Blazer: Lane Bryant,

4.) More Floral and Periwinkle Tights!
I wore this to see a play with a very sweet friend (yes, he's a boy, ha, shocker!). I wanted to look cute and spring-ish, but it was a little chilly, so I wore these awesome colored tights.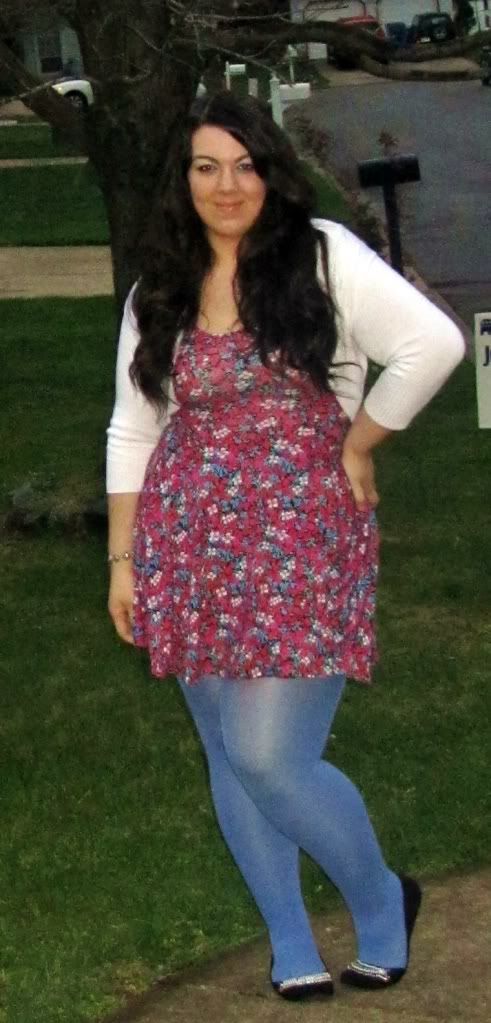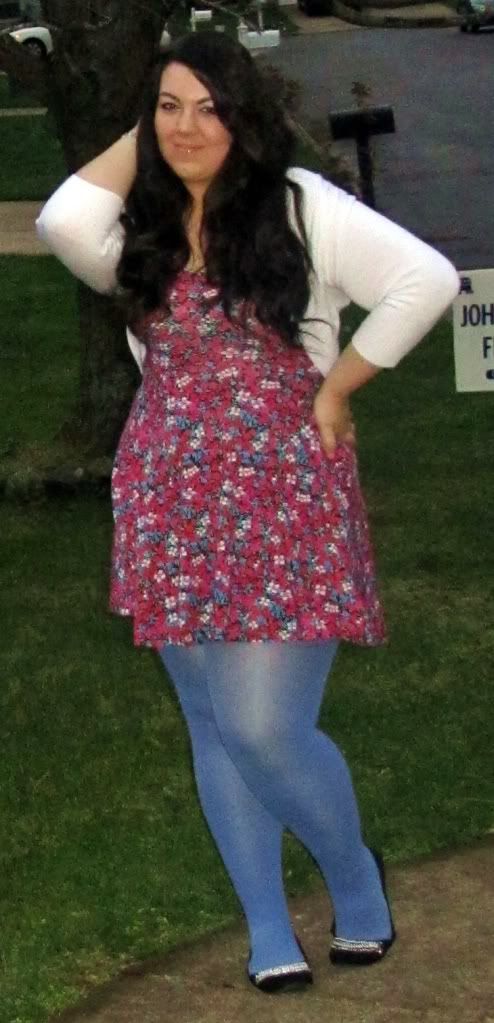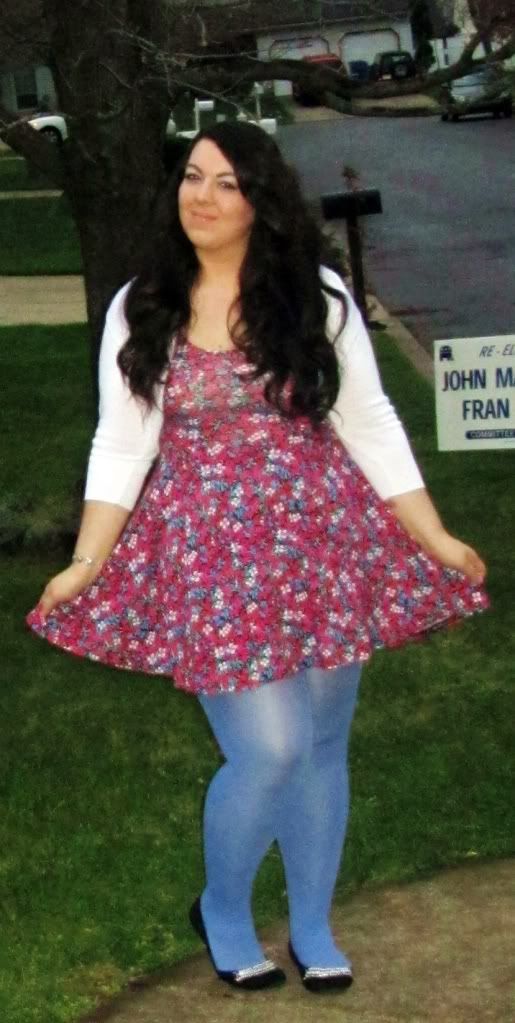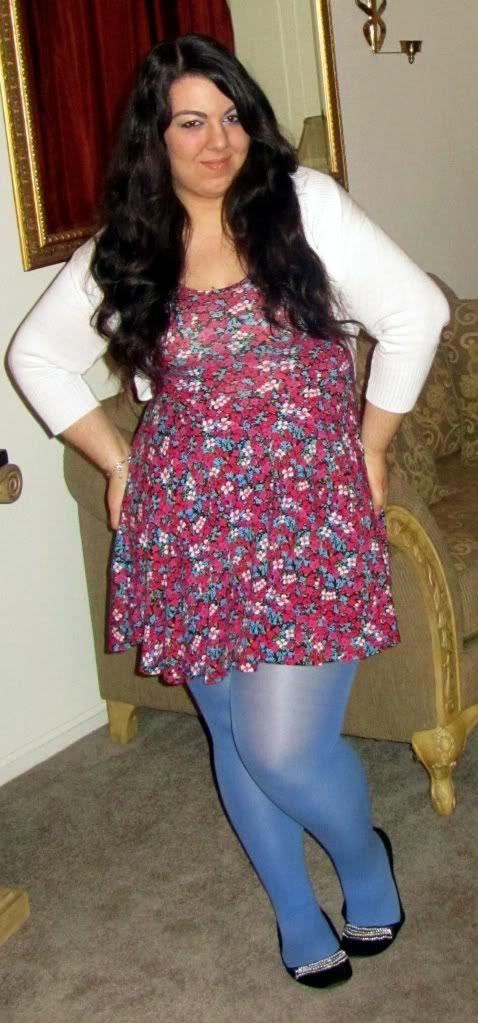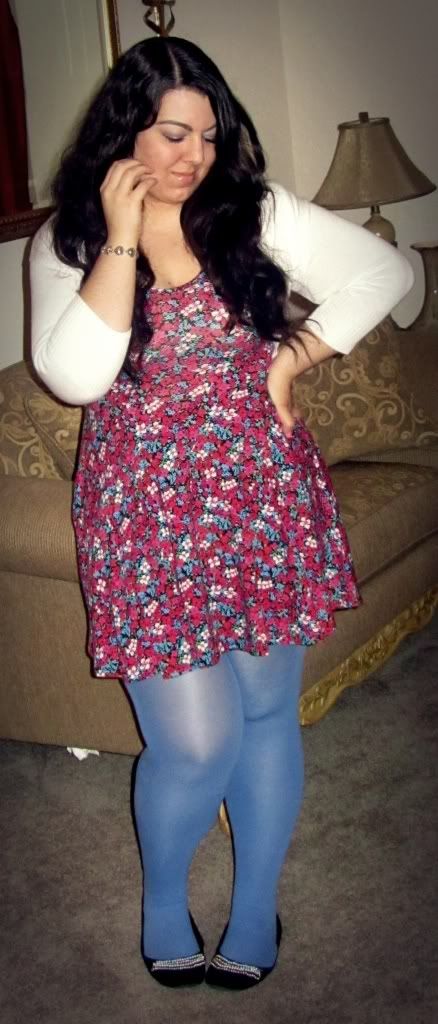 Tights: Forever 21, Dress: Forman Mills (It was $8! Yay!), Sweater: Dots, Flats: Lane Bryant

5.) See-through Polka-Dots
Jeans: ??, Polka-Dot Top: Dots, Tank top (underneath): Forever 21, Flats: Lane Bryant
Comment below, tell me which outfits you liked. Or help me with my boy issues?! Haha! I'm hopeless.