Ciao lovlies!
So, guess what?! As you may have guessed from the title, I'm feeling pretty damn happy lately!! Yay! I really needed to get over being so depressed, grumpy, and miserable all the time, it's no fun, ha! No, I still don't have a boyfriend, new or ex or whatever. I forgot that I don't need one!!! To be happy or for any other reason, ha!! Maybe I'll have another one at some point but I need to not obsess so much, just a little
. I am talking to this one guy, who seems nice, but we'll see. Anyway, I finally finished this semester of college yesterday!! I have never been so excited to be done school before. This semester, or the whole year, really, I've been such a stressed out mess. Always sad about some boy or pissed off at another, oh my! All that on top of never sleeping and spending 24 hours of my day on school work of some type was just too much! I do generally love school, learning, reading, writing, etc., but I just desperately need a break. So, for me, it summer vacation now!! Woo!
Of course, being me, I have a to do list that's miles long for the summer, a lot of which is fun, some not as much, but for the next few days, I'm hiding from all work, responsibility, and everything!! I'm even avoiding my father because he always seems to have something for me to do: paperwork, stuff at the restaurant, or something…no thank you! Not now, at least, I deserve a little break, damn it! Lol! I was so super excited to just sleep for as long as I wanted without having to worry about getting up for class, or to finish a paper or homework or anything today!! So amazing! I spent this afternoon babysitting my nephew, Joey (or my little fella, as I like to call him), and that was super fun! I had time to play "hide and seek," color with him, watch cute cartoons, and let him bang on all the bowls in my house to "play drums." Ha! I love that little boy so much! I'll have to borrow him a few days this summer, lol, and my nieces too. We need some Aunt Gabby time.
I'll also have more time to blog way more often, which I'll get to soon, so yay!
Here's an outfit I wore 2 weeks ago to one of my oldest and most wonderful friends, Vickie's 21st birthday party at a casino! It was fun and great to hang out with her. She does happen to be dating that boy I was a tiny bit obsessed with earlier this year…awkward! Haha!, life is so strange and hilarious, isn't it! It was a little, (maybe very!) awkward and weird to be there next to him and around him all night (He even took my picture with Vickie) and we never said a word to each other…lol! No "Hi," nothing. It's fine though, I love her, and they are super cute together! Anyway, not to sound obnoxious, but I loved my outfit! Lol. The sequined top is such a fun color and I like the pretty lace on the skirt. Enjoy!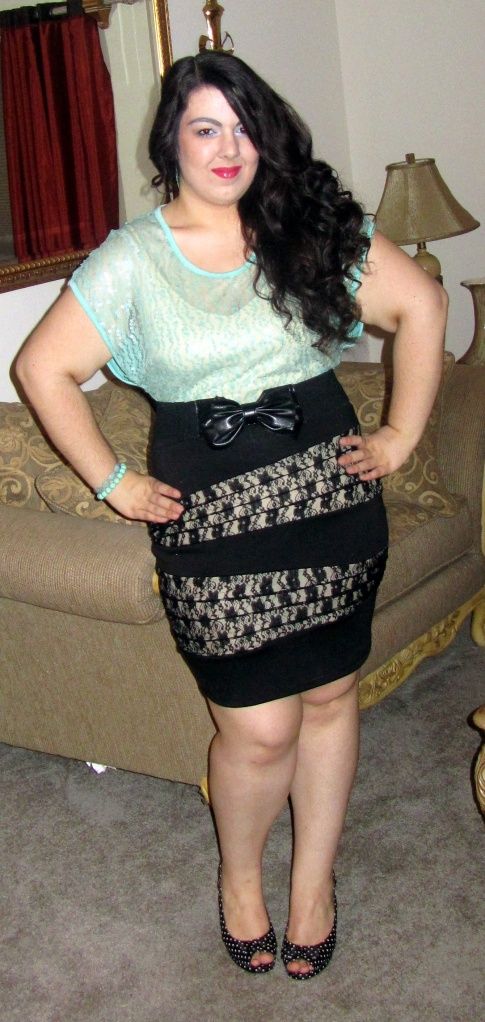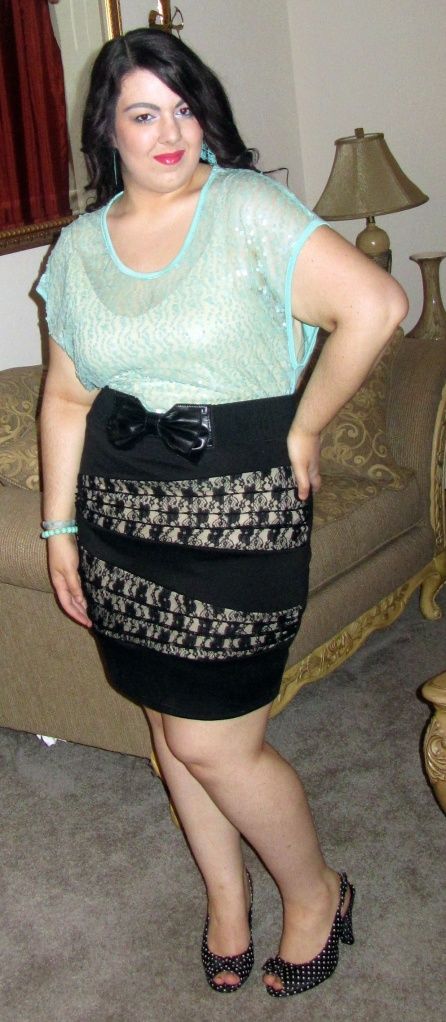 Skirt: Dots, Sequined Top: Ross, Tank Top: DEB, Belt & Heels: Torrid, Bracelets & Earrings: Forever 21
♥ Xoxo Gabriella