Ciao dears,
I know I said I'd be blogging more now that I'm on summer vacation from school. I will, but I got a little caught up in a bunch of things lately like having free time (yay! lol) to bake, read, see friends and family (obsess over a guy who ignores me) and such. I also had a little medical emergency (I hate going to the doctor, not fun
) which distracted me for a couple days but I'm fine. I guess I've just been a little lazy and busy…if that makes sense, ha. I will try now to post more, I promise.
I have a bunch of cute outfit pictures and a whole bunch of fun recipes to share too, as well as other things I plan to write about. I hope you're all doing well. For now, here's a cookie recipe I recently discovered that everyone seems to love and an outfit. My very picky younger brother loved these cookies and ate tons of them, as well as other family and friends with whom I shared them. My friend, Dominick, has been asking when I was going to post about them ever since I gave him some, lol. They're the perfect snack when you're craving something salty, sweet and crunchy. Yummy!
Double White Chocolate & Pretzel Peanut Butter Cookies (With Sea Salt!)
Pictures are mine (usually, unless otherwise noted).
1 stick softened butter, 8 tablespoons
1/2 cup granulated sugar
1/2 cup packed light brown sugar
1 cup white chocolate chips, to melt
1 1/4 cups creamy peanut butter (reserve 2 tablespoons to add to melting white chips)
1 large egg
2 teaspoons vanilla
1 1/4 cups all purpose flour
1/2 teaspoon baking soda
1/4 teaspoon kosher salt
1 cup broken pretzel pieces
1 Cup additional white chocolate chips
1. Preheat oven to 350 degrees F. Cream butter and sugars until light and fluffy. Melt white chocolate chips and 2 Tablespoons peanut butter over a double boiler until melted. Add melted chocolate chips and remaining peanut butter to beaten butter and sugars. Beat in egg and vanilla.
2. Place flour, baking soda and salt in bowl; mix to combine. Add to wet ingredients until just combined then pour in pretzels and additional white chocolate chips. With a cookie scoop, scoop dough onto a silpat or parchment lined baking sheet. With the palms of your hand, gently press down each cookie to about 1/2 inch in thickness. Sprinkle each cookie with a touch of sea salt. Bake for 12-15 minutes or until edges become golden and slightly crisp. Let cool for 10 minutes on baking sheet before removing.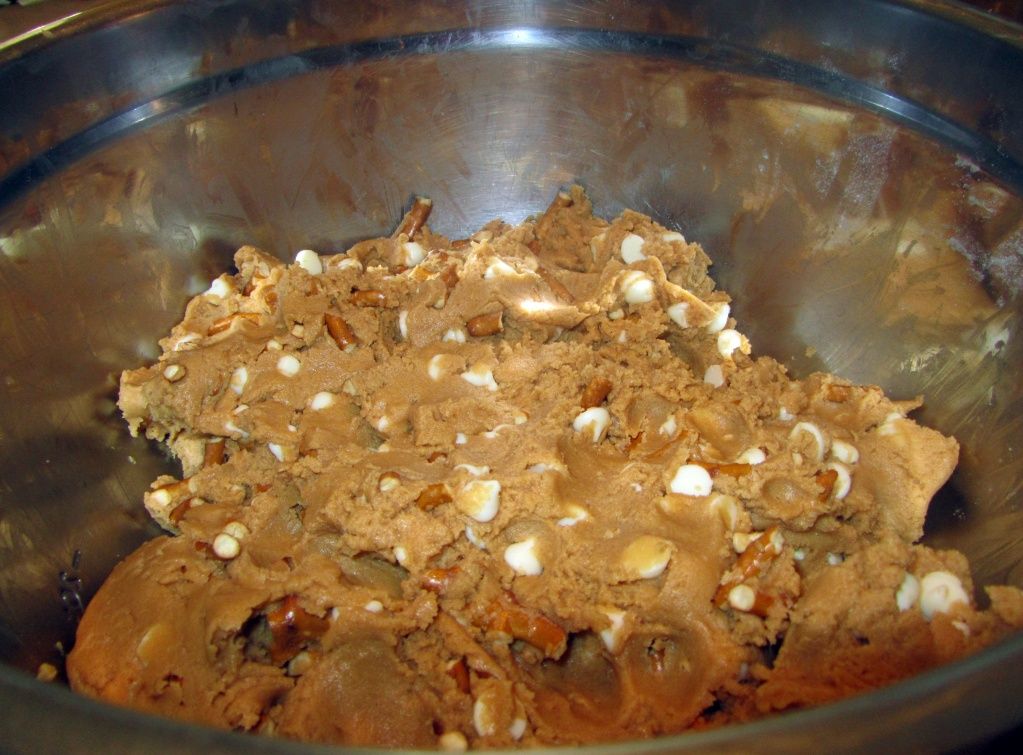 Makes about 3 dozen cookies
Before:
After: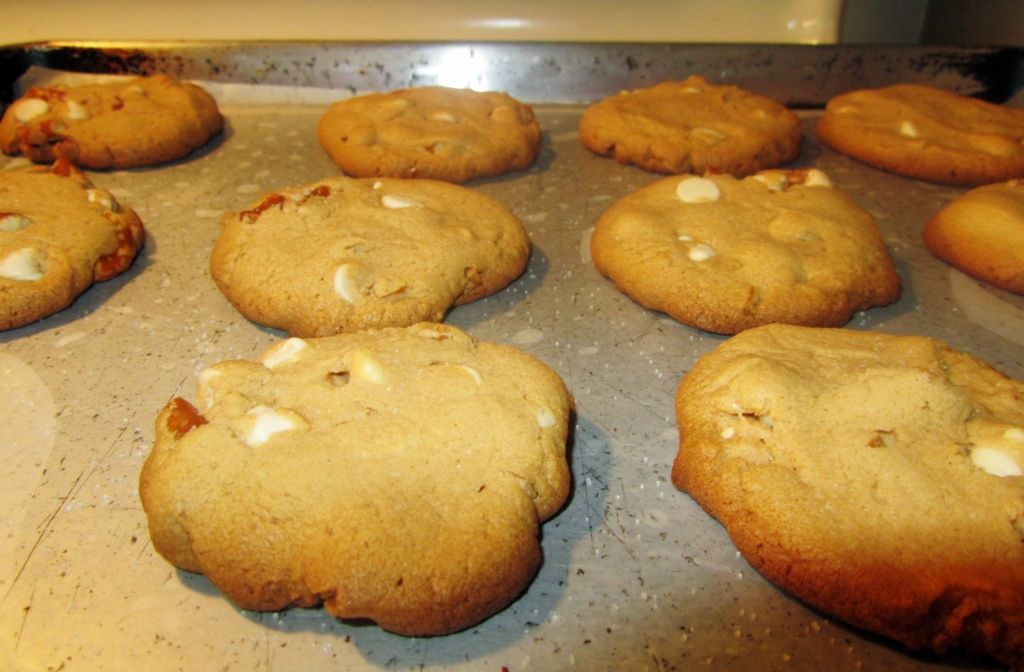 I followed the recipe almost just as it is and they turned out wonderful (I think I added a pinch more salt and a tiny bit more vanilla). Often I change a few things when I'm cooking or baking something from someone else's recipe, but not this time (too much, lol). If you love to bake, check out that website/blog, she has lots of awesome recipes that look good and that I want to try out soon.
Here's a semi-casual outfit I wore a couple weeks ago.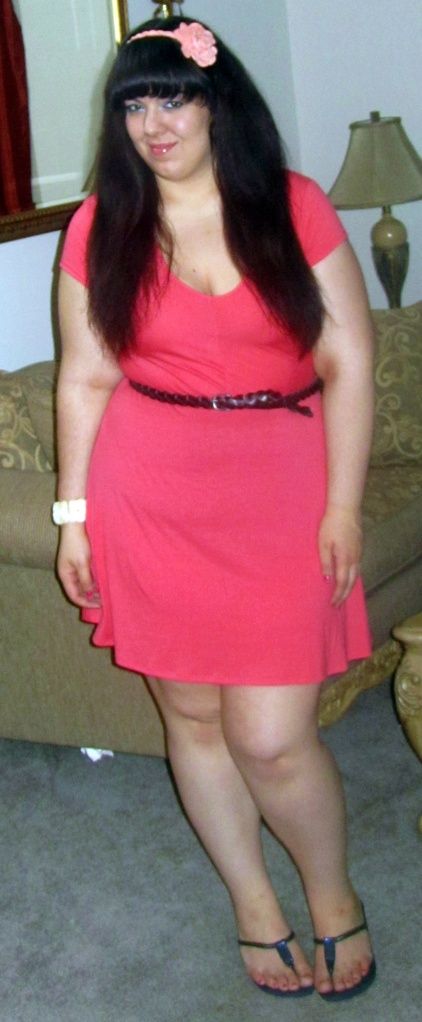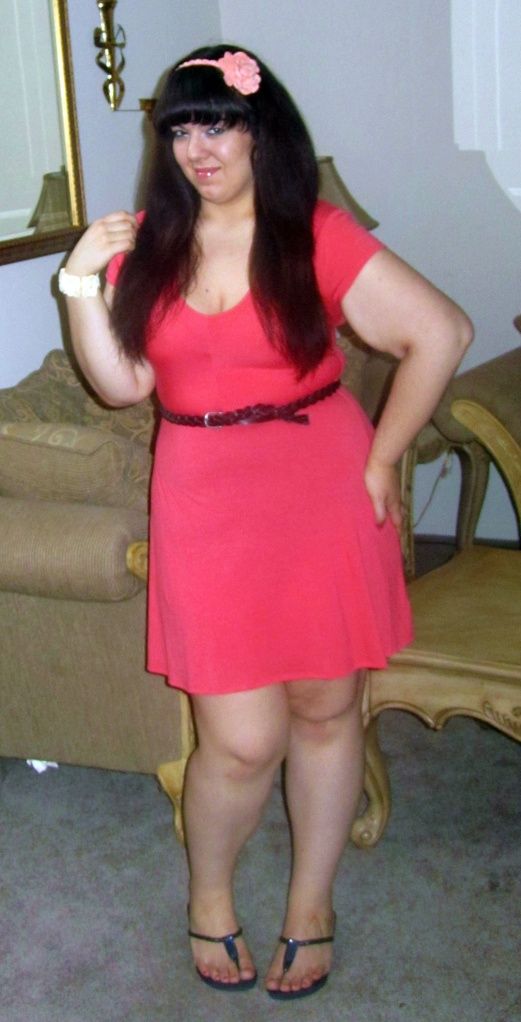 Dress: Target, Flip-flops: Kohl's, Bracelet: Claire's, Headband: Forever 21, Belt: Stolen from my mom
P.S.

One more thing: My lovely blog friend,

Jolene

(of
http://www.accordingtojolene.blogspot.com/
) has recently started selling her designs on her new website:
http://juno-designs.weebly.com/
. Go check it out if your looking for a gift for someone, a mom or babies or yourself or whomever. She has a lot of adorable little monkey shirts (as well as a whole bunch of other things can get the designs on!) for babies as well as some cute shirts for mommies. Check it out and buy something from her if you like anything; she's a super sweet lady.
(I added a button for her store on the right side of my blog as well if you want to click that.)
That's it for now. I'll be back soon.
Will you try making those cookies? Do you like my outfit? Comment below please and leave your blog if you'd like me to check it out. ♥
♥Xoxo Gabriella