Ciao lovlies,
Yes, the title is not the most classy or sweet…ha, but it is a quote from the True Blood theme song (Love that show!). That song reminds me of how I felt the day I wore this: sexy, feminine, and maybe a tiny bit trampy because I' never wear tops like that blue one, especially in combination with my highest heels and tightest black skirt… I took a lot of pictures that day (in the beginning of August, so I could use the heat as an excuse for the outfit…) so I figured I'd give this one its own post. I think I must have been in a very good mood, or just lost a little more weight or something…lol. I did not leave the house in this though…only my mom and boyfriend saw me in it…well, and now all of you. Really, I was just playing dress up..I'm a good girl, promise.
Looking back, I should have done a smoky eye and some red lips to go with the whole trampy sex-kitten theme (lol)…but maybe I was trying to tone it down a bit with the makeup. (Btw: Some of the pictures are a little dark and blurry because I took some in my basement, where the lighting sucked…but I kind of like the effect given the outfit I'm wearing…if that makes sense…) Also, I know there's too many pictures…I really should get better at choosing fewer. Believe it or not, I did narrow it down from a bunch more.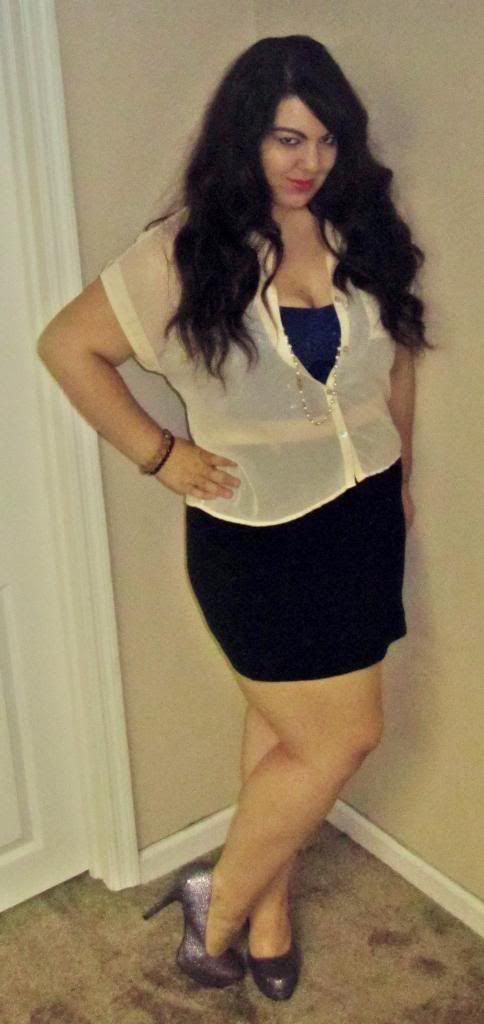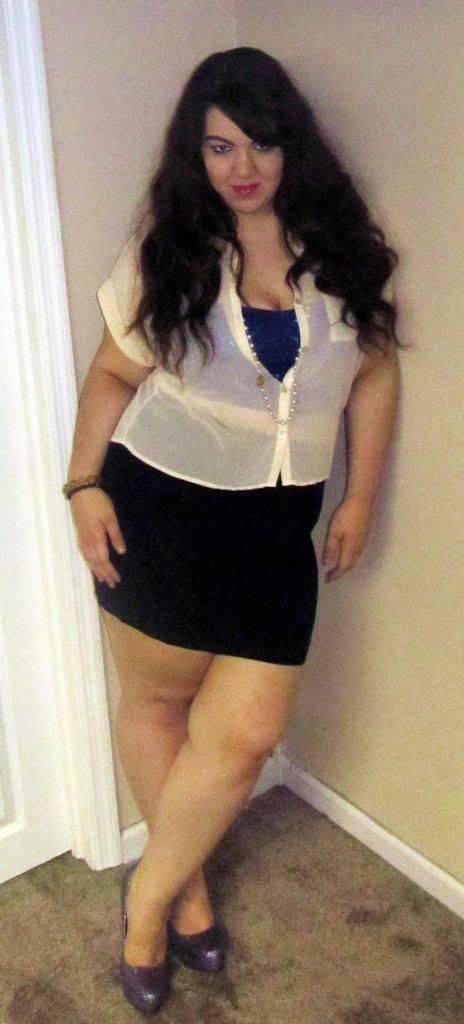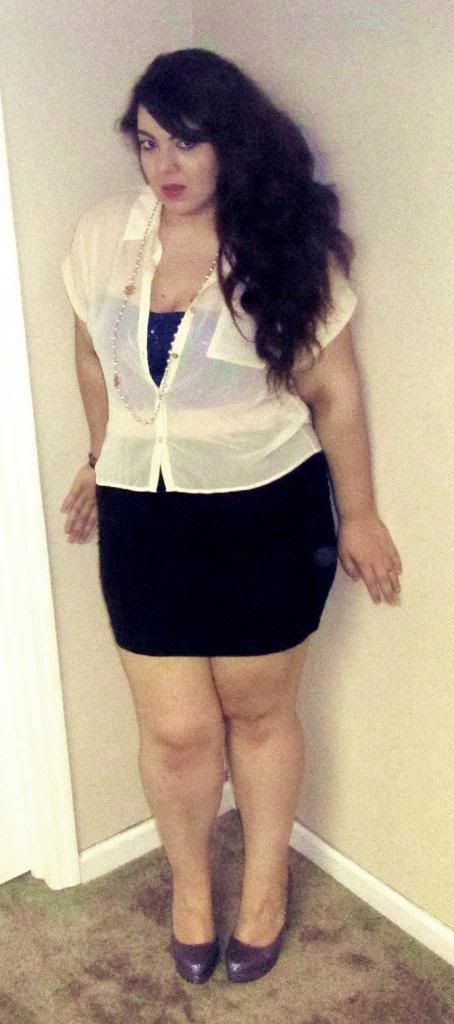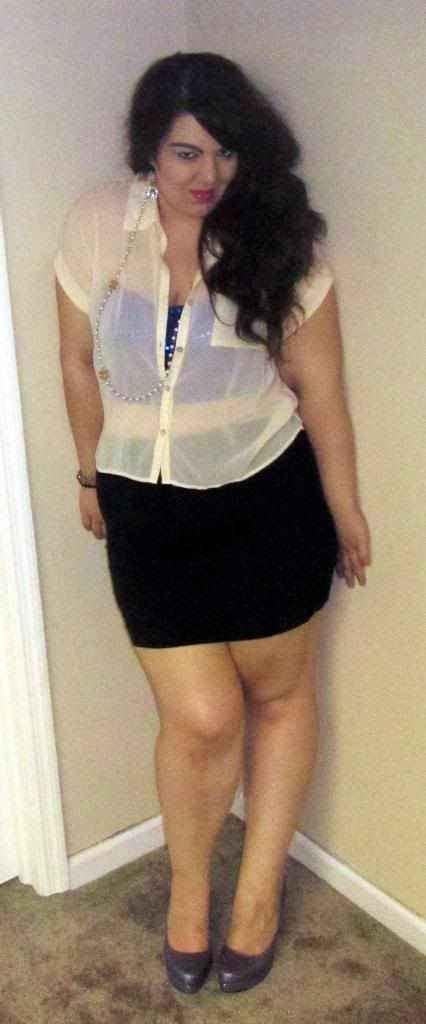 Maybe I shouldn't have posted these…ya, there's my middle/torso/tummy…shhh! Ha, who cares!?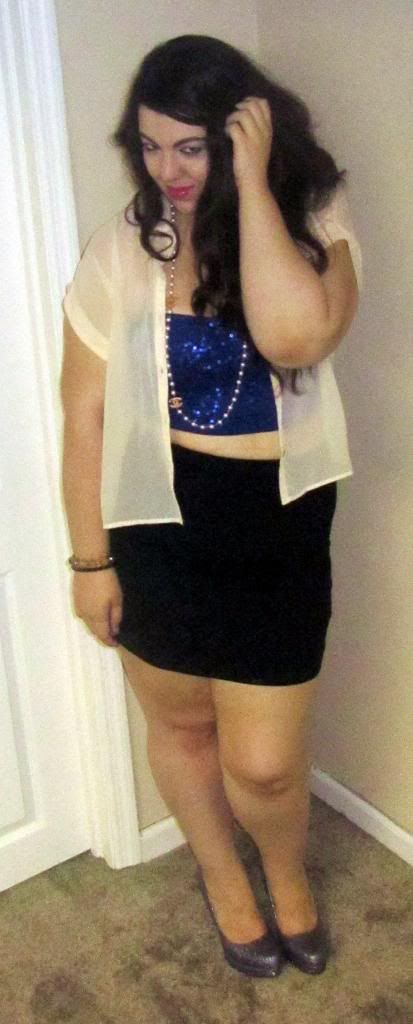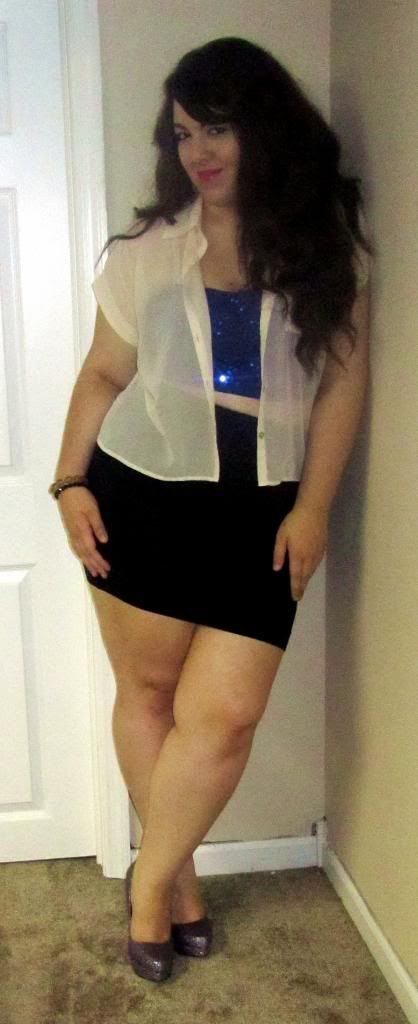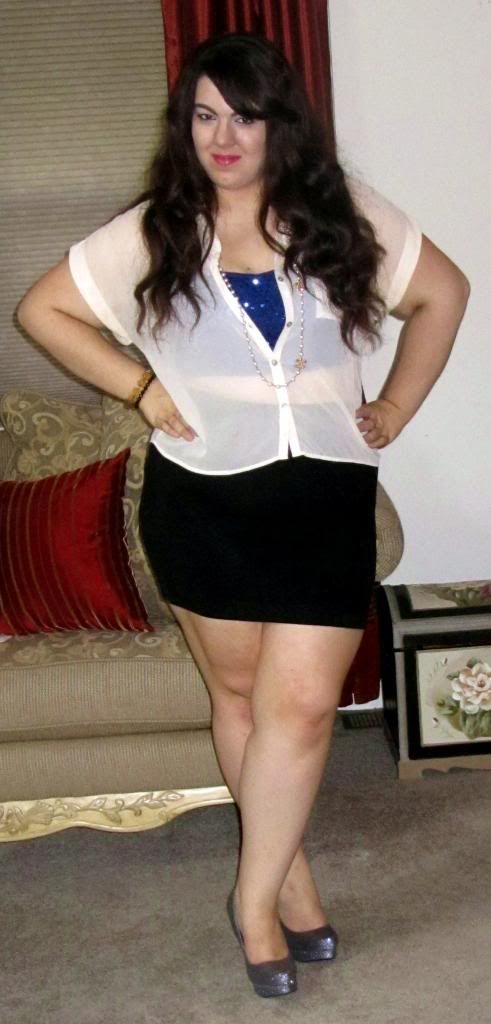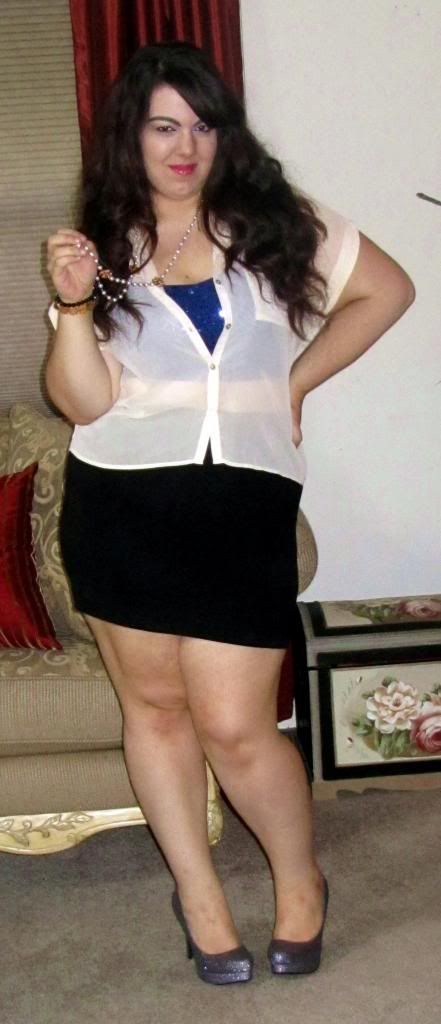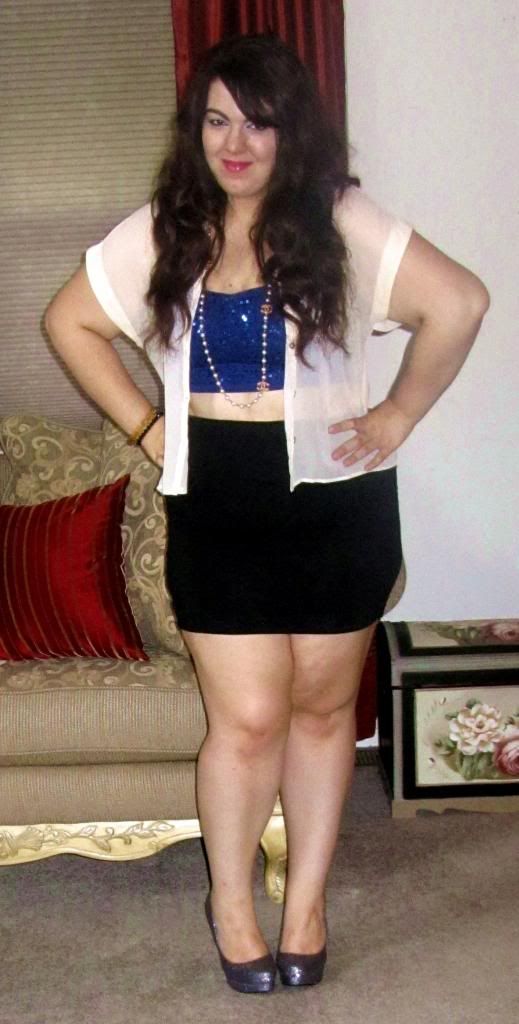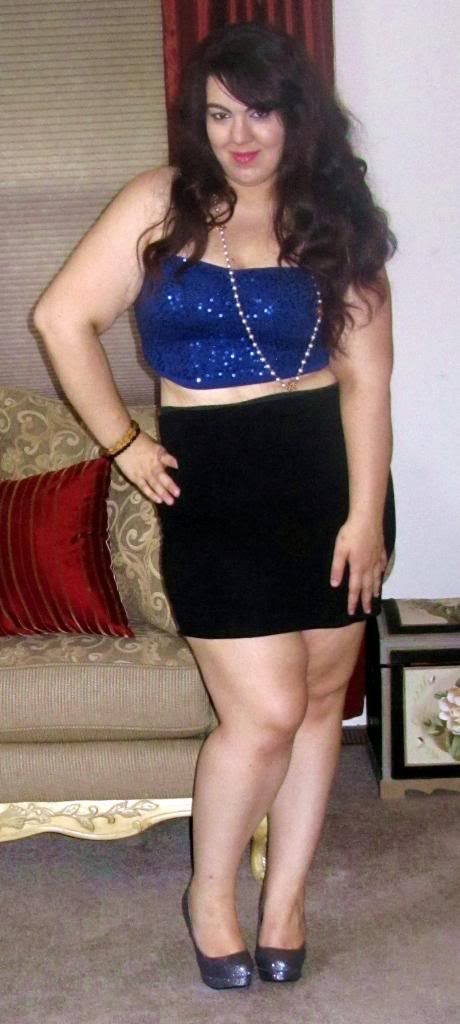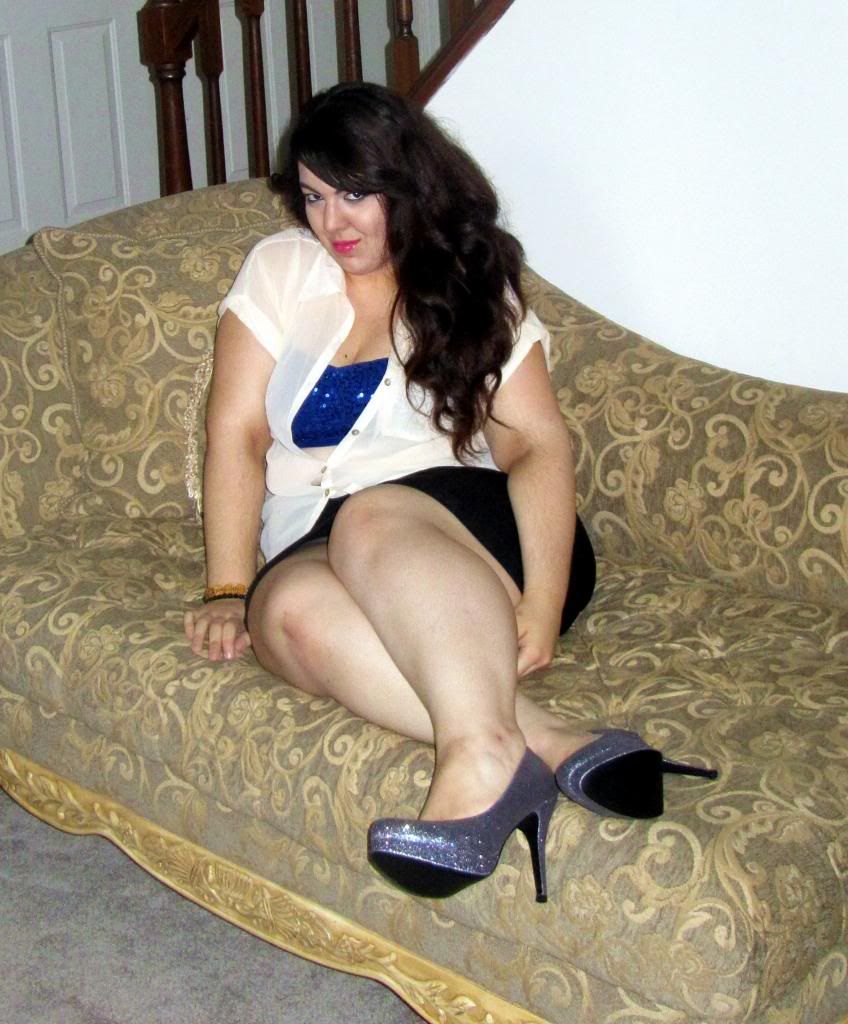 Blue Sparkly Crop Top: DEB, Sheer Top: Target, Skirt: H & M, Heels: Torrid, Bracelets: Forever 21, Necklace: (fake Chanel, unfortunately…lol) from a flea market in Calabria, Italy
I hope some of you are enjoying my posting often (this whole 3 days…lol!, I'll try to keep it up as much as possible). Check out the summer fashion I posted the past two days:
here
and
here
. I hope you all had a lovely weekend and good luck during the week with whatever you're up to. I'm going into my second week of my last semester at school (yay!) and am not quite used to it yet. I finally only have 4 classes (instead of 6, like I've always had), so I have more time to work at my dad's restaurant (2 days), some free time for this, and I'll also have to make time to study for my last Praxis test (standardized test required for teachers) as well as the long annoying process of applying for a teacher job in the spring. I guess I'm still busy even if I only have school on Tuesdays and Thursday, huh…? I don't think I know how to not be busy…even if it's with things I create to keep myself busy. Oh and of course a bunch of my free time is spent with my sweet boyfriend, Dominick. <3 Okay, my random rant is over. Arrivederci!
(P.S. I have that same blue top in black as well…how can I wear it reasonably…so that I can leave my house…? Ideas? Maybe just to add sparkle under another top….hmm)