Ciao dears,
I promised I would get around to posting all the things I've been meaning to…and I mean all of them…ha! So, I thought I'd start with fashion or outfits that I took pictures of and intended to post here (but got too busy or forgot at the time). Plus, I made it one of my new year's resolutions to blog more.
It's summer somewhere in the world right now…right?! Eventually (soon, I promise), I'll be up to date with my outfits like a good little blogger.
It's a little weird looking at these pictures because my hair is a little different (I had bangs and it was a little shorter and lighter) and I was a little bit heavier (just like 15-20 pounds). Enjoy and leave any thoughts or questions in the comments please! I love reading and responding to them!
1.) Polka Dots & One Shoulder
This is the only one shouldered thing I own because I'm not particularly fond of my arms being pointed out, but whatever, it's a cute top. I'm sorry the outside pictures are a little blurry. It was a long time ago, not sure why… I adore those pick shoes. I should wear those again with tights soon…hmm…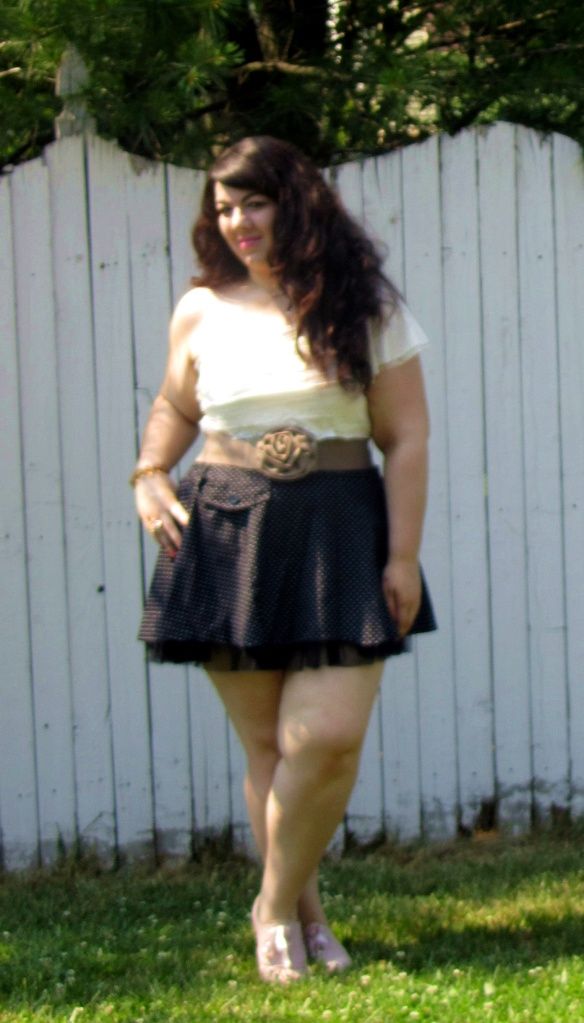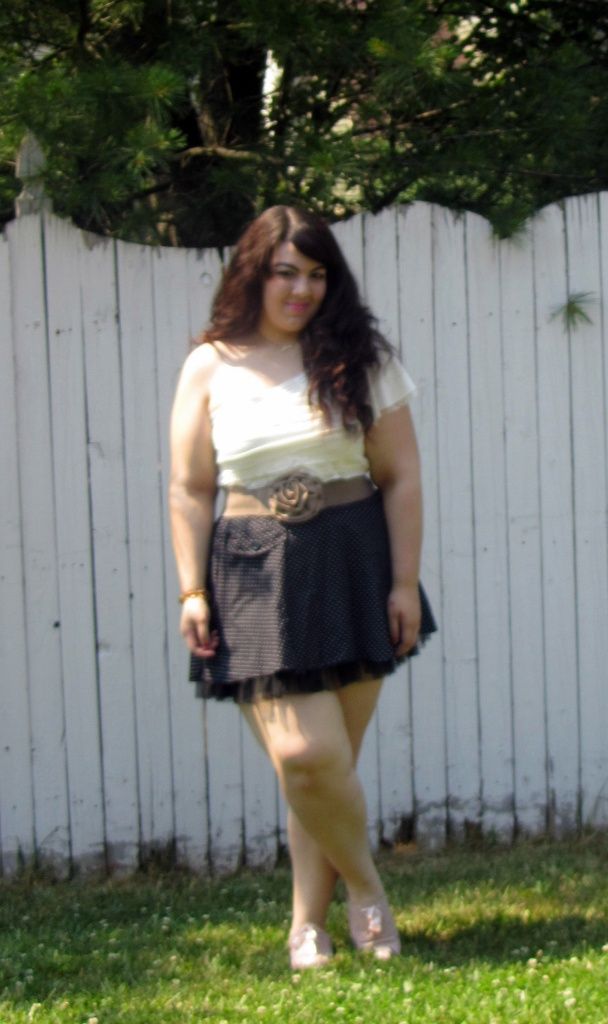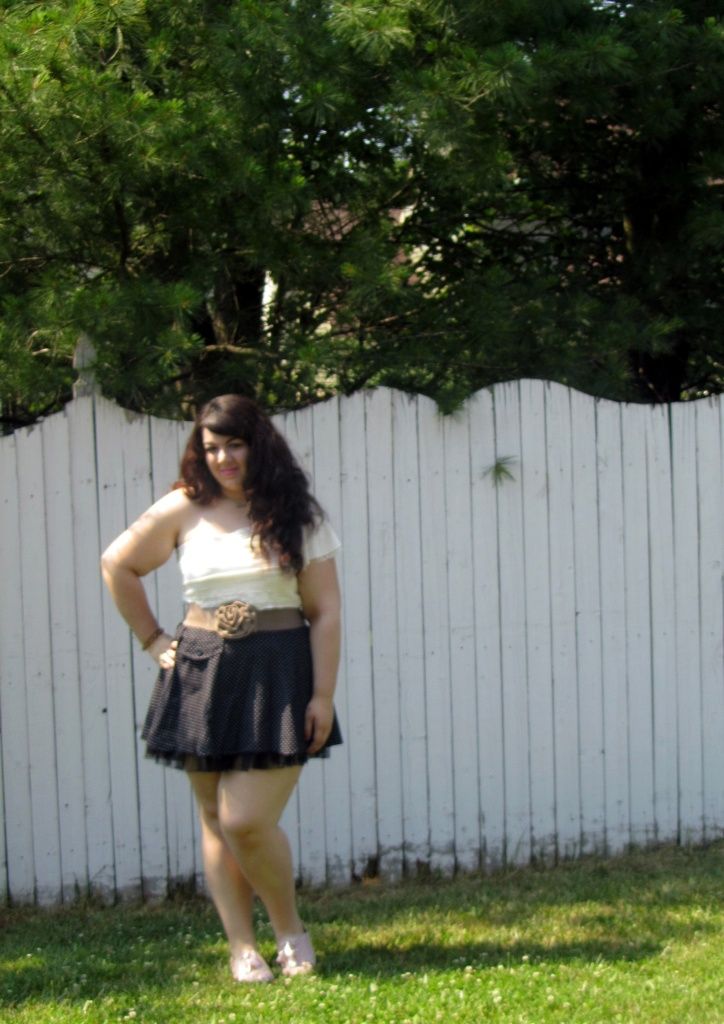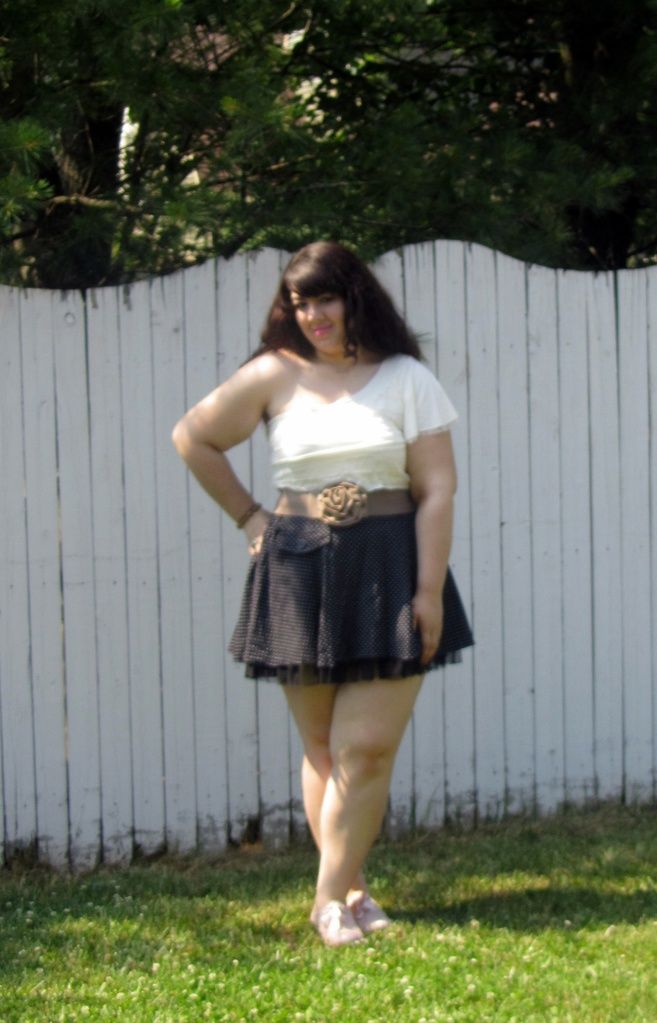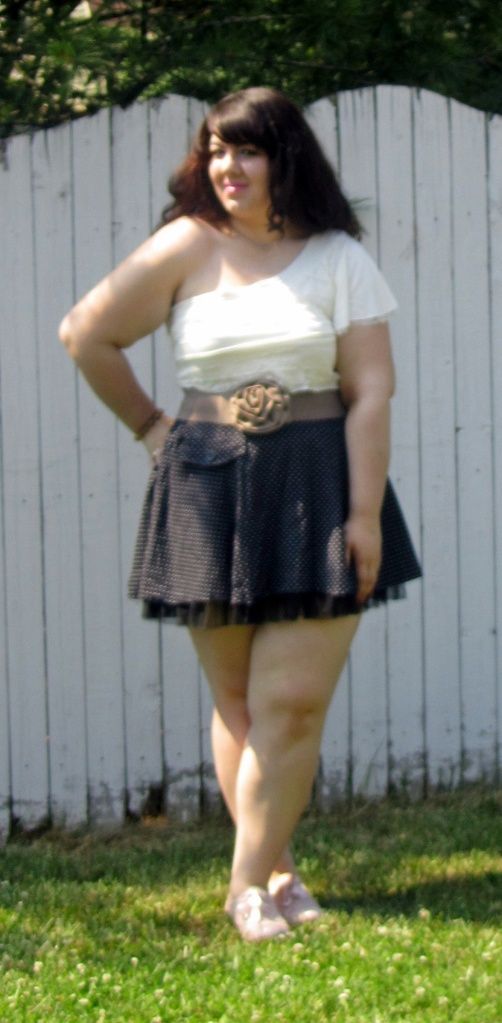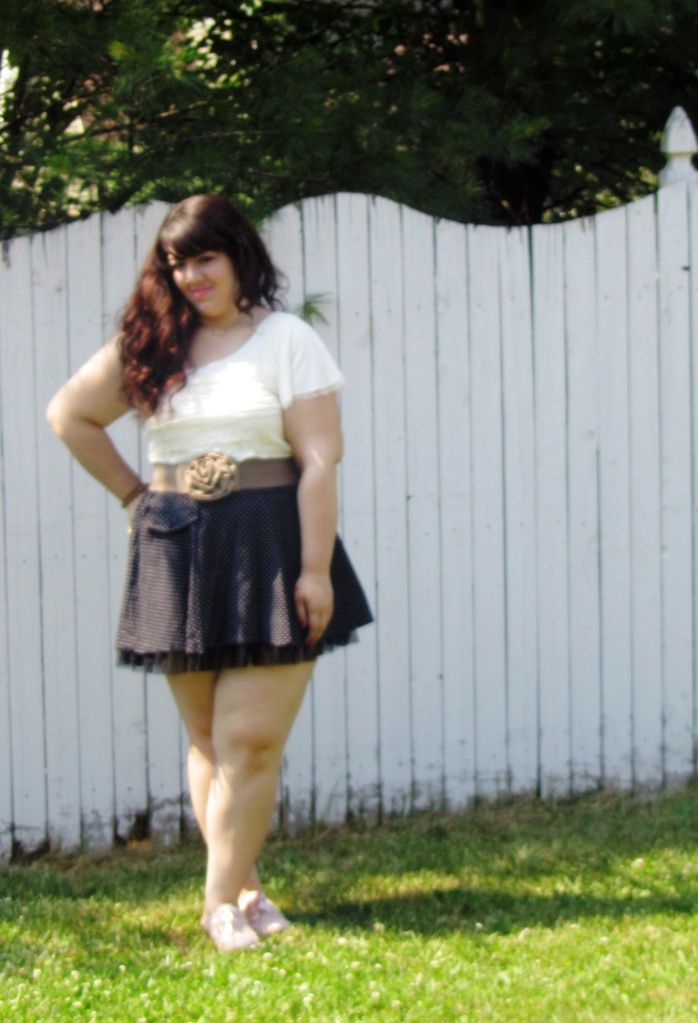 Ignore the super cute burn mark on my left hand… Curling irons are dangerous…beware! Ha!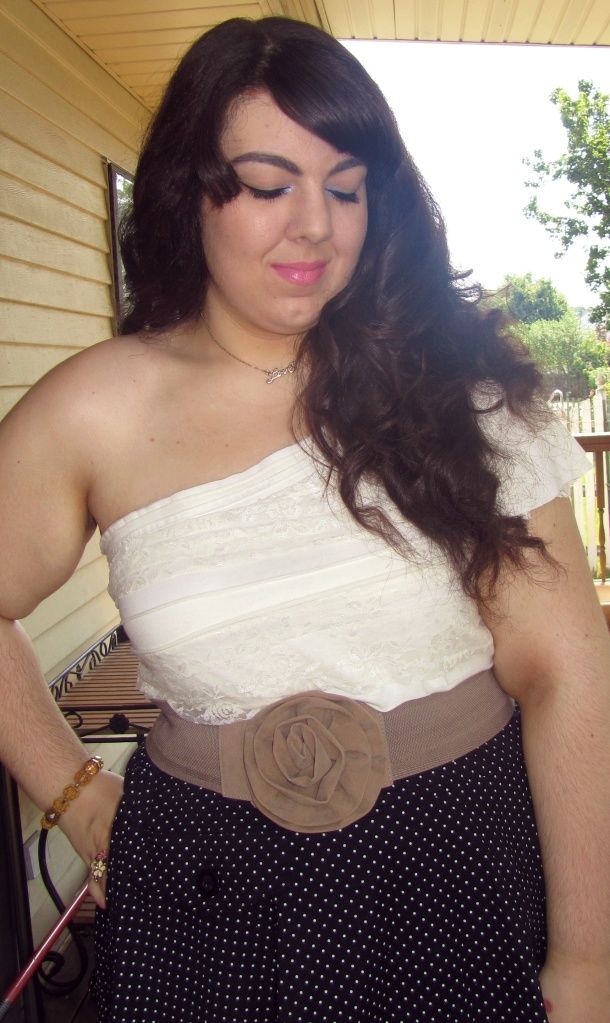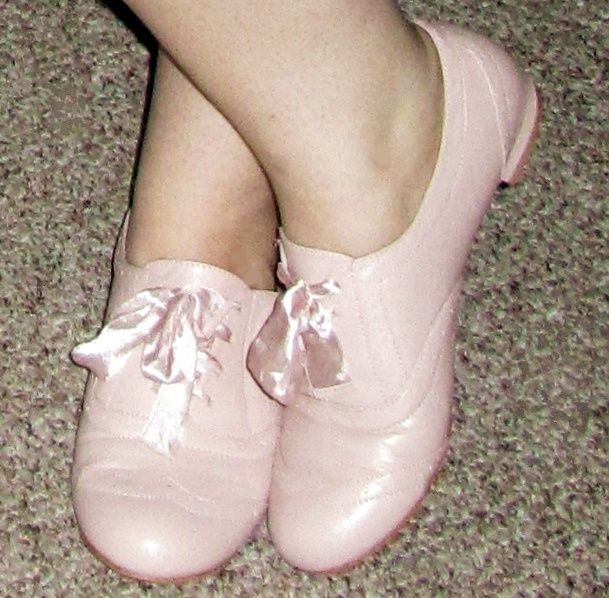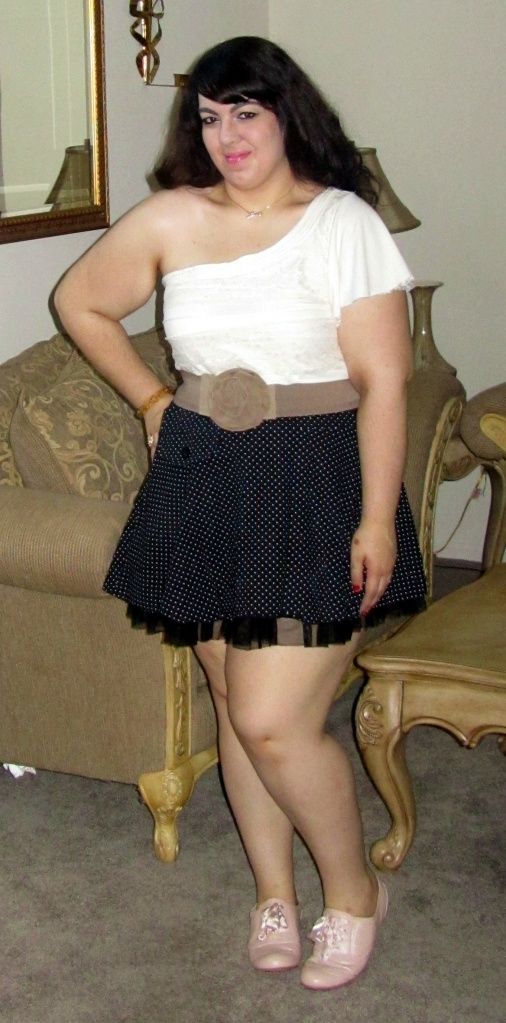 Top and skirt: Torrid (a really long time ago, both are too big now, even then they were, hence the belt, or the skirt would have fallen…lol), Belt, Ring, & Necklace: Forever 21, Bracelet: Kohl's, Shoes: ASOS.com (I think…can't remember…)
I wore this to my cousin's high school graduation party. I saw my godmother/aunt for the first time in years that day,which was interesting...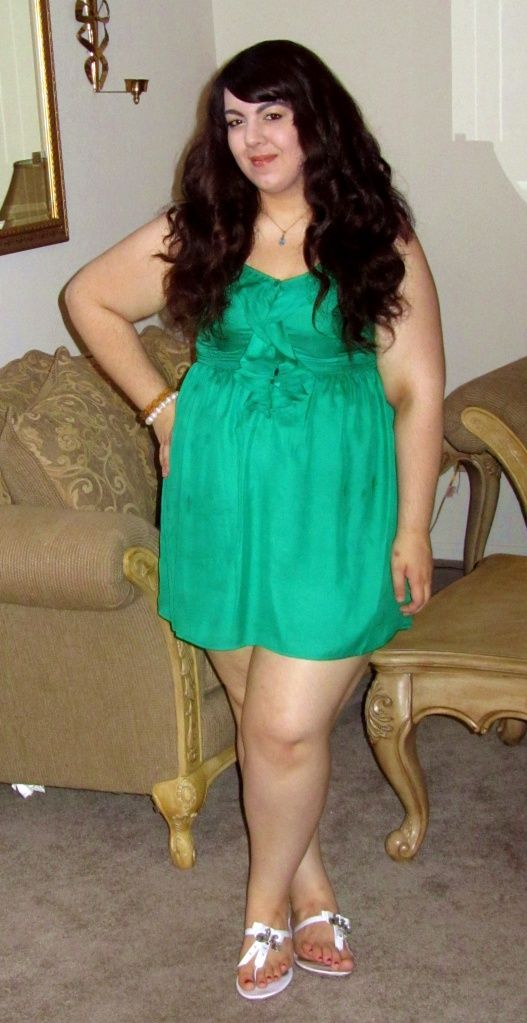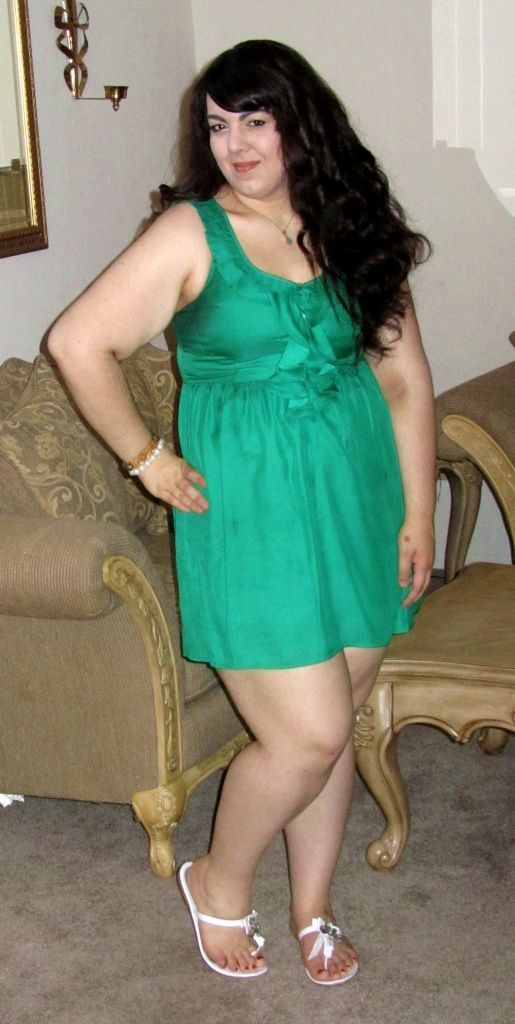 Dress, Gold Bracelet, and Vera Wang Sandals: Kohl's, Pearl Bracelet: Forever 21, Necklace: gift from my mama
I like the way this shirt turns a basic t-shirt into something more girly and fun.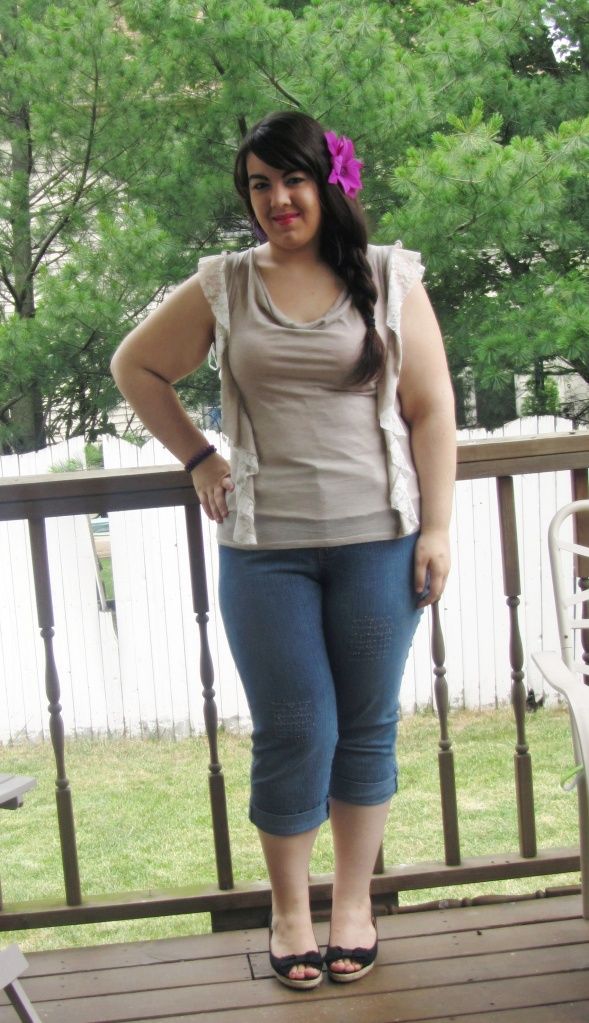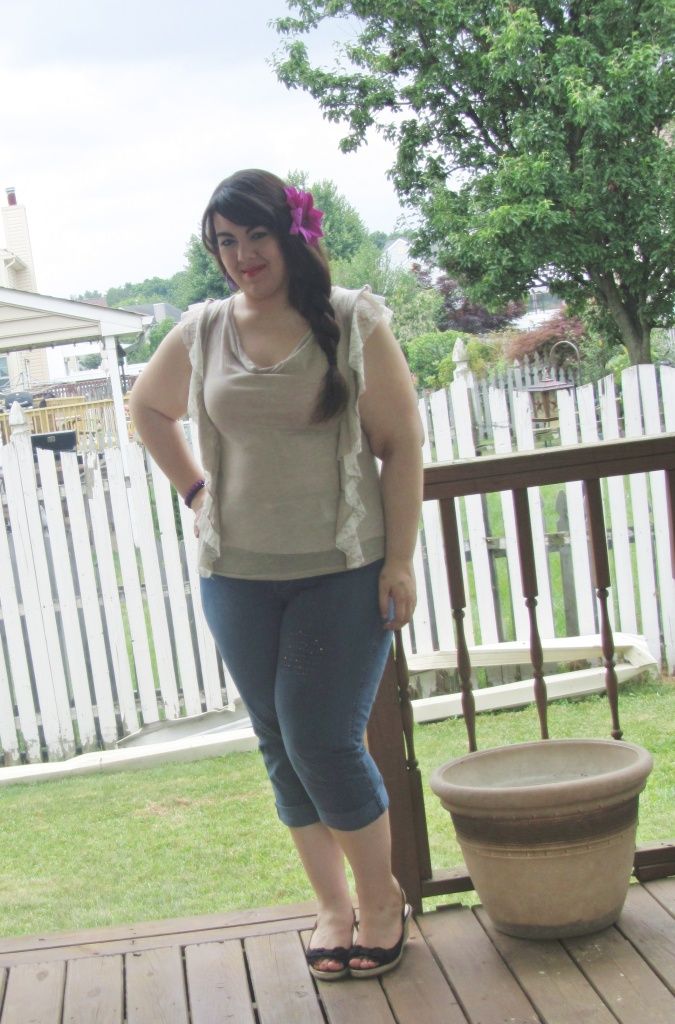 Top: Ross, Cropped Jeans: old…Avenue maybe? (sorry, gave them away, no idea), Shoes: Avenue, Flower: Dots, Earrings: Kohl's Bracelets: Forever 21
4.) Innocent Pink Polka Dots
I think my eyes look a little too scary (like creepy psycho dolly, scary…ha!) when I wear a lot of white eyeliner…but it's supposed to make your eyes look big and bright.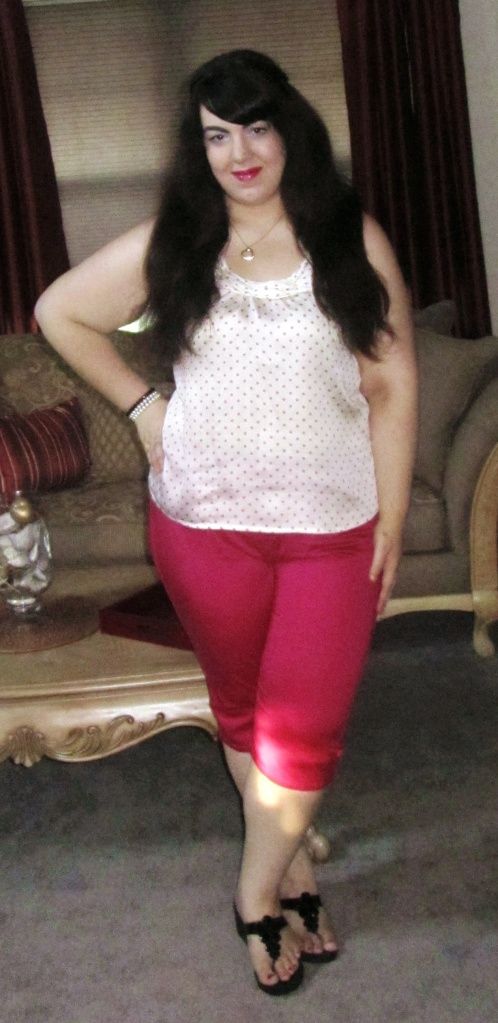 Top & Shoes: Kohl's, Capris: Dots, Necklace: gift from my papa' (Italian for daddy…lol), Bracelets: Forever 21
5.) Pink, Blue, and Polka Dotted All Over!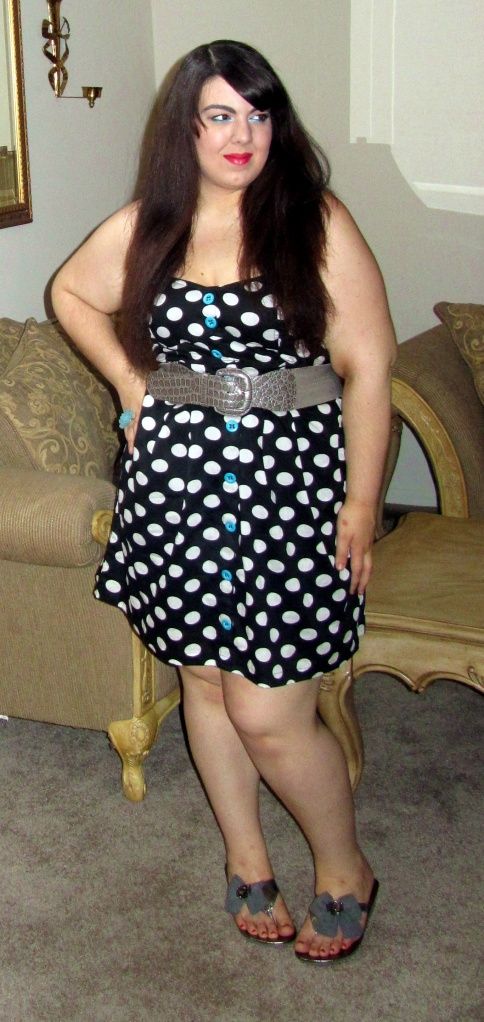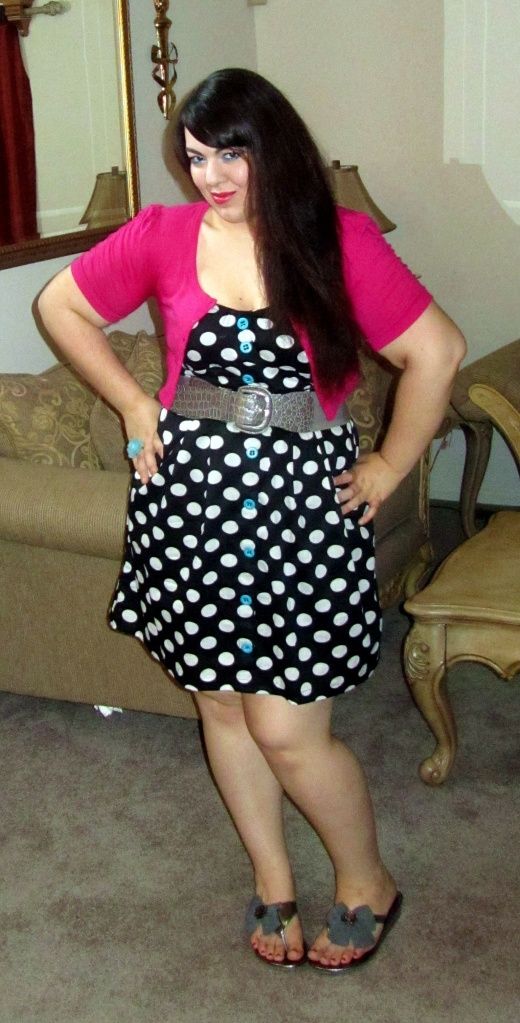 Dress: Forever 21, Sandals: Kohl's, Shrug: Forman Mills, Belt: NYC & Co., Ring: Dots…maybe?
6.) Pretty & Floral but too Squished…
I loved the fun floral print of this dress, so I had to wear it once… After that I had to give it to one of my nieces because it was not made for a woman with…um, a chest… I was so squished in this. Oh well…ha!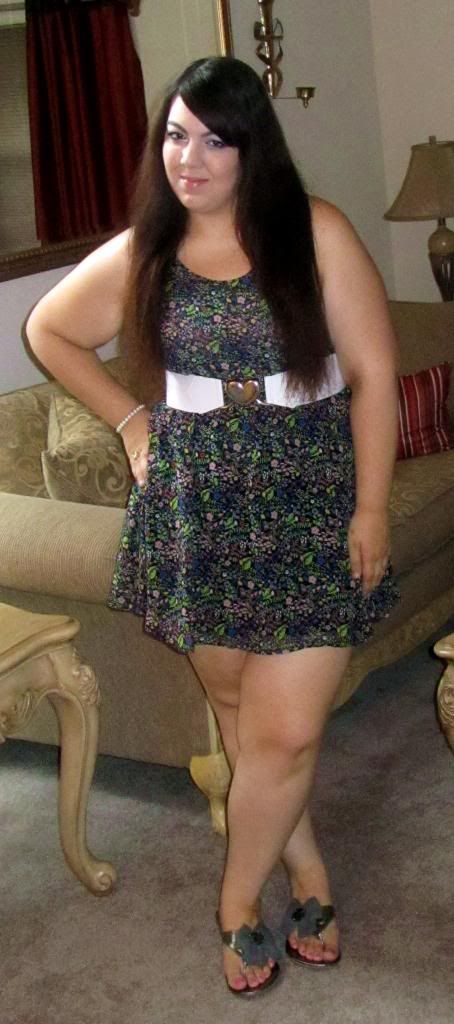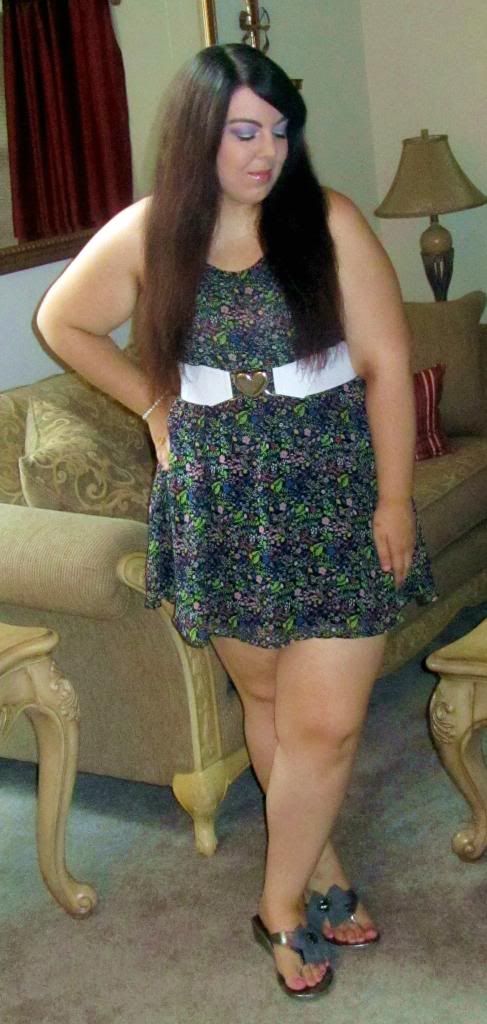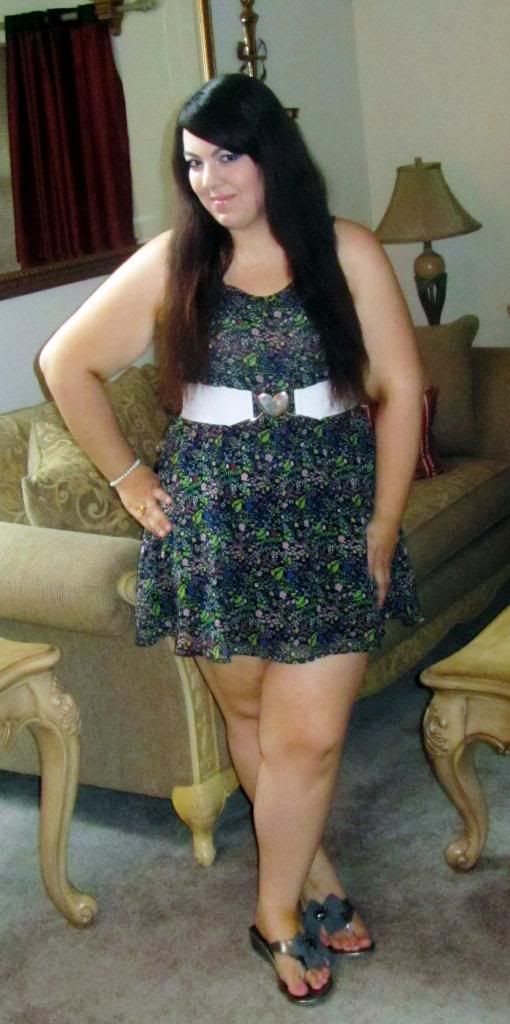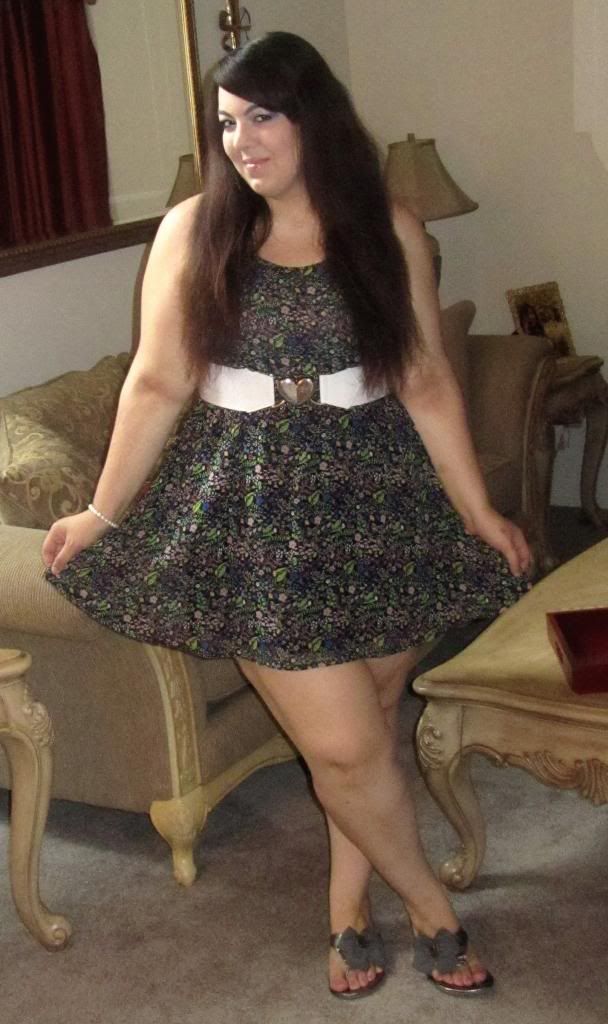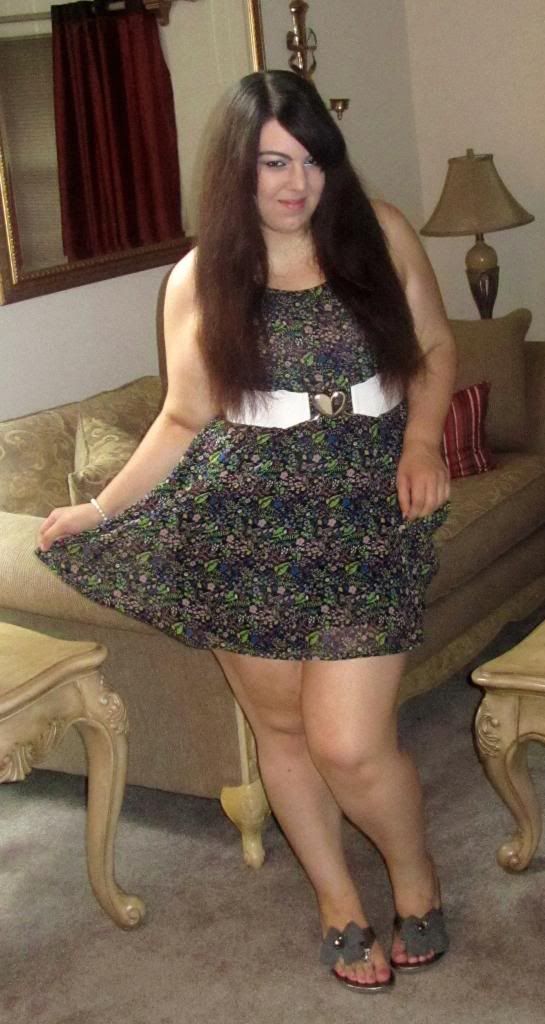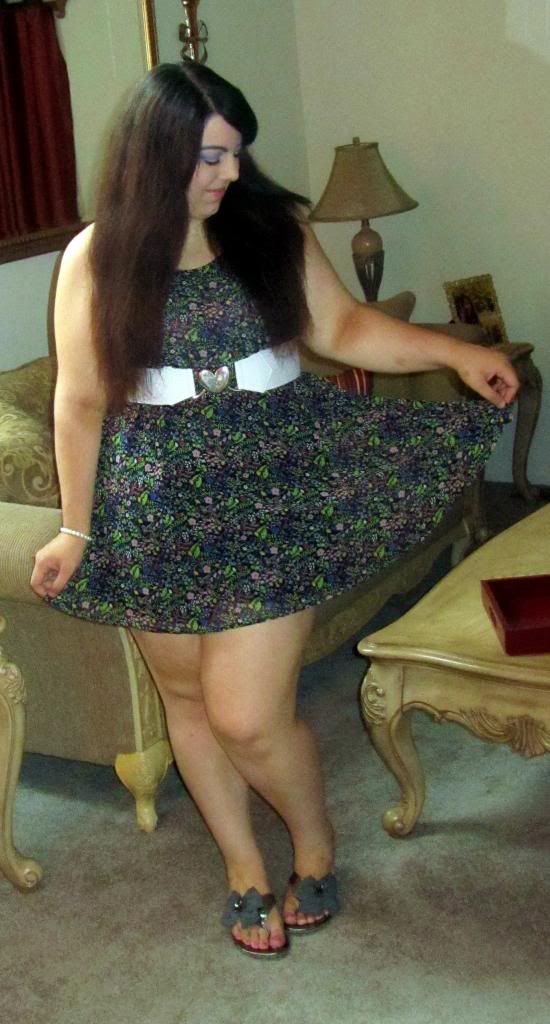 This (below) is what happens when I twirl in my dress too much…hehe!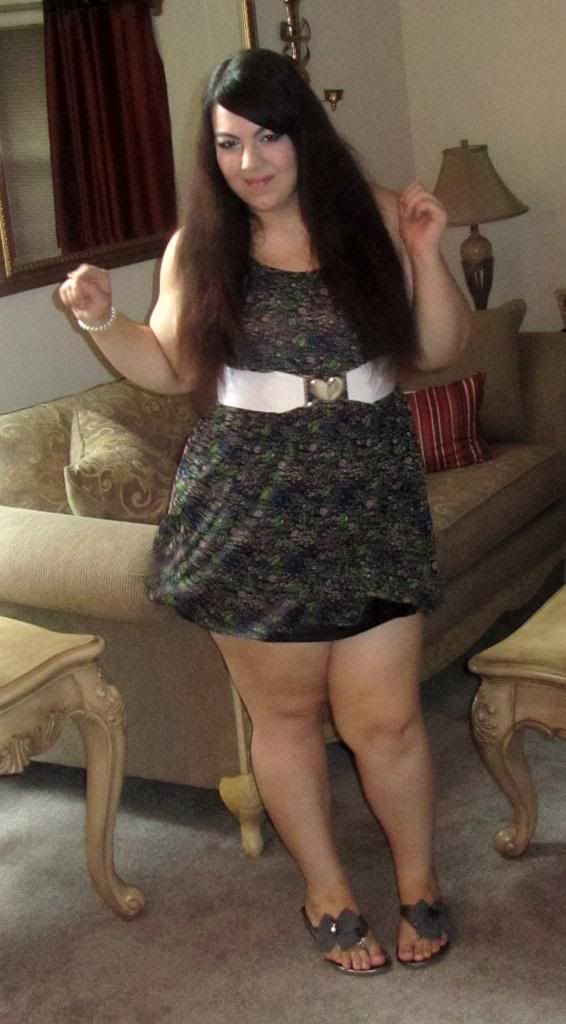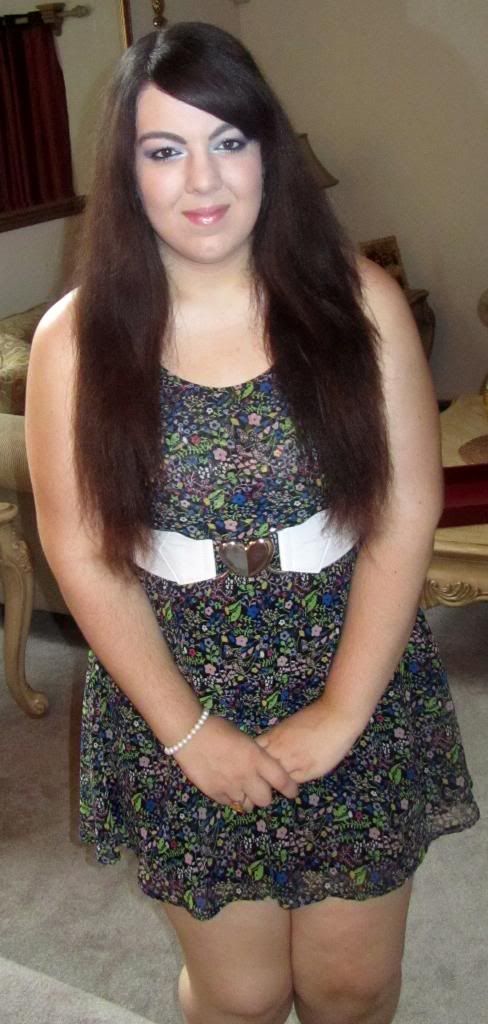 Dress: H & M, Sandals: Kohl's, Belt: Dots, Bracelet & Ring: Forever 21
I never get tired of pretty, girly, cutesy things like floral and polka dots. They're so fun!
Also, I wore this dress to meet a somewhat strange guy I sort of dated for like 2 seconds (2 dates) but not really…ha! (He was odd and kinda sucked anyway…he smoked, which I find gross, no thank you. No idea what my problem was when I agreed to meet that one…)
Guys always seem to notice this bracelet and compliment me on it (3 have), strange… I guess it's because its so big and shiny.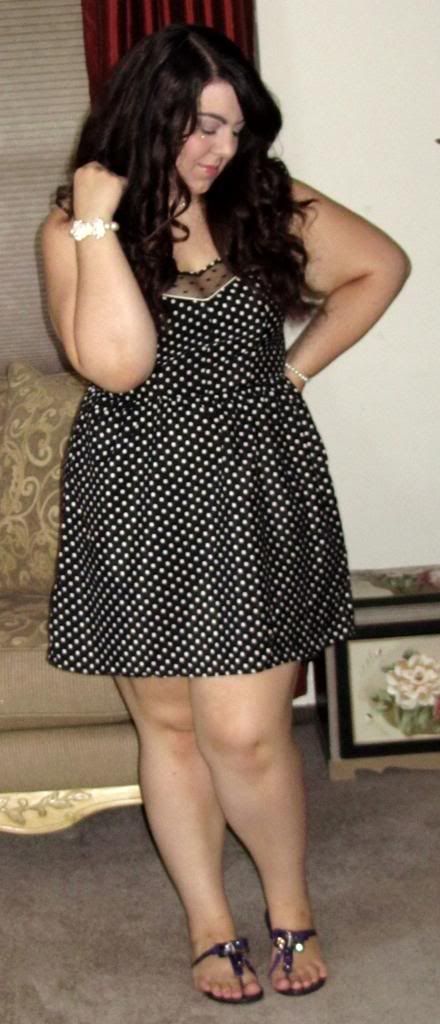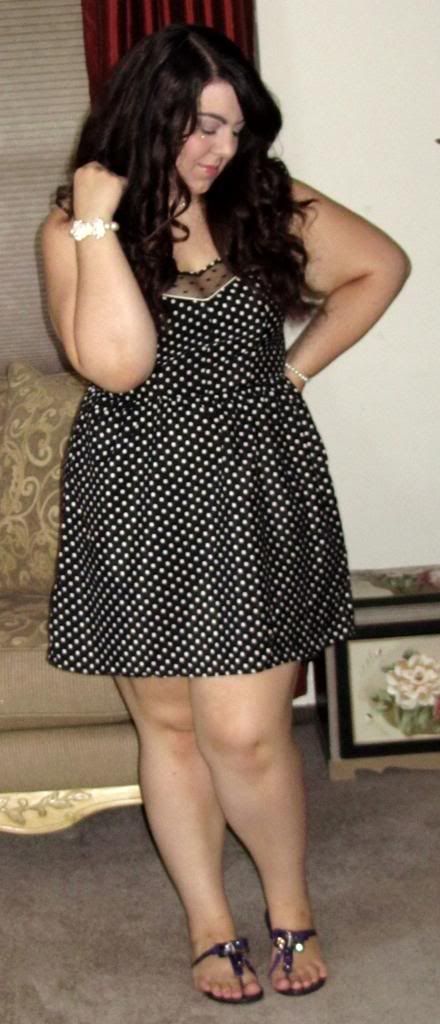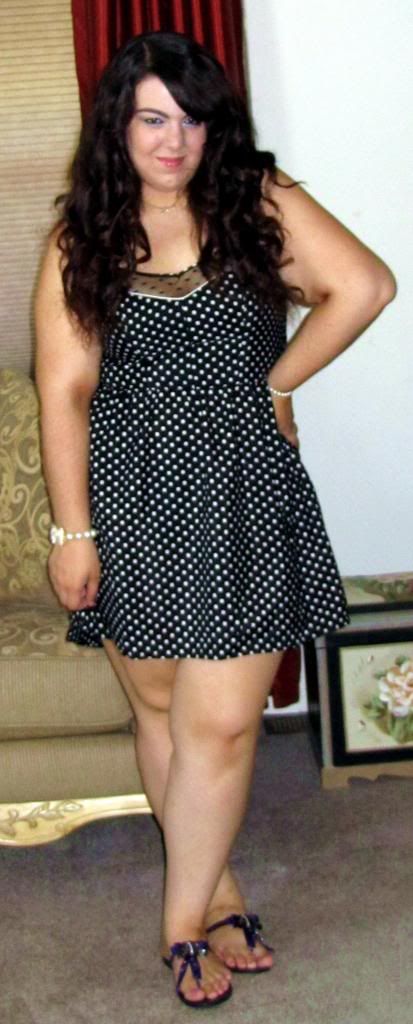 A rare real smile!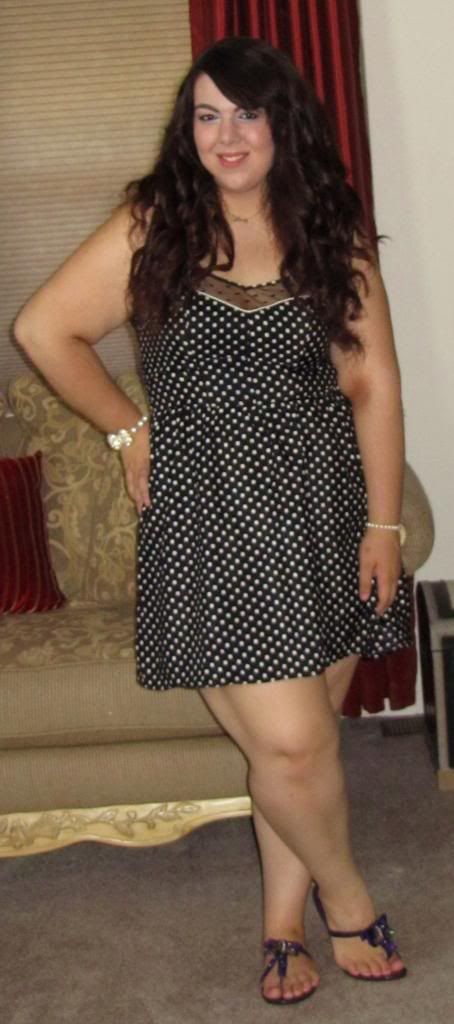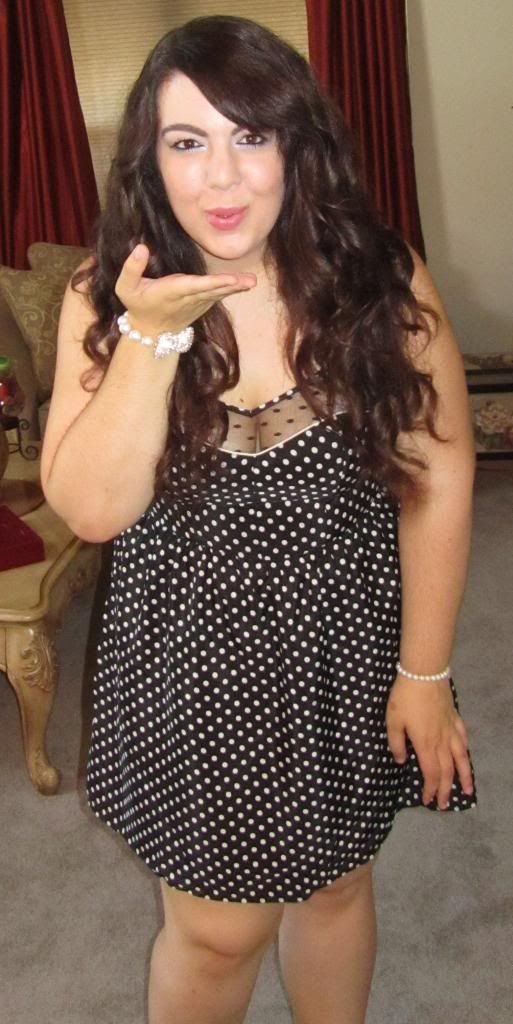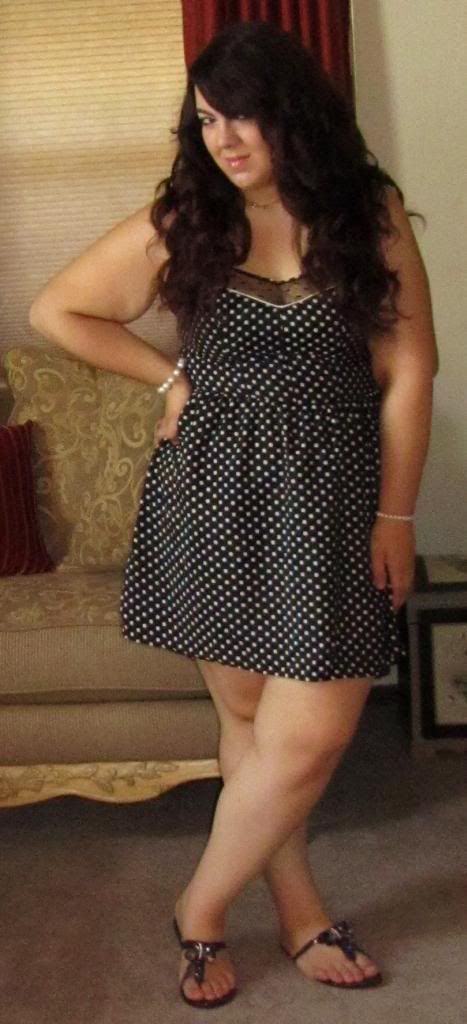 Dress: Target, Sandals: Vera Wang for Target, Bracelets & Necklace: Forever 21
8.) Cheetah Love! Kiss Me?!
I wore this to my current boyfriend's (then best friend) 21st birthday party! We went to a casino and a restaurant with some of his family. It was fun and it was right around the time when I was thinking about dating him…lol. (Hi sweetheart, I know you'll read this soon! Kisses! <3 ) I was sort of considering kissing him "for luck" or something at the casino (cheeky, aren't I?) but I chickened out because I was too shy (guess not…lol). You'd think maybe my sexy cheetah dress and red lipstick might have given him a clue/hint…nope, he's not so good at those yet… I did manage to kiss him on the cheek and wish him happy birthday at the end of the day though, which went pretty well for me. <3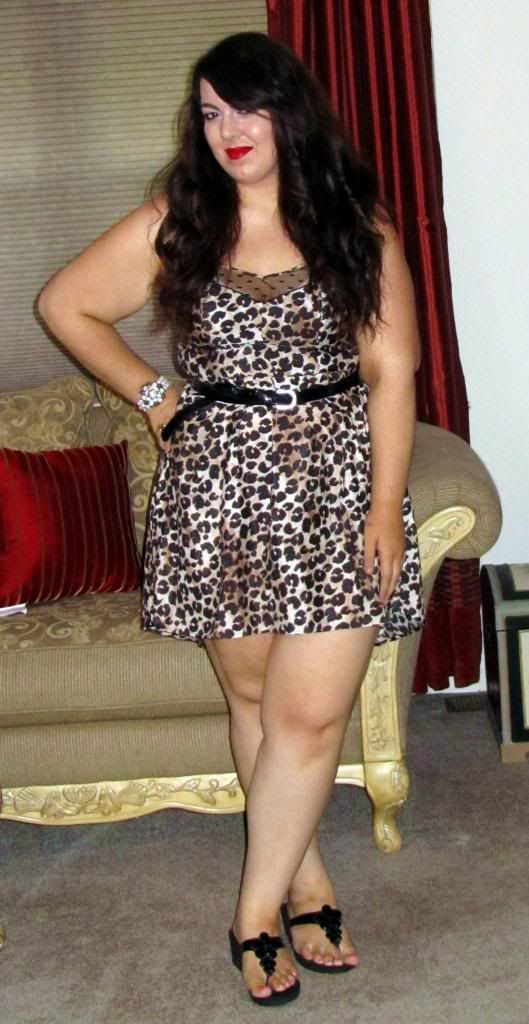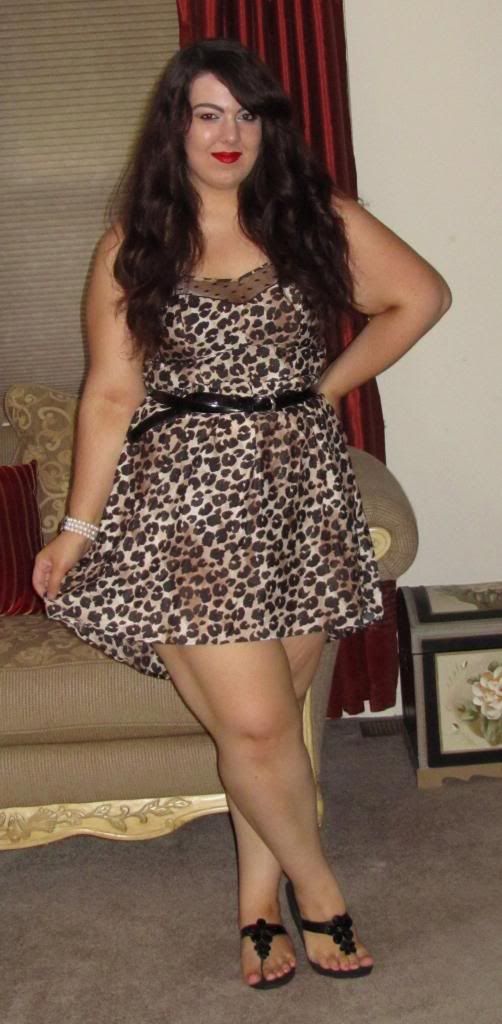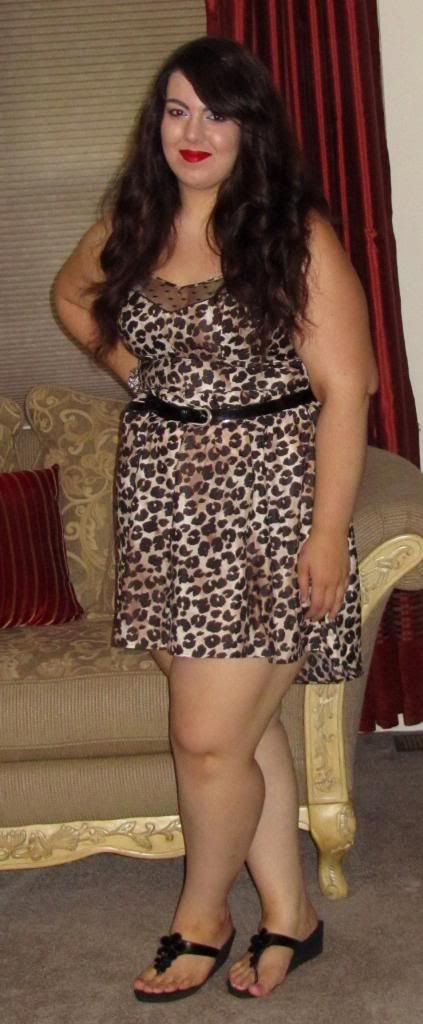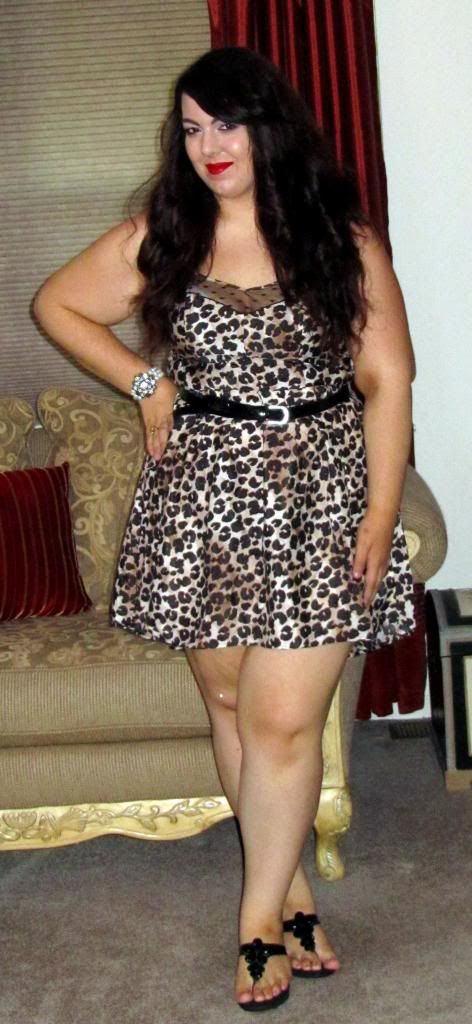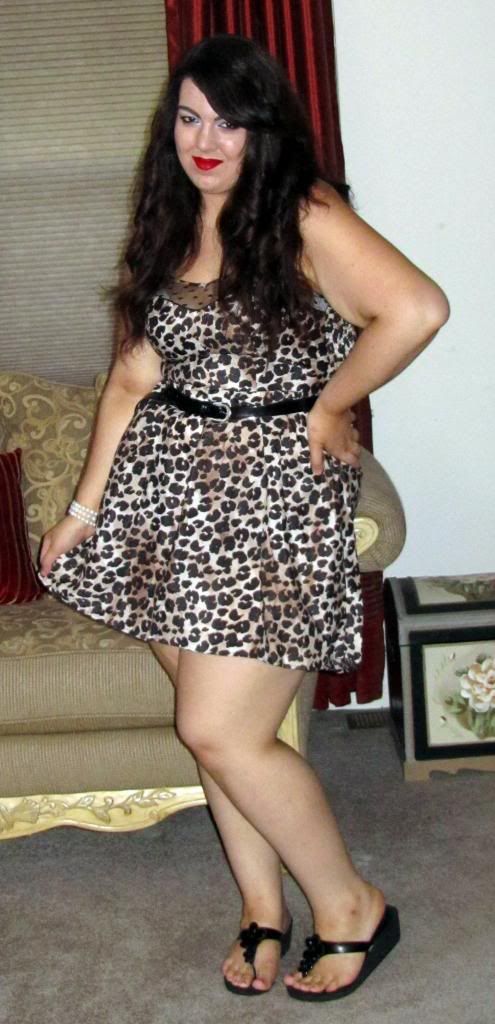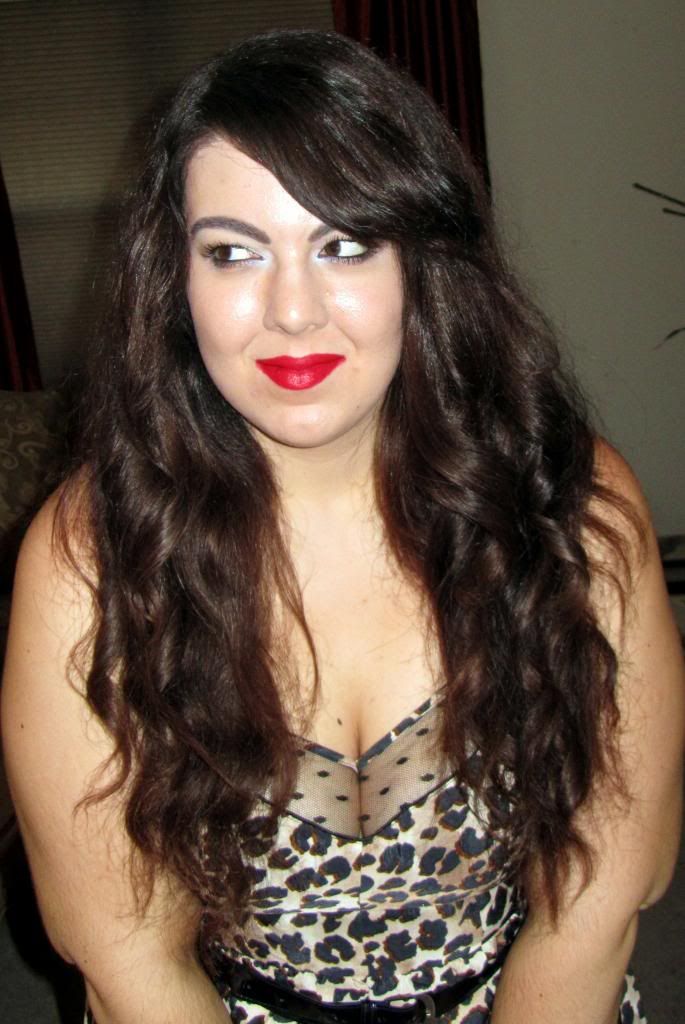 Dress: Target, Shoes: Kohl's, Belt: ??, Bracelet: Forever 21
9.) Red in her Hair….& Awesome Wedges!
I was feeling very fun and colorful this day, so of course I love to dress to match my mood! My niece gave me a few of her red hair extensions and I've kinda secretly always wanted Ariel, Little Mermaid, red colored hair (maybe when I was little and watched the movie…not really in reality, I'd look strange…ha!) Also, I was dying to wear these super fun shoes! I adore them…I saw them in the mall one day with my nieces and all 3 of us knew that I needed to have them!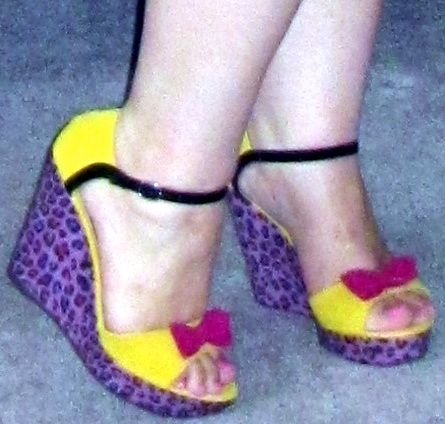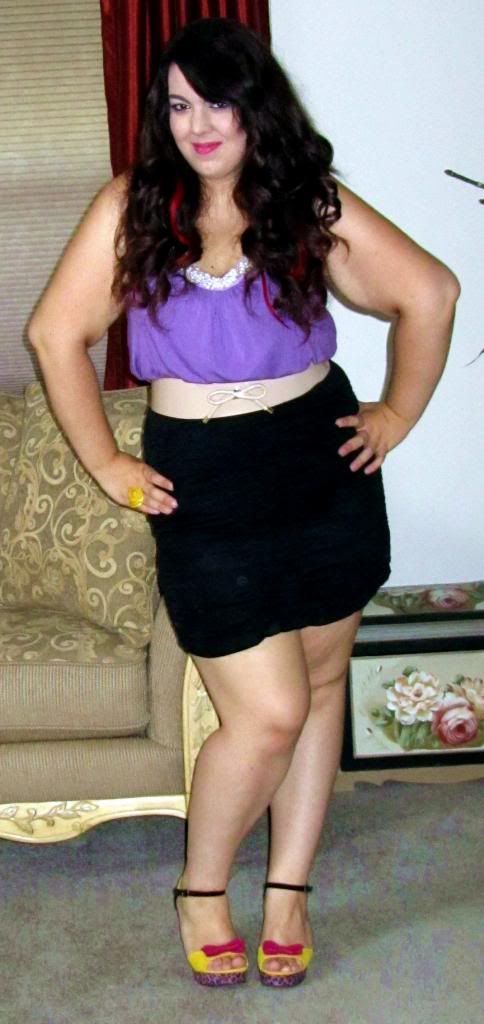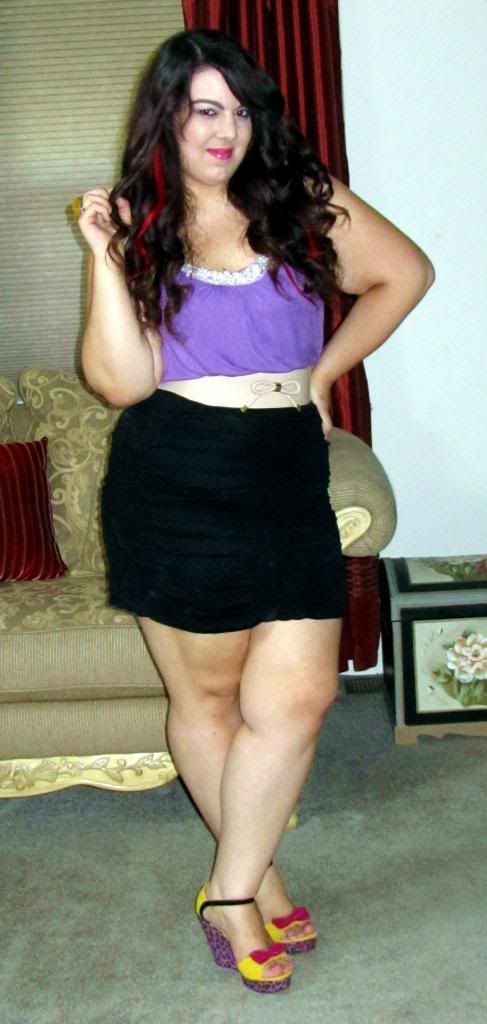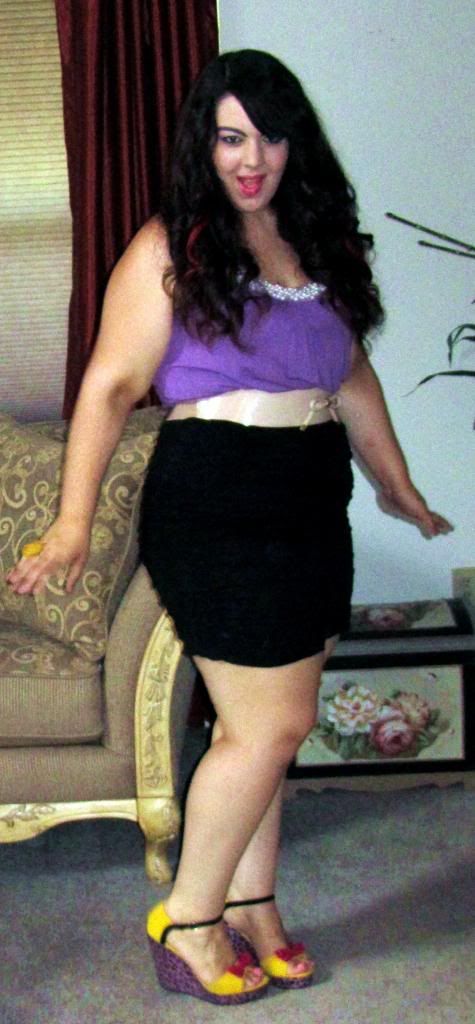 I was having too much fun and admiring my shoes…ha!

Shoes: Sorry…I cannot remember where I got these, other than I know it was a rather cheap shoe store in the Franklin Mills Mall last summer, Top: Dots, Skirt: Sam's Club (odd…I know), Belt: H & M, Ring: Dots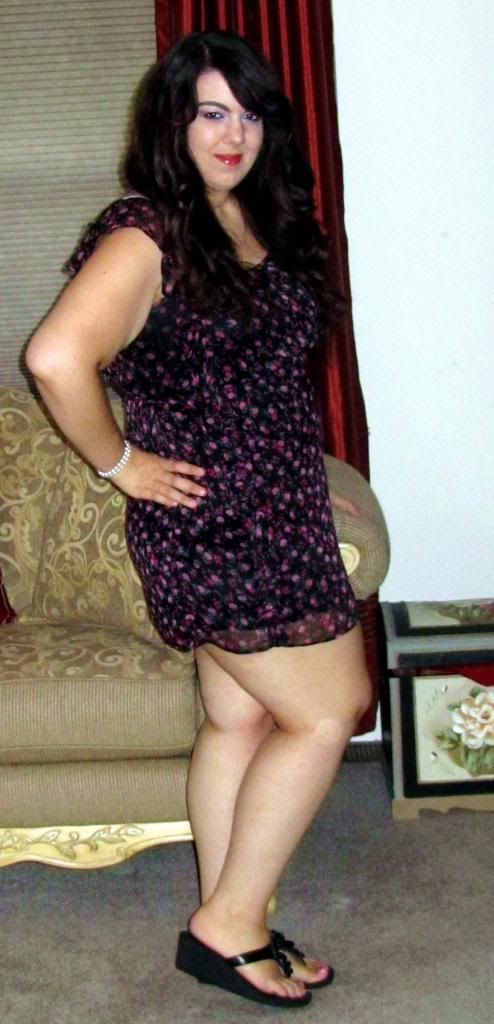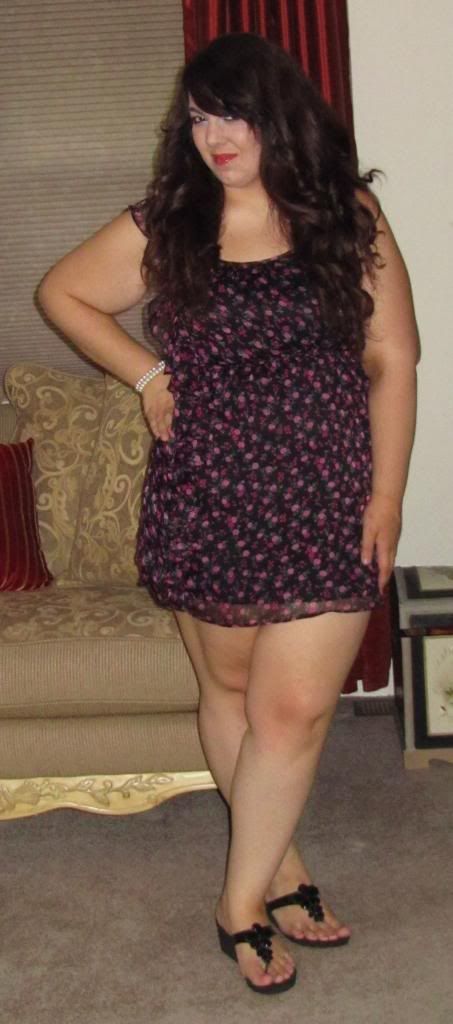 Dress: DEB, Sandals: Kohl's, Bracelets: Forever 21
P.S.: Some of my shoes/sandals are from Kohl's, so they asked me to add a link to their page:
https://www.kohls.com/catalog/shoes-womens-sandals.jsp?CN=3000000752
They always have the cutest shoes…and clothes!
Also, they were nice enough to give me a coupon code to share with you for 10% off your purchase online: TENFORBLOG good from January 11th through March 9th. It can be used to stack savings with one other department level code as well.
♥ Xoxo Gabriella
(P.S. Stay tuned for another new post tomorrow! and the next day! Follow me if you're not already please!
)